GLENN: Oh, yeah. Hello and welcome to the -- I'm glad you're here. We have Jim Geraghty on from National Review. Hello, Jim, how are you?
GERAGHTY: Hello, Glenn, how are you?
GLENN: Very good. How surprised were you at the results last night?
GERAGHTY: On the Republican side more or less in line with what I expected.
GLENN: Sure.
GERAGHTY: But on Democratic side, boy, oh, boy. You know, not only did every single poll have Obama up, the range was from 5 to, like, 13. And the other bizarre thing was that all of the anecdotal evidence was pointing at Obama, too. There were huge crowds, there were reports of dissent in Hillary Clinton's campaign, Bill Clinton was whining on the campaign trail and little did we know that the crying worked.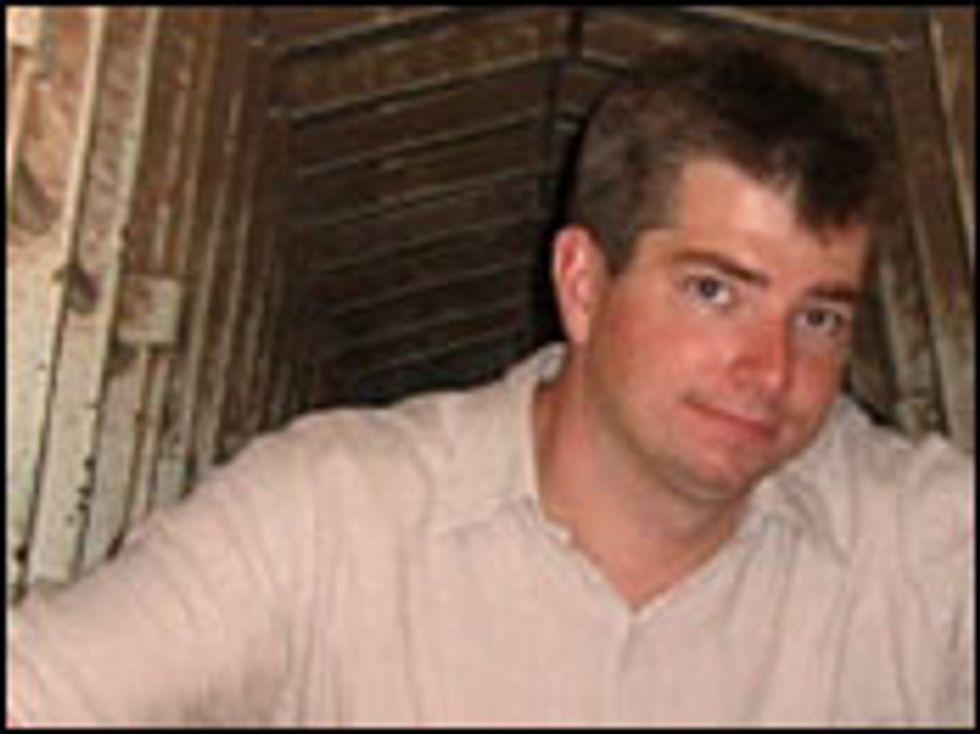 National Review Online's Jim Geraghty, who writes the TKS blog on National Review Online
GLENN: Well, isn't that amazing to you? So okay. So Jim, let me just be a really -- let me be a bad human being here for a second and you can claim you weren't a bad human being and you probably weren't. But when I first saw it, my first thought -- and this is why I think we need to get out of the Bush, Clinton, Bush, Clinton cycle because we just don't believe the best of each other anymore. My first thought was how did they rig that because it was so far out of line with all of the evidence of what was coming. And I'm not saying that they did rig it. I don't believe that. But that was my first gut reaction. What really did happen?
GERAGHTY: That is a million dollar question today, Glenn, and I've got to tell you I was hearing conspiracy theories from people who don't usually traffic in conspiracy theories. Unfortunately you'd have to believe that, you know, the swath of the New Hampshire, you know, Secretary of State's office, et cetera, were all in on this and --
GLENN: Hang on just a second. Let me ask you this. I don't want to go too far down this road but let me ask you. Were there a lot of Chinese food delivery people voting in New Hampshire?
GERAGHTY: (Laughing.) You know, I've got to check with my source, Norman Shu right now.
GLENN: All right. Call Wong Fo and find out if there was a lot of Chinese delivery at the voting polls last night.
GERAGHTY: Bizarre, and I'm sure every pollster in the State is looking over it and trying to figure out what they did and stuff like that. I think the answer if you really look over these numbers is going to be that the Clintons had a really, really good turnout effort and Barack Obama, now they are going to say, well, you know, maybe they were a little overconfident, maybe -- because they had a good turnout effort in Iowa maybe, you know, everybody assumed they had just as good a machine in New Hampshire and maybe that just wasn't the case. Yeah, I think maybe we're underestimating here is that very, very rarely do you have the same kind of win New Hampshire and Iowa. There's kind of a contrarian state that runs through the Granite State and I think they decided we don't want this race to be over, we don't want Barack Obama, so we'll just keep this race going for Hillary.
GLENN: I will tell you, too, that there's -- I think that, I mean, thinking people, -- well, then again maybe not. I mean, what are your options. I was going to say thinking people, if you don't like Hillary Clinton, you look at the other candidates. John Edwards, I mean, why not just wear the little red star. The guy is turning into a frickin' communist. Am I wrong? I mean, he's --
GERAGHTY: I think of him as a wholly owned subsidiary of the AFL-CIO and various other unions.
GLENN: Okay, same difference. I mean, you've got this workers, you know, party kind of mentality that he's going for. Barack Obama is just, he is a vessel. You know who I think Barack Obama is? He is -- you know how -- remember in the 2004 election how the unnamed Democratic candidate was beating George Bush but then as soon as they said, yep, there's the candidate, it's John Kerry, it fell apart? Barack Obama is this -- is almost the unnamed candidate. You like the idea, I think he's got a lot in common with Ronald Reagan not in ideology but in hope and "We can be better than this" and people want that. But then when they really start to look at his experience and some of his policies, is there a possibility that that's what happened?
GERAGHTY: No, I think you hit the nail on the head is that if you listen to a Barack Obama speech, if you are a conservative like I am, there's not a heck of a lot that you disagree with when he talks about telling people, you know, to have the audacity of hope and dreaming and optimism and, you know, our best days are ahead of us. Look, that's all great stuff. It's only when you look down into his record and you look at the policy he's recommending and you realize -- I think my favorite one was that in this Illinois state legislature he preserved the right of burglars to sue someone who shoots them as they break into a person's house. It's a law regarding the Castle doctrine and firearms ownership and Barack Obama felt it was very important if you break into someone's house and they shoot you that you have a right to sue them. This guy, not as moderate as his rhetoric.
GLENN: I just say I have the audacity to happy that I can shoot a burglar when they come into my house.
GERAGHTY: There you go. I hope you have the audacity to shoot (inaudible).
GLENN: I hope you recover but if you don't, oh, how audacious of me to shoot you in the head.
GERAGHTY: Well, maybe you ought to finish him off just to make sure he doesn't sue. But yes. It's one of those things where -- notice he is not campaigning on that. He is not, you know, campaigning on policy.
GLENN: He is not really campaigning on anything. He's campaigning on hope.
GERAGHTY: Yeah and, you know, this vague sense of change. I think what we've seen this last couple of days is that every single person is not just a person who wants to bring change. They are a full-fledged agent of change. Apparently some of these people were undercover but they were secret agents of change and you get the feeling the way they talk about it, you are waiting for change to be some sort of acronym for some Smurf-like organization with (inaudible) calling the shots.
GLENN: I have to tell you not all change is good, man. Ship travel was pretty good and then somebody said, hey, let's launch the Hindenburg. Not necessarily good every step of the way.
All right, we've got a couple of minutes. Let's talk about John McCain. I saw the exit numbers on John McCain and it shows that people who are voting for him are voting because of the Iraq war. How is it you can forget about McCain/Feingold, McCain/Kennedy, McCain/Lieberman, McCain everything?
GERAGHTY: They really thoroughly question -- I'll share with you, Glenn, the most bizarre statistic I've heard and I just saw this on CNN's website. Among Republicans who describe themselves as against the war, John McCain beat Ron Paul. Now, Ron Paul is outright against the war and wants to bring took place home immediately. John McCain is the architect of the surge and perhaps one of the most pro war, strongest supporter of U.S. efforts over in Iraq and --
GLENN: But see, you know what, that makes sense to me, Jim, because I don't think Americans, I don't think conservative Americans -- and I would put a lot of Ron Paul supporters into this, that they are the uber libertarian kind of conservative American that's tired of the bullcrap. They are not necessarily against the war. They are against losing a war. They are against not fighting to win. That's the only thing John McCain and I have in common and that is the guy says let's go -- if we're going to do it, let's go and kick their ass.
GERAGHTY: That's true. As I look at this, I'm noticing the question, do you disapprove of the war and I suppose some people could interpret of disapproving of the way the war's being fought. So maybe that's -- maybe it's a different interpretation there. But you are right. I think, you know, clearly the war was a central point of McCain's candidacy and part of his appeal in New Hampshire. I was fascinated. Last night I was watching his, I say concession speech. It was his victory speech and he had -- I caught the end of it and I caught the end. It was about the war on terror and it was completely nonpolitical. It was entirely about we are going to --
GLENN: 15 seconds. 15 seconds.
GERAGHTY: Sure. I thought it was brilliant. Half my readers agreed with me, half my readers thought it was absolutely terrible and one person described him as Nyquil in a suit.
GLENN: Jim Geraghty.