Video: Hillary Clinton campaigning 5 feet from polling booths
November 04, 2008
Bettmann / Contributor | Getty Images
I was thinking this weekend, about the power of the individual. We have been trained by very powerful people and organizations to forget this. It used to be that we could be trained by organizations to better empower ourselves, but now corporations are aligning themselves with the government, making us feel small and powerless.
But don't.

I want to tell you about a story that takes you from the early 20th century, starting with a guy, alone in a field, all the way to where we are today.
Back in the early 20th century, one American found himself alone on a battlefield—not one of bullets and bombs, but a battle of wits and innovation and stamina. The battle would determine the fate of an industry, and all of our lives individually.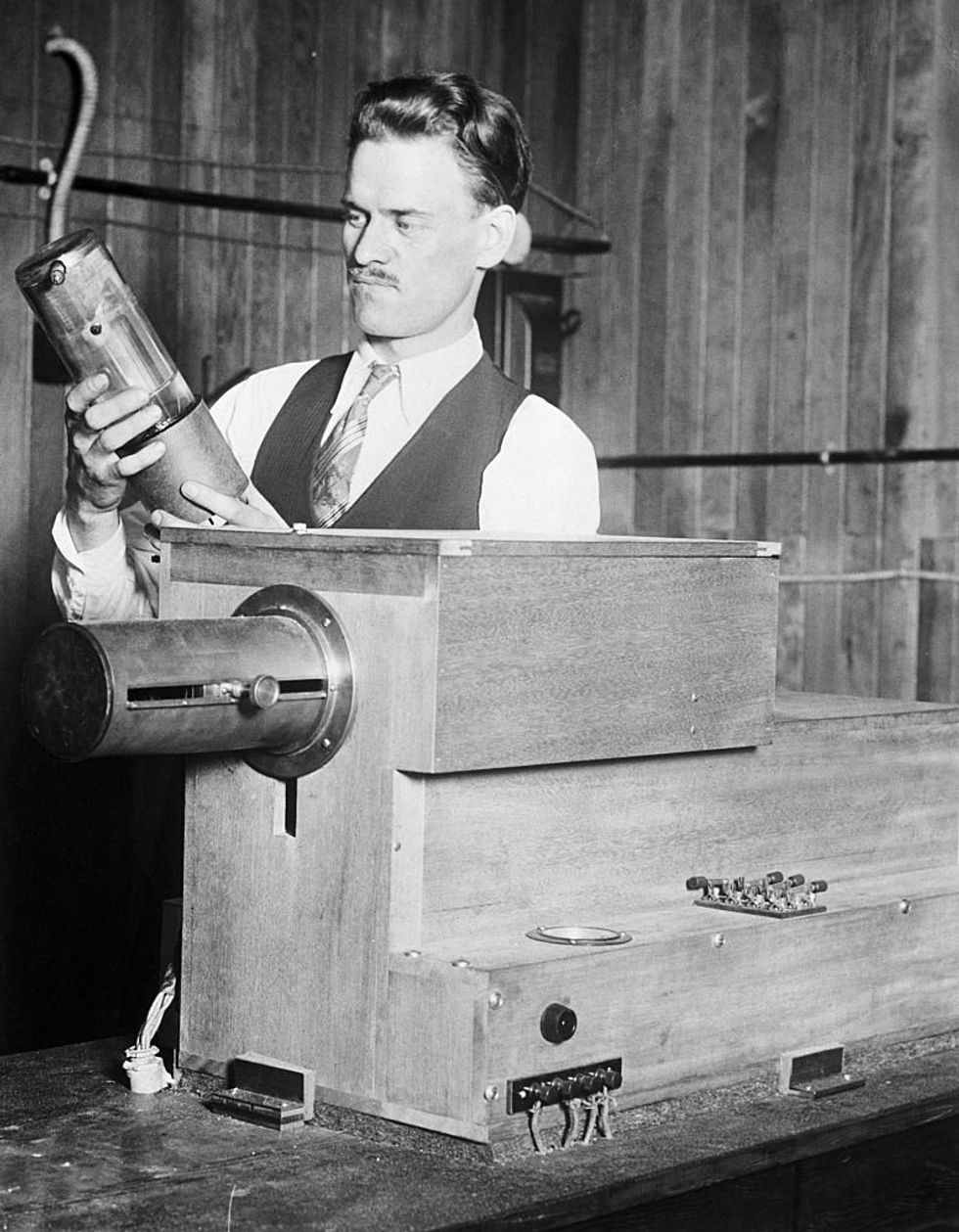 Bettmann / Contributor | Getty Images
Our protagonist, born to humble beginnings in a log cabin, was a genius. As a teenager, he had a really uncanny ability to envision the future beyond the limits of his time. His favorite subjects were science and mathematics. He would dream with his science teacher, who first thought that he was a little nuts. Most geniuses are perceived that way in the beginning.
Our hero faced all kinds of obstacles that would have broken the will of many, but he was driven by an unshakable belief that tomorrow could be better than today. He had an unwavering hope in the power of the individual and the incredible things he could accomplish in our country through hard work and determination.
In our country, he believed, you could stand up to the man.
And he did.
He was driven by an unshakable belief that tomorrow can be better than today.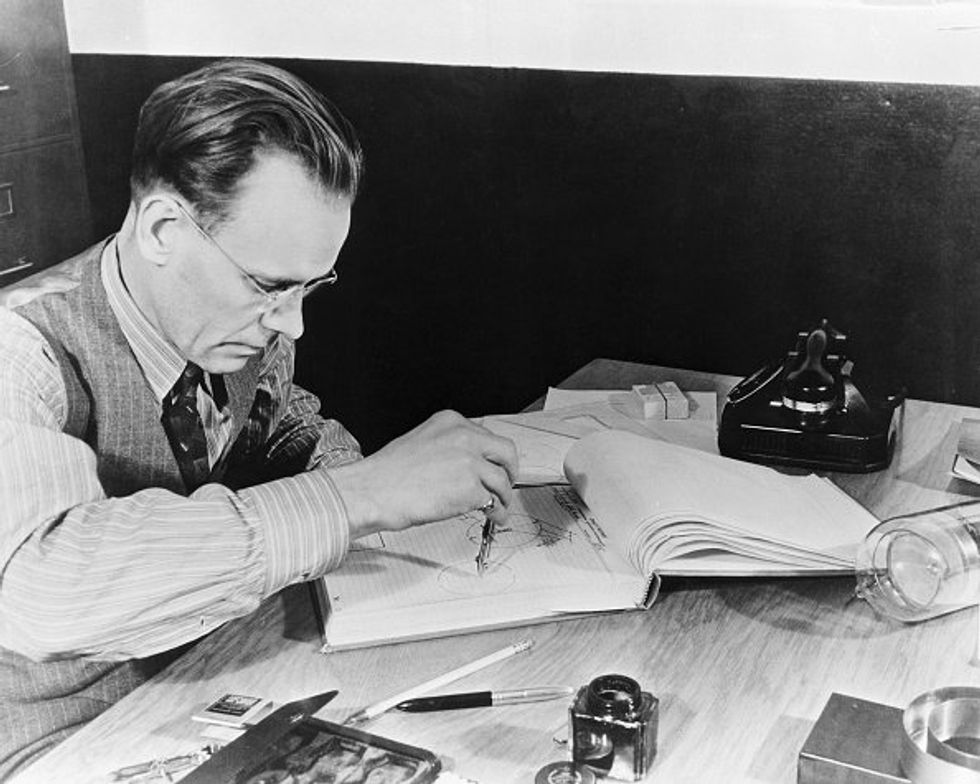 Bettmann / Contributor | Getty Images
When he started to get going, everyone stood against him: the giants of industry, the titans of commerce, the lords of finance. He had one main opponent that tried to discredit his ideas. This opponent sabotaged his work. He sent spies into this little guy's workshop. But no matter how much this guy spent, no matter how much power this man had, no matter how much he would expend in resources, our little hero just kept working at night.
One day, our hero was plowing the field on his family's farm. As he was turning the plow to start a new row, he saw all of the rows lined up next to each other. It gave him an idea, and that moment changed the entire world. He envisioned a series of dots lined up just like the rows on his family's farm that could transmit an image onto a screen.
When he brought it up, he received ridicule, skepticism, and betrayal from those he trusted. He set up a little lab in San Francisco, but he couldn't get anybody to invest. He was making the equipment himself, but it kept failing because he didn't know how to make it. He started making his own little components, and improvised solutions with an unwavering faith in his vision.
He received ridicule, skepticism, and betrayal from those he trusted.
On September 7th, 1927, he transmitted the very first electronic television image, a straight line. He used a single beam of electrons, creating the first fully functional, all-electronic television system. As the years passed, the fruits of his labor began to take shape. One day, to the astonishment of the world, he unveiled his creation—a groundbreaking innovation that would change the way we work, the way we live, the way we communicate.
The invention, a marvel of modern engineering and design, captivated the public. It sent shock waves through the industries that once sought to destroy him. The giants that scoffed at him now found themselves scrambling to catch up as their empires began to crumble. Through a series of lengthy battles with these giants in court, our hero defended his patents and secured his place in history.
The giants that scoffed at him now found themselves scrambling to catch up.
That little man who faced the insurmountable odds and emerged victorious was none other than Philo Farnsworth.
He was the inventor of the fully functional, all-electronic television system, the device that brought families together, shaped culture, and connected us to the world and to space. We saw a man who walked on the moon made possible through the brainchild of a man who fought a lonely battle against the giants of his time, and it's all but forgotten.
But it all started with a guy who was working out in a field. When he turned his plow and saw those lines, he thought, "If I put dots of color, into lines, several lines, I'll be able to transmit a picture." Those dots we now know as pixels, the building block of every image we see today. In 1927, his invention changed the world, making all his hard work in the face of adversity worth it.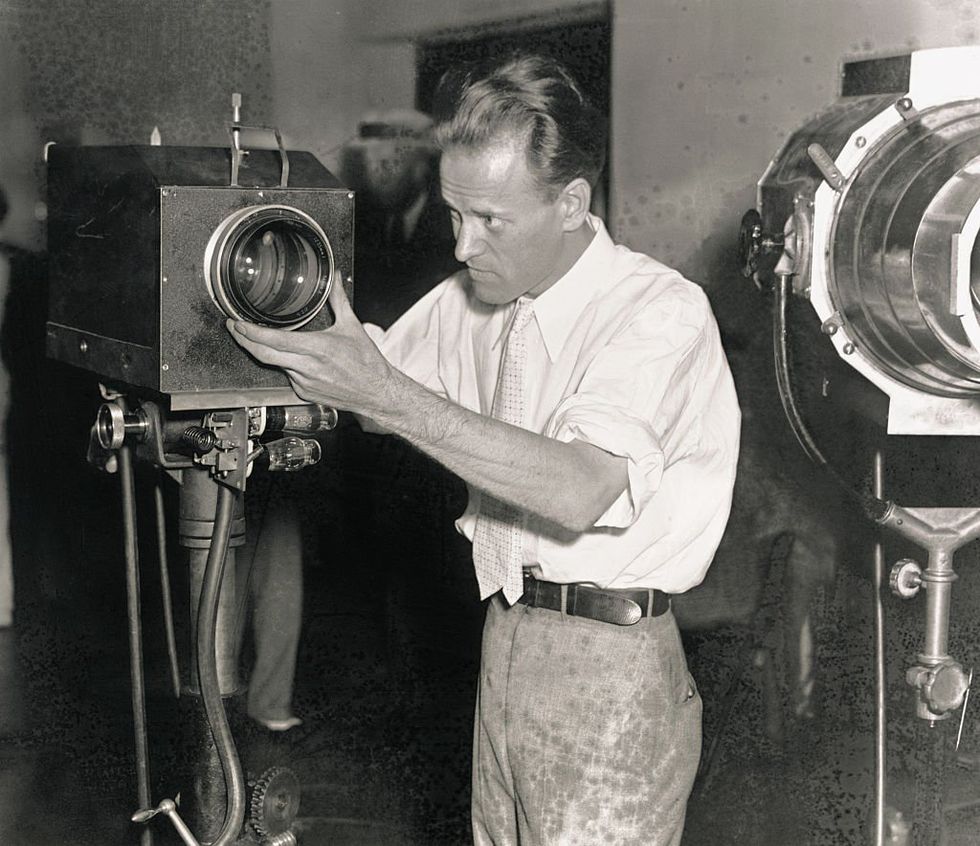 Bettmann / Contributor | Getty Images
Farnsworth has been a pivotal source of inspiration for me. In 2011, we launched BlazeTV. At the time, traditional cable networks were still the dominant force in news and entertainment. I remember sitting in my office, looking at my news team, when Stu, my executive producer, and I said, "This is all going to come collapsing down around them." We decided to embrace the power of the internet and embrace the power of an audience. Like Farnsworth, the "establishment" didn't like us. They laughed and said it would NEVER work.

We bypassed the gatekeepers of television, and we made BlazeTV an independent place for the voice to be heard. It was a place to connect and hear the truth, engage in thoughtful discussions about the issues that matter most. And because of our success, OTHERS followed in our footsteps while our mainstream critics are struggling to keep afloat. A new wave of independent media organizations emerged and leveraged the power of the internet, to create alternative sources of information and entertainment.

We bypassed the gatekeepers of television, and we made the BlazeTV an independent place for the voice to be heard.
All of us in the independent media have thrived on the principles of honesty, integrity, and intellectual curiosity—something that is all, but dead in the mainstream media. Today's mainstream media is tragically clinging to the past and has exposed themselves in their desperation to survive.
They have no desire to be useful and relevant—the fact that they are willing to call a woman a man, and a man a woman is a cry of desperation, not of relevancy. In reality, the only way to survive is to remain loyal only to the truth. We're not battling people. We're battling desperation. We're battling evil—a relentless barrage of falsehoods and manipulations.
But the truth will always weather the storm.
Most people don't know, I named BlazeTV after two things. One of them was the burning bush of Moses. It was a fire of truth that burned but was never consumed. As long as we're truthful, that fire will burn and will never consume.

The truth will always weather the storm.
I just want to remind you that things always change, but individuals make all of the difference. Our country is a testament to the power of innovation, resilience, and the unwavering belief of the individual, the importance of free speech, open discourse, and the rule of law. Let that be your beacon of hope this week. No matter what is collapsing around us, there's somebody thinking of something much better. And it's growing.
Right now, as we see the collapse of truth, just know you have helped build something that will replace those lies. A positive change is possible, if we believe in the truth and ourselves.

Anadolu Agency / Contributor | Getty Images
Remembering the Holocaust is not for the dead. It's for the living.

Today is Holocaust Remembrance Day—one of the few remaining days where we as Americans are unified. For this single day, we lay aside the moral relativism sweeping our culture and agree again that there is a right and wrong and that the Holocaust was firmly the latter.
But after the public statements are posted and political proclamations are made, will we still agree that there is a clear and definite right and wrong—that we really should never again allow an atrocity like the Holocaust to take place?
Will we still agree that there is a clear and definite right and wrong?
If "never again," is more than just a slogan, what does that mean for us today?
Anthony Blinken said in his public statement:
Among the most powerful lessons we can learn from the Holocaust is that the mass murder of six million Jews was not a sudden or singular act, but rather the culmination of countless incremental steps designed to vilify and dehumanize people. That's why we must remember now, and always.
He's right.
But on most days, any discussion of these "countless incremental steps" withers away to nothingness. It becomes blind and dull finger-pointing. It becomes, "That's nothing like the Holocaust! How could you even make that comparison?" It becomes undiscussable.
Yes, on these incremental steps, the conviction and passion of many grow cold. It is an unexplainable phenomenon that paints those who seek to earnestly apply the lessons of the Holocaust to modern times as antisemites.
We don't remember only to honor the dead. We remember to guide the living. If we don't believe that the story of the Holocaust has any application to the present and the future, then why not forget?
We don't remember only to honor the dead. We remember to guide the living.
The slippery slope that led to the Holocaust was paved with many evils, but one was the people being too squeamish—too preoccupied to identify the "incremental steps" on the path to destruction.
The people who fell victim to Nazi ideology, both the oppressed and oppressor, were no different from us. There was nothing uniquely evil that lived inside those who became Nazis. It is the same evil that lives inside each of us.
Aleksandr Solzhenitsyn said:
The line between good and evil runs not through states, nor between classes, nor between political parties either — but right through every human heart.
If that's so, then it's the work of every generation to recommit to the battle of good versus evil—within our nation, within our family—within our own hearts. For, as God said to Cain, sin is always lurking at our door.
It's the work of every generation to recommit to the battle of good versus evil.
When evil slithers upon us, it may appear different on the outside, but, at its core, it will always be exactly the same. That is why we must study, debate, dissect, compare, and contrast the Holocaust—that is why we must hold it up against current times.
To think of the Holocaust as a hideous, yet unrepeatable past event is not enough. The evil within human hearts has not been abolished. To truly mean the words "Never Again," we must first accept that, without our vigilance, it could happen again.
SOPA Images / Contributor | Getty Images
Every American living in the U.S. today has lived in a dollar-dominated world. After World War I, the dollar replaced the British pound as the world's strongest currency after the war decimated and depleted Europe's economies. The Bretton Wood Agreement in 1944 solidified the dollar's standing as the international trade currency. In 1973, the "petro-dollar" was born, with all oil purchases transacted through the U.S. dollar.
The U.S. dollar's dominance has funded our way of life without collapsing on our own debt and secured our place as the world's leading superpower.
Until now.
The dollar is under the greatest attack since it rose to its place of prominence after World War I. Led by China and Russia, the BRICS alliance, composed of Brazil, Russia, India, China, and South Africa, aims to create a "multi-polar" world where the yuan and ruble provide an alternative currency for those who want to become independent from the dollar and the influence it entails.
The dollar is under the greatest attack since it rose to its place of prominence after World War I.
In 2023, we have seen the biggest international rally against the U.S. dollar since World War I. Trading relationships that the U.S. has long taken for granted are now turning to the Chinese yuan to bypass the Western "strings attached" to the dollar. This means countries like Iran and Russia now have a way to bypass U.S. sanctions. The greater threat is a new "world order" controlled by China and Russia depleting the U.S. dollar. This has the potential to completely alter our way of life.
Below are the top 9 countries to take active steps against the U.S. dollar, posing the greatest threat to the U.S. as a superpower.
1. Argentina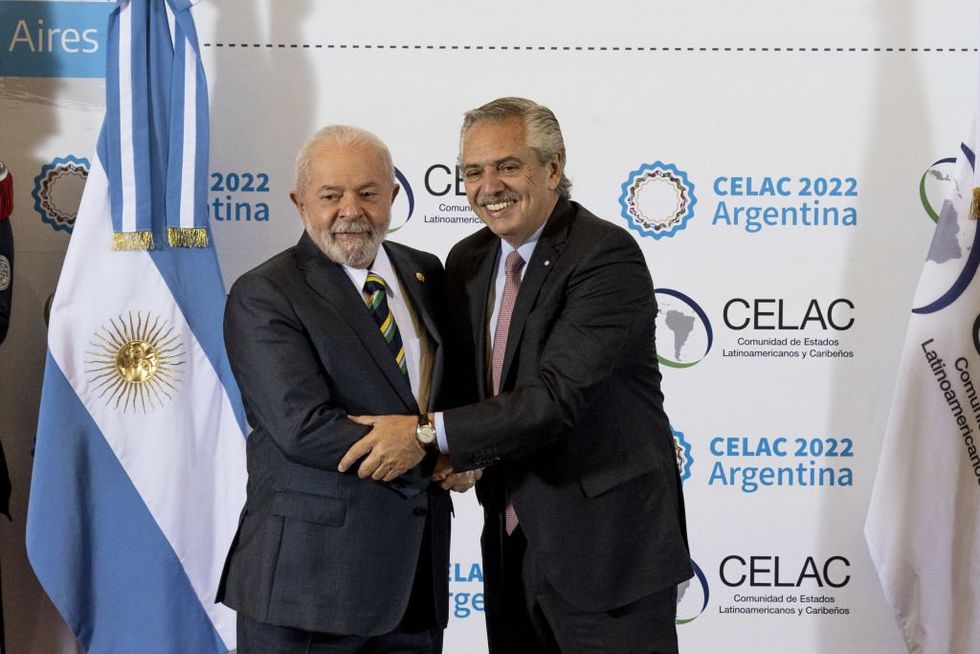 Argentina's President Alberto Fernandez (right) welcomes Brazil's President Lula da Silva (left) to Buenos Aires.
Bloomberg / Contributor | Getty Images
Argentina and Brazil announced they will be forming their own common currency with the explicit purpose of severing their reliance on the U.S. dollar. Brazil and Argentina are the first and second-largest economies in Latin America. The move will help them become more immune to U.S. sanctions as they progress towards closer ties with China. Moreover, Argentina is considering joining the BRICS alliance as a formal step away from the U.S. dollar.
2. Brazil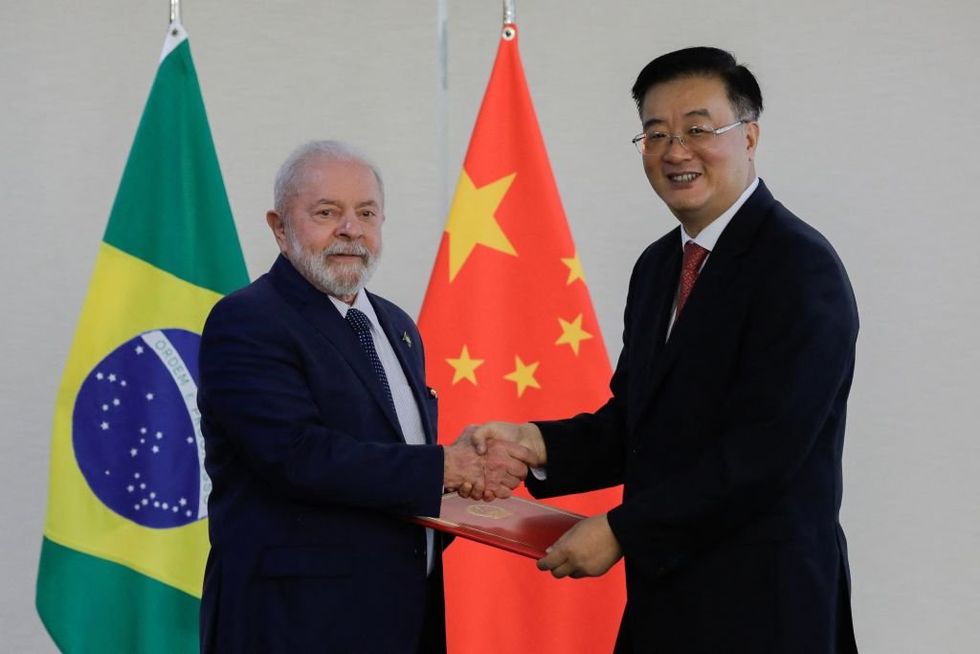 President Lula da Silva (left) shakes hands with China's Ambassador to Brazil Zhu Qingqiao (right).
SERGIO LIMA / Contributor | Getty Images
One of the founding members of the BRICS alliance, Brazil signed a memorandum of understanding with China earlier this year to establish a yuan-clearing arrangement, the first step in establishing bilateral trade with China. More progress to this end is expected this week as Brazilian President Lula de Silva prepares to visit President Xi in Beijing.
Lula de Silva ousted former President Bolsonaro, who was more closely aligned with the U.S. and Western interests. Now, Silva aims to lessen Brazil's dependence on the U.S. dollar and the risk of sanctions for doing business with enemy nations with the U.S.
Henry Osvald, president of the Brazilian Association for Industry, Commerce and Innovation in China (BraCham) remarked that the deepening ties between Brazil and China "comes at a very important moment as the US dollar is not stable and it is depreciating considerably." Moreover, Osvald said:
Brazil is the only country in Latin America that has a bank established in China, and there are already several Chinese banks established in Brazil - this will help economic and trade ties and strengthen the yuan as an alternative to the US dollar and the euro.
As Iran, China, and Russia are continually aiming to expand their interests in Latin America, the Chinese yuan will allow them to do so with less fear of repercussions from the U.S.
3. China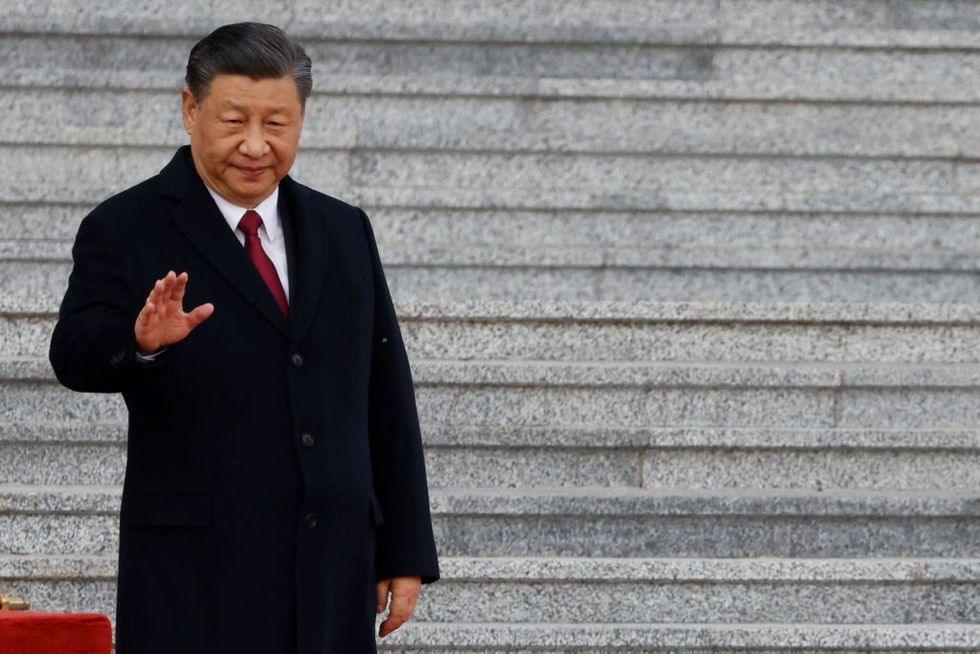 China's President Xi Jinping leads the anti-dollar coalition through boosting the yuan's international status.
LUDOVIC MARIN / Contributor | Getty Images
The Chinese yuan is the biggest challenger to the U.S. dollar as the international trade currency of choice. From their Belt and Road Initiatives to forging closer ties with countries that were subject to U.S. sanctions, China is positioning the Yuan as an alternative to countries who aim to become more independent from the U.S. dollar and the influence it entails.
China is the focal point of all the countries on this list. Xi is providing a way for nations who want to distance themselves from U.S. interests to do so without fear of economic repercussions. The list is already large and will continue to grow as China seeks to expand BRICS and the yuan's influence in Latin America and Africa.
4. France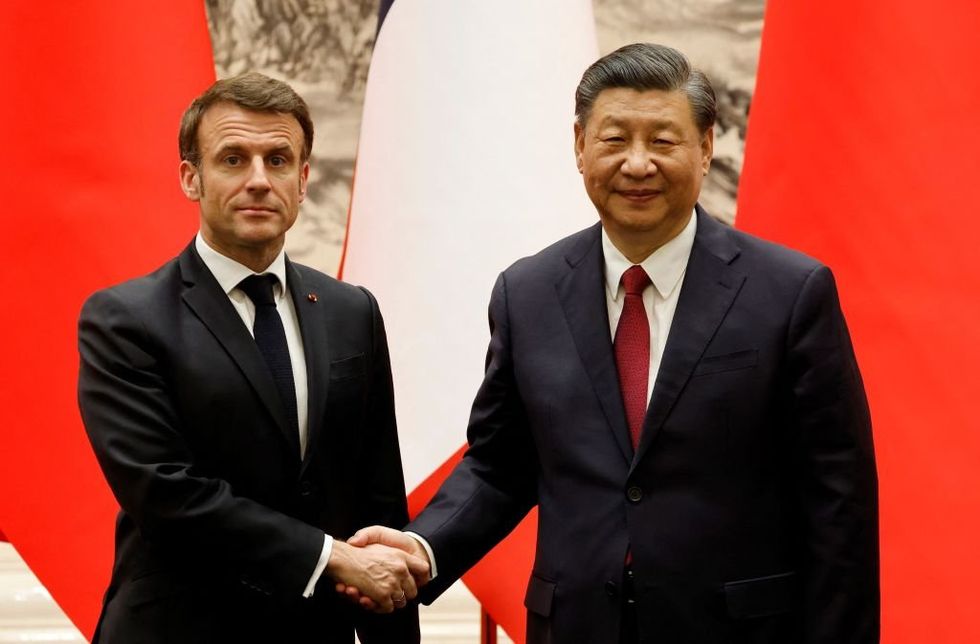 French President Macron (left) greets President Xi (right) during his historic visit to Beijing.
LUDOVIC MARIN / Contributor | Getty Images
France, a long-time U.S. ally, has become one of the most outspoken Western critics of the U.S. dollar and the European spokesperson for autonomy from the U.S. In his recent historic visit to Beijing, Macron reiterated his call for Europe's "strategic autonomy" to prevent becoming "vassals" to the U.S. Macron, like German Chancellor Olaf Scholz, are determined to keep industrial ties with China despite the growing conflict between China and the U.S.
France's determination to distance itself from the U.S. is a major blow to U.S. foreign policy and relations with the West. It speaks volumes to the deterioration of trust behind U.S. fiscal and foreign policy in regards to the U.S.'s closest allies.
5. India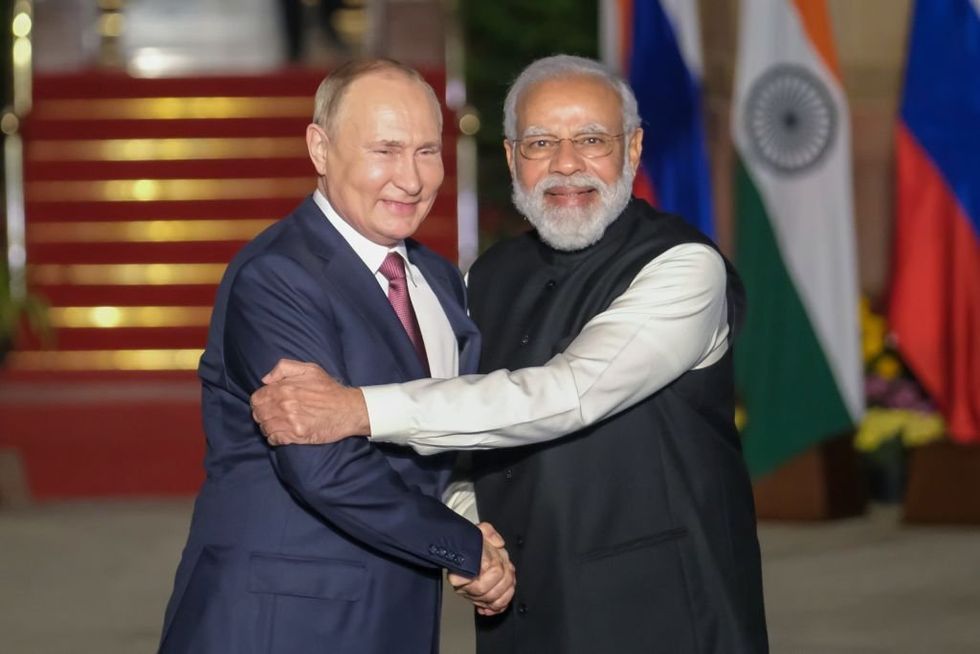 India's Prime Minister Modi (right) and Putin (left) deepen trade relations with the rupee and rouble to bypass U.S. pressures attached to the dollar.
Bloomberg / Contributor | Getty Images
Behind the Chinese yuan, the Indian rupee is arguably the second-greatest challenger to the U.S. dollar. As a BRICS founding member, India has long aimed to distance itself from the influence of the dollar. This year, India took a major step forward, announcing its new trade policy that steps away from the dollar in favor of placing the rupee and Russian ruble as international currencies to settle trade transactions.
In addition to strengthening the rupee's standing for trade transactions across Asia, most notably Malaysia, India agreed to use both rupees and rubles instead of the dollar in mutual trade with Russia to avoid Western sanctions. India also agreed to switch to a rupee payment for Iranian crude imports, bypassing Western sanctions on Iranian oil.
6. Iran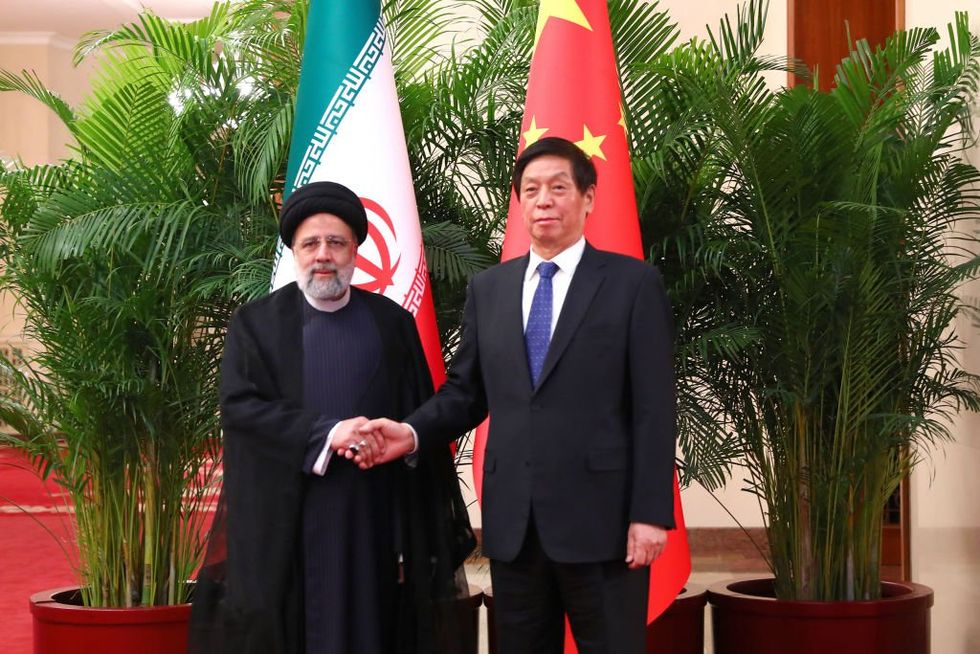 Iranian President Ebrahim Raisi (left) meets with Chairman of the Standing Committee of the National People's Congress of China Li Zhanshu (right) during his official visit to Beijing, China on February 14, 2023.
Anadolu Agency / Contributor | Getty Images
There are few countries who are subject to more international sanctions from the U.S. than Iran. Sanctions on Iran's oil and weapons industries have been a long-time strategy used by the U.S. to restrict Iran's nuclear program. However, with the Chinese Yuan as an option, U.S. sanctions will lose much of their power in curbing Iran's initiatives. Through using the yuan, Iran can trade its oil, sell its weapons to Iranian-backed militias wreaking havoc throughout the Middle East, and continue to grow its nuclear program with less fear of international consequences.
7. Russia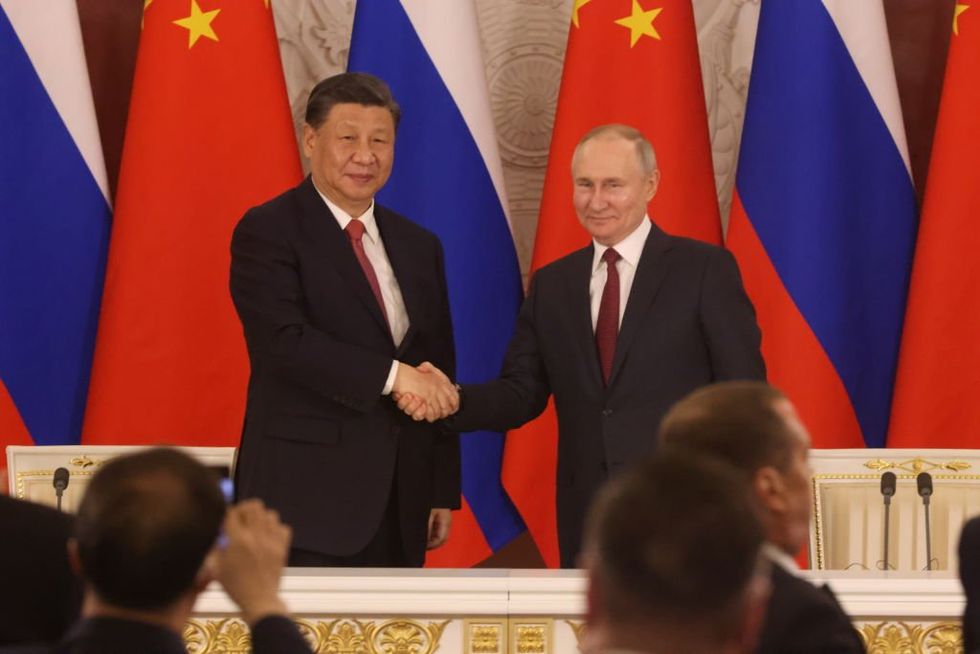 Putin (right) and Xi (left) lead the BRICS alliance against the U.S. dollar and influence.
Contributor / Contributor
China and Russia have been forging closer ties for years to deal with Western opposition. However, the war in Ukraine has brought them closer than ever before. Putin and Xi's historic meeting in Beijing solidified their military and economic alliance, aiding each other in bypassing Western sanctions and pressures.
Putin called for the Chinese yuan to be used globally, saying, "We support using Chinese yuan in transactions between the Russian Federation and its partners in Asia, Africa and Latin America." Moreover, Xi told Putin, "Right now, we're seeing a change we haven't seen in 100 years, and we're driving this change together" signaling a new "multi-polar" world order with China and Russia becoming legitimate power challengers to the U.S.
Last month alone, the yuan overtook the dollar as the most traded currency on the Moscow Exchange for the first time ever, representing almost 40 percent of total trading volume. As they aim to make the yuan the international currency of choice beyond Russia into the developing world, Russia and China pose the greatest economic threat to the U.S., as Xi said, in the past "100 years."
8. Saudi Arabia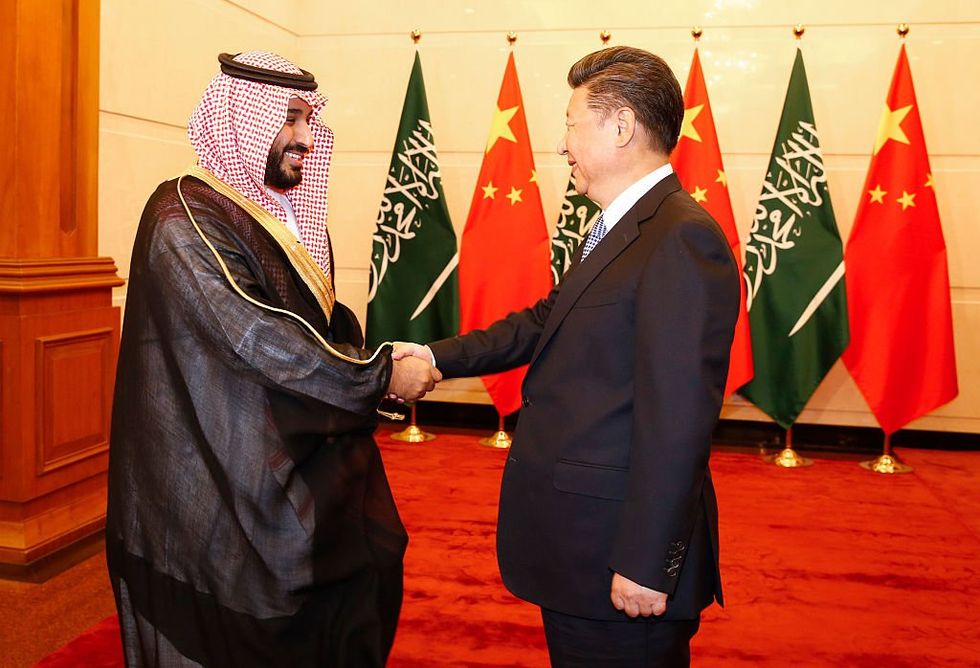 Saudi Arabia Deputy Crown Prince Mohammed bin Salman (left) greets Chinese President Xi Jinping (right)
Pool / Pool | Getty Images
Saudi Arabia's decision to ditch the "petro-dollar" in favor of the "petro-yuan" is arguably the most significant blow to the U.S. economy in modern times. The "petro-dollar" refers to the dollar's standing as the currency facilitating oil that has been traded and sold from Saudi Arabia. The "petro-dollar" has been an integral part of the U.S.'s foreign policy and economic standing since the 1970s.
It is one of the main reasons why politicians justify taking on so much domestic debt—most countries "buy up our debt" via oil purchases. Our current way of life is completely dependent upon foreign investors, who hold a total of $7.3 trillion in U.S. debt as of 2022. We've been free print ourselves into oblivion knowing our foreign investors will pick up the bill.
Not anymore.
Now, Saudi calls for all oil transactions to be carried out in yuan, NOT the U.S. dollar. This isn't merely a major blow to the dollar's international reputation as a safely-backed currency—it is a threat to our way of life and our fiscal bottom line.
9. South Africa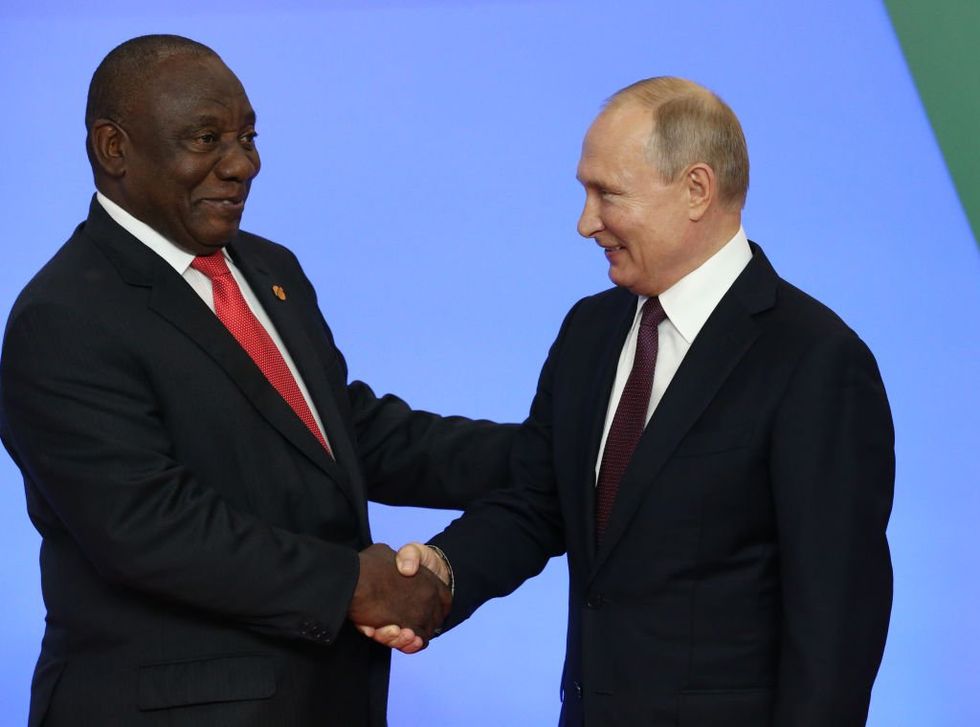 South African President Ramaphosa (left) greets fellow BRICS member, Vladimir Putin (right).
Mikhail Svetlov / Contributor | Getty Images
South Africa is arguably one of the most outspoken opponents to the U.S. dollar out of the BRICS nations. South African President Cyril Ramaphosa says he'll use his chairmanship of the BRICS group of leading emerging economies to focus on advancing African interests, creating less dependency on the dollar and Western influence. He said:
Our continent was pillaged and ravaged and exploited by other continents and we therefore want to build the solidarity in BRICS to advance the interests, of course initially of our own country, but also of the continent as a whole.
China is already Africa's largest trading partner. With Ramaphosa's urgency to expand BRICS on the continent, it is clear that Western interests are losing the battle on the African front.
Riley Gaines was attacked by a mob of transgender activists at San Francisco State University. BlazeTV's own Alex Stein was attacked at a transgender surgery for minors rally in New York. Worst of all, we witnessed the horrific Covington Christian School fatal shootings, several of which were children, at the hands of a former transgender student.
What is going on?
If you were to check with our political leaders or the mainstream media, apparently NOTHING is going on. The White House hosted "Transgender Day of Visibility" immediately following the Covington shooting, only conservative media covered Riley Gaines' attack, and our cultural elites seem to be more concerned about celebrating people like Dylan Mulvaney than standing with the families who just lost their children.

It is clear: unless you don't stand on the approved political aisle, the victims are silenced, and the oppressors get a pass—even approval. You MUST OBEY or be silenced.
Our republic can't endure our current cultural division. That's why Glenn devoted this week's episode of Glenn TV to explaining how our political and corporate elites are BLACKMAILING the American people to accept their leftist agenda, whether it be from cultural pressures or corporate standards like ESG and CEI.
Do your own homework
Glenn wants YOU to do your own research. You can get the research documents behind this Glenn TV episode, showing you ALL the sources for the most recent series of trans-initiated attacks, how investment firms blackmail businesses using ESG and CEI, and how our leaders have LIED about the very agendas they tout to defend.
Enter your email below to get access to this EXCLUSIVE research.
Watch the full special below (or watch on BlazeTV here):