Alex Wong / Staff, Bloomberg / Contributor, Pool / Pool, Zach Gibson / Stringer | Getty Images
Trump's history-making indictment sent shockwaves throughout our political system. It can be difficult to sift through what is actually happening as the story makes its rounds through the mainstream media. However, amid the noise, two clear talking points have begun to emerge surrounding Trump's indictment.
These talking points became clear as our chief lawmakers and leaders began delivering their responses to Trump's indictment. See if you can pick up on the pattern from these reactions from 11 leading politicians, and find out where your leaders stand on the issue.
Governor Ron DeSantis, Gov.-FL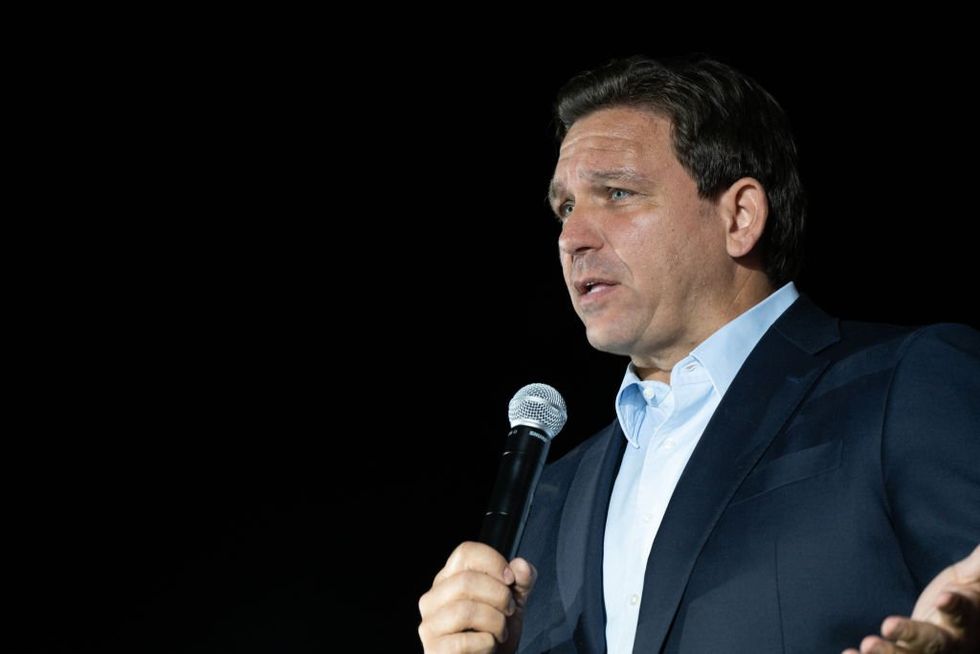 David Dee Delgado / Stringer | Getty Images
DeSantis tweeted Trump's indictment "turns the rule of law" on its head and that when the judiciary is weaponized against political opponents, there is no rule of law.

The weaponization of the legal system to advance a political agenda turns the rule of law on its head. It is un-American. The Soros-backed Manhattan District Attorney has consistently bent the law to downgrade felonies and to excuse criminal misconduct. Yet, now he is stretching the law to target a political opponent.
Nancy Pelosi, D-CA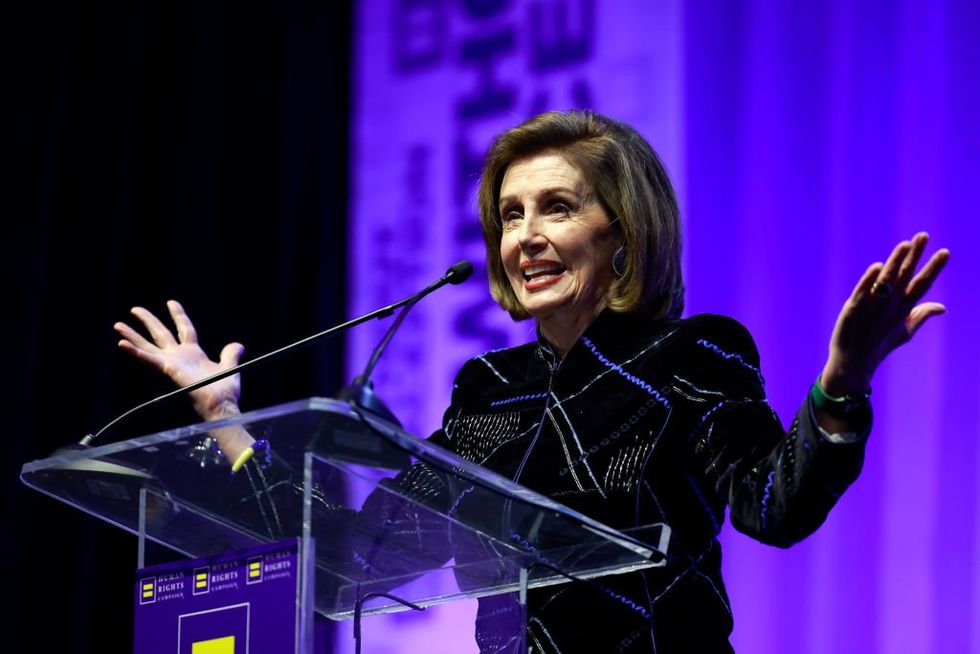 Emma McIntyre / Staff | Getty Images
Pelosi has been getting backlash for releasing a statement stating Trump has an opportunity to " prove his innocence." In America, anyone accused of a crime is presumed innocent until proven guilty. Apparently, she won't give Trump the same presumption of innocence that is guaranteed to the American people.
The Grand Jury has acted upon the facts and the law. No one is above the law, and everyone has the right to a trial to prove innocence. Hopefully, the former President will peacefully respect the system, which grants him that right.
Kevin McCarthy, R-CA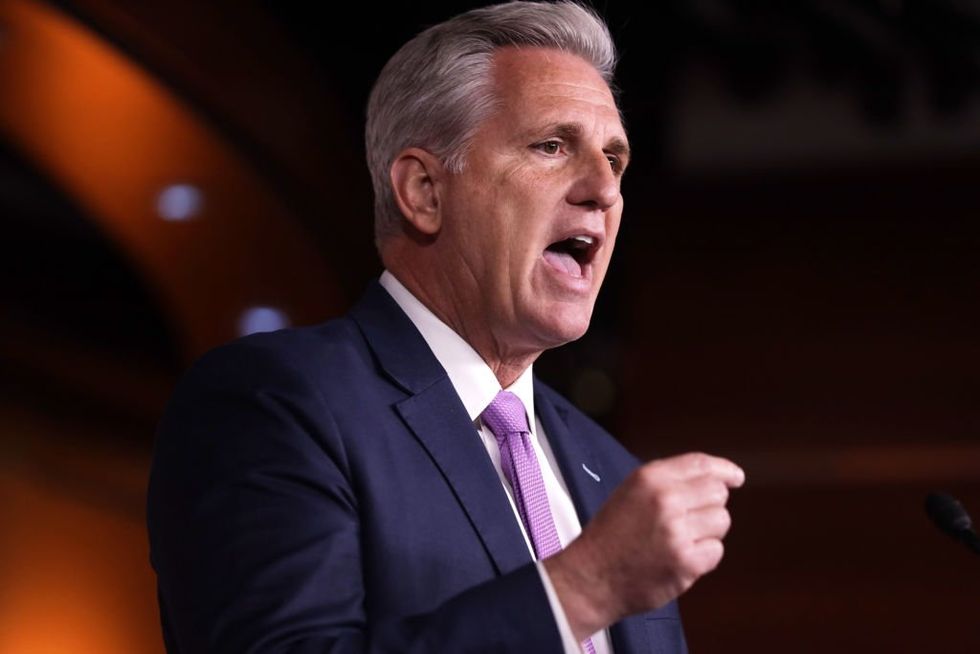 Alex Wong / Staff | Getty Images
House Speaker McCarthy blasted DA Bragg for weaponizing his position against Trump while neglecting his duties to prosecute criminals as New York City experiences massive surges in crime.
As he routinely frees violent criminals to terrorize the public, he weaponized our sacred system of justice against President Donald Trump. The American people will not tolerate this injustice, and the House of Representatives will hold Alvin Bragg and his unprecedented abuse of power to account.
Chuck Schumer, D-NY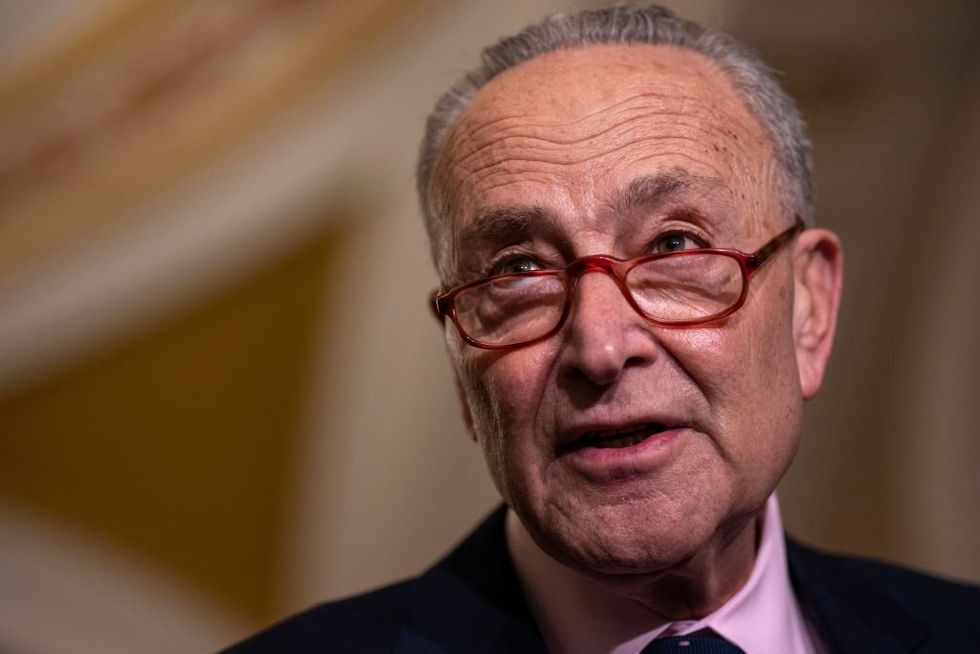 Drew Angerer / Staff | Getty Images
Senate Majority Leader Schumer took the popular "Trump isn't above the law" stance that most Democrats have been using as a talking point.
Mr. Trump is subject to the same laws as every American. He will be able to avail himself of the legal system and a jury, not politics, to determine his fate according to the facts and the law," Schumer said in a statement on Thursday night. Chuck Schumer
Ted Cruz, R-TX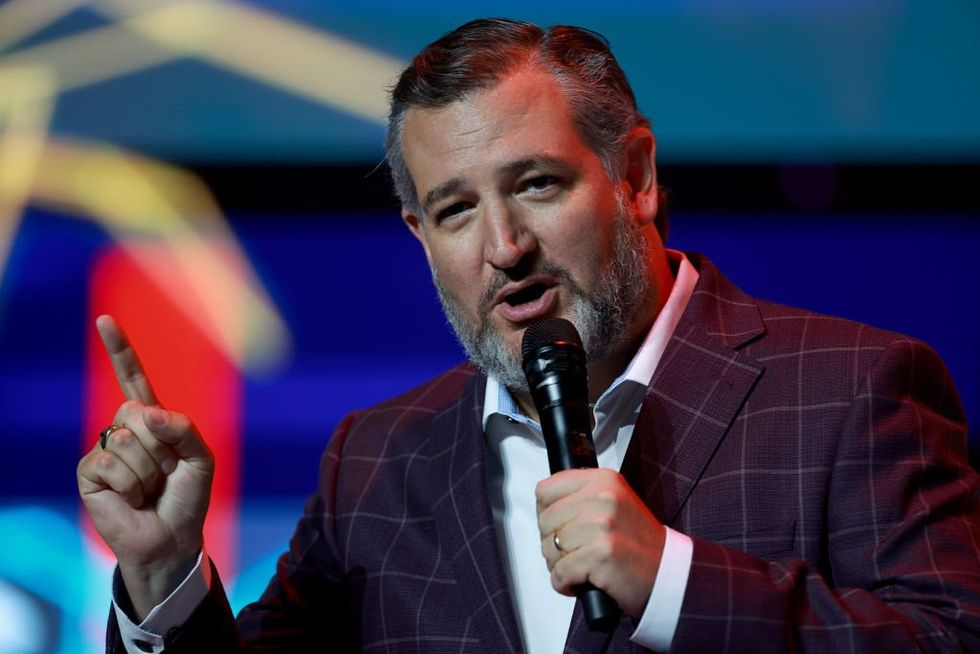 Joe Raedle / Staff | Getty Images
Like most Republican leaders, Senator Cruz called Trump's indictment a "weaponization" of our judicial system in a recent tweet. He also attributed Trump's indictment to the Democrats' "hatred for Donald Trump."
The Democrat Party's hatred for Donald Trump knows no bounds. The 'substance' of this political persecution is utter garbage This is completely unprecedented and is a catastrophic escalation in the weaponization of the justice system.
Ilhan Omar, D-MN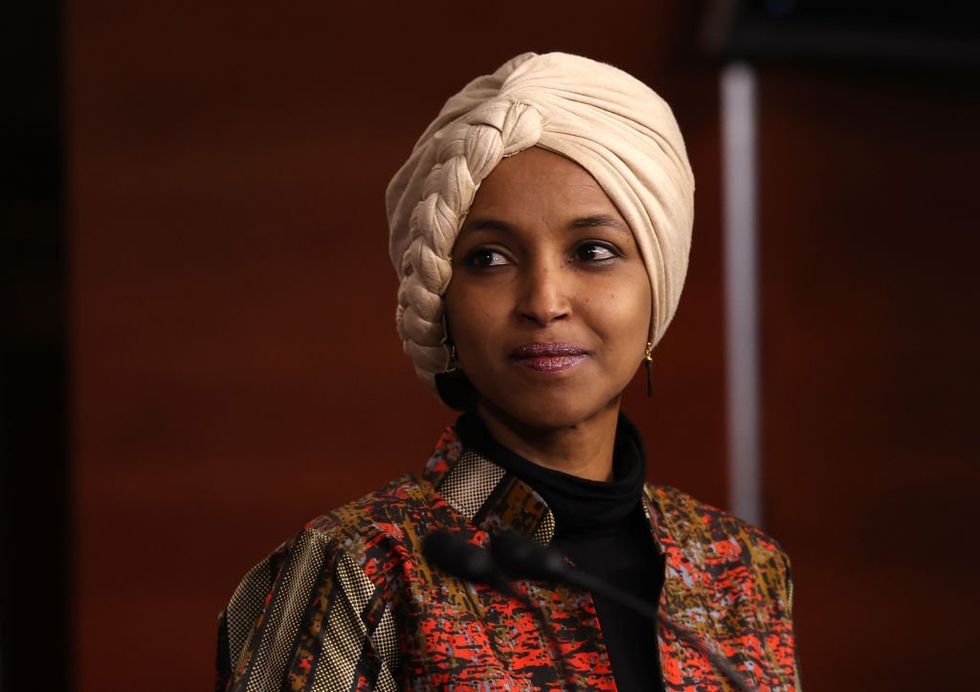 Kevin Dietsch / Staff | Getty Images
Unlike DeSantis, who said Trump's indictment "turns the rule of law on its head," Rep. Omar said Trump's indictment proves that the rule of law is alive and well in a statement released from her Congressional office.
Our democracy rests on the rule of law. When someone—no matter how powerful they are—is suspected of a criminal act, our justice system investigates, charges, and convicts them in accordance with due process. This is just one of many criminal acts for which Donald Trump is being investigated. Make no mistake: the fact that one of the most powerful people in the world was investigated impartially and indicted is testament to the fact that we still live in a nation of laws. And no one is above the law.
Lindsey Graham, R-SC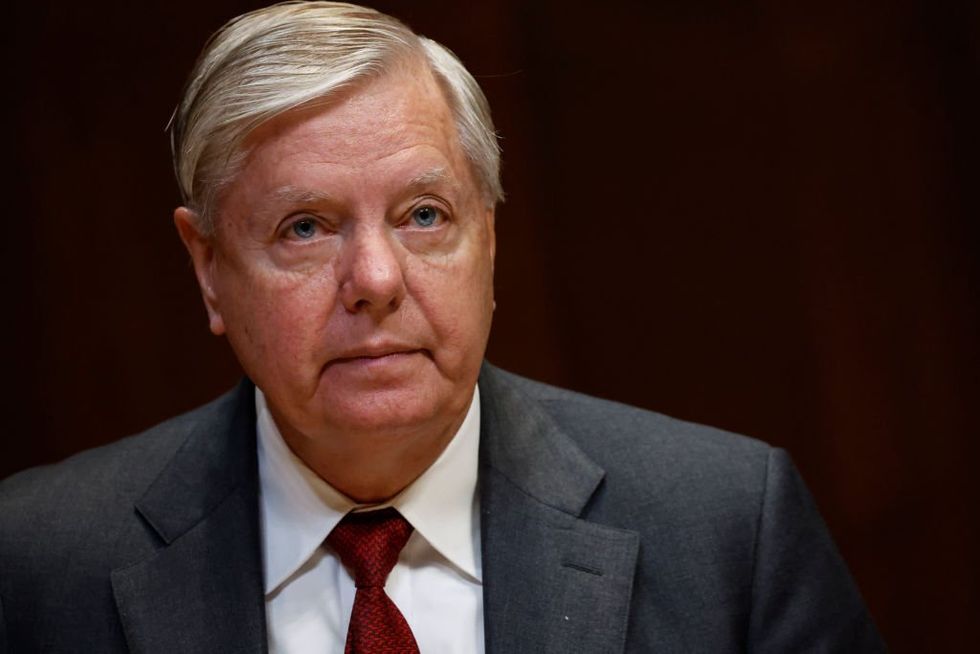 Pool / Pool | Getty Images
Senator Graham reiterated DeSantis' claim that Trump's indictment has threatened the "rule of law." He also said it poses a threat to future presidencies.
This is a moment in American history. This is the most dangerous decision by a prosecutor in the history of the country. He's opened up Pandora's box against the presidency itself. This is a danger to the presidency. This is turning the rule of law upside down to destroy a man who the Left fears.
Elizabeth Warren, D-MA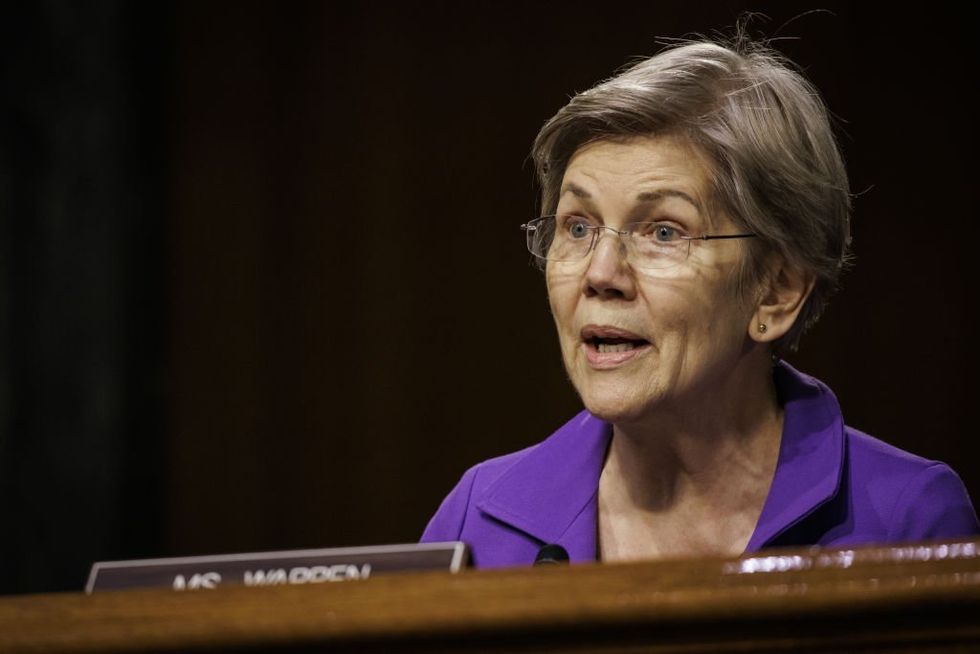 Bloomberg / Contributor | Getty Images
Senator Warren reiterated Ilhan Omar's sentiment that "no one is above the law" and that Trump's indictment is proof that our democracy is alive and well.
No one is above the law, not even a former president of the United States. This is a very sober time for our country, a real moment in history. And yet I think the most important part of this is to say that a foundational piece of our democracy is holding, that it is possible to have an independent investigation, to go wherever the facts lead, and then to follow the process through.
Steve Scalise, R-LA
\u201cThe sham New York indictment of President Donald Trump is one of the clearest examples of extremist Democrats weaponizing government to attack their political opponents.\n\nOutrageous.\u201d

— Steve Scalise (@Steve Scalise) 1680214786
House Majority Leader Scalise reiterated the popular Republican stance that DA Bragg is weaponizing the judiciary against the Left's political opponents.
The sham New York indictment of President Donald Trump is one of the clearest examples of extremist Democrats weaponizing government to attack their political opponents. Outrageous.
Eric Swalwell, D-CA
\u201cMy statement on the indictment of former President Donald Trump:\u201d

— Rep. Eric Swalwell (@Rep. Eric Swalwell) 1680216368
Surprisingly, Rep. Swalwell said, "Trump deserves every protection provided to him by the Constitution and due process under our rule of law." He also called for us to put our faith in our judicial system.
Matt Gaetz, R-FL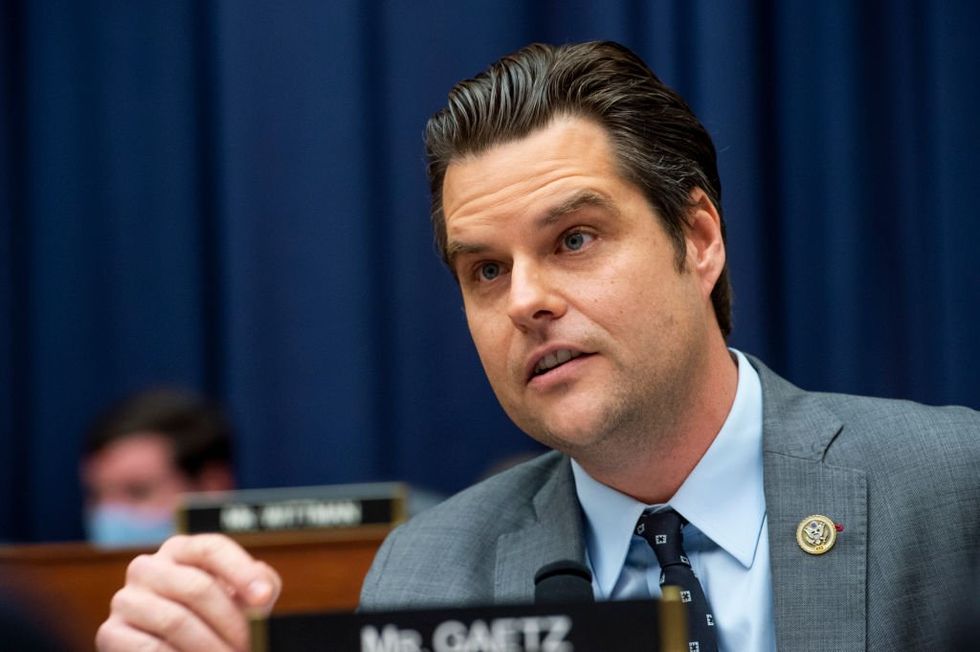 Pool / Pool | Getty Images
Rep. Gaetz expressed a similar take to Glenn's—that Trump's indictment brings us closer to a "banana republic" that allows leaders to use the government to attack their political opponents.
We will wake up in a very different America tomorrow because we can no longer have moral authority against the dictators and despots who have always found it easier to jail their political rivals than to compete against them in free and fair elections.
In summary, Democrats defend Trump's indictment as proof that "our democracy is alive and well" because "no one is above the law. Republicans, on the other hand, say Trump's indictment brings us closer to a "banana republic," whose leaders "weaponize the judiciary against their political opponents," "turning the rule of law on its head." Where the narrative will go next only time will tell.
Brandon Bell / Staff, J2R | Getty Images
BREAKING NEWS: Trump has been INDICTED.
Today marks the first time in U.S. history that a President has been criminally indicted—but what does that actually mean? Unless you have a legal or political background, it is difficult to follow what will actually happen surrounding Trump's indictment.
Glenn will provide more clarity in coming days as this story continues to unfold. In the meantime, Americans are wondering what Trump's indictment means and what comes next.
Here are five things you NEED to know about Trump's indictment.
1. What does "indictment" actually mean?
To "indict" someone is the formal term used when a person is notified that they have been officially charged with a crime. In this case, the Manhattan grand jury found that the Manhattan District Attorney, Alvin Bragg, brought forward enough evidence to criminally charge Trump with a crime.
2. What crime is Trump being charged with?
Though the story is still developing, at the time of this article's publication, Trump was apparently being charged with mislabeling campaign finance funds. A week before the 2016 Presidential election, adult film star Stormy Daniels claimed she allegedly slept with Trump years prior and threatened to go public with the story. Trump's then-advisor Michael Cohen paid Stormy Daniels $130,000 and labeled the fee as "legal fees" in their campaign finances. Trump repaid Cohen once he was elected to office.
Mislabeling legal fees is a misdemeanor—not a felony—yet Trump is being federally charged. Hillary Clinton was guilty of the same misdemeanor, mislabeling funding for the Steele Dossier as "legal fees" in her campaign finances. Why did she get away with paying $130,000 to the Federal Election Commission, while Trump is facing federal criminal charges?
Mislabeling campaign finances can't be considered a felony unless there is evidence it was used to shield a federal crime. So what was Trump covering up? Even NBC admitted that Bragg's case to prove this point was flimsy to begin with. It has not been revealed what evidence was presented to the grand jury to determine that Trump is guilty of a federal crime.
3. What is a "grand jury" and how are they able to indict Trump?
A "grand jury" is a type of federal jury that evaluates criminal cases. A U.S. prosecutor has to submit evidence before a grand jury, who will determine whether there is "probable cause" to believe an individual has committed a crime and should be put on trial. In this case, the Manhattan grand jury ruled that the evidence submitted by Manhattan DA Bragg was sufficient enough to believe that Trump had committed a federal crime.
Grand jury proceedings are closed to the public, thus, we don't have access to the evidence Bragg submitted before the jury.
4. Will Trump be arrested?
The simple answer is: yes.
Trump's arrest won't look like your typical crime shows with police officers busting through Trump's door and handcuffing him. The district attorney's office will ask Trump's attorney when he plans to come to New York to be arraigned, which means to appear before a court to face criminal charges. Once Trump arrives in Manhattan, he will likely surrender himself at the courthouse where he will be formally "arrested," taken to get fingerprinted, get a mugshot taken, and even a DNA test. He will then await his trial to defend himself against the charges.
5. Will Trump appear in court?
Yes. Once Trump is arraigned, he will await his court date to defend himself against his charges. Trump will likely pay bail to avoid being confined to the courthouse or a jail cell.
Buckle up, America! Be sure to tune into the Glenn Beck Program to stay up-to-date on all the developments surrounding Trump's indictment. And if you haven't already, be sure to check out last week's episode of Glenn TV where Glenn dove deep into the "big distraction"—the REAL reason they're going after Trump.
BRENDAN SMIALOWSKI / Contributor , DEA / A. VERGANI / Contributor , Chip Somodevilla / Staff | Getty Images.
We had yet another tragic school shooting. There is only one way to begin to address this tragedy, a tragedy that has repeated itself all too often. We must begin by mourning with the families of the victims. Our hearts break for the victims, their families, and the entire community affected by this senseless act of violence.
I'm a parent, and I mourn with you as one.
I'm also a concerned citizen deeply concerned with the profound brokenness that pervades our current culture. All of us fear for the safety of our children and our loved ones. We share the same goal of creating a safe and secure environment for everyone, especially for our children, in our schools, in places of learning and growth.
It is natural for all of us to feel anger and fear during these times, and it may seem unnatural to rise above it. But we must. It's essential to remember that we have to come together as a society, together, and address the root causes of violence. Let me state it plainly: the root cause is not the gun, but rather, the misuse of them by individuals who are mentally ill or have criminal intent. I, for one, want to address the problem of gun violence. I am worried about this with my own children. Every American, regardless of who you voted for, feels the same.
But enough is enough.
When will we address mental health? Do you know the damage we have done to our children, just because of COVID? We have destroyed the mental health of our children. Our country's suicide rate is proof enough that something has gone deeply awry within the soul of our nation—the souls of our children. What is causing all of this? It is the loss of the old guards of our civilization.
Something has gone deeply awry within the soul of our nation.
There are several groups that we need to address. First, to the parents and families of the Nashville victims, I'm sorry. We love you. Our society is sick—it is sick and unrecognizable to most of us. Your loved ones have paid the ultimate price for that illness. I'm sorry because I'm part of the society that has an unwillingness to see the truth, apparently.
Second, to the mother of the 27-year-old shooter, we mourn with you as well. I've read your old posts. You've been fighting against guns in school. While we disagree, we both want this violence to end. I've also read your posts about your children, and how proud you are. There were so many moments of beauty. You feel the same way every mom and dad feels about their child, and you were right to feel that way.
Today, I can only imagine how confused you must be. You should know, we love you too. You lost a child as well. You lost a child to the same society that has an unwillingness to see the truth. You should also know, you are part of our community, and we mourn with you as well.

You lost a child to the same society that has an unwillingness to see the truth.
Now, lastly, to the political class and the media elites. You have been dividing us for years. At first, I think I was a part of that. I've tried really hard not to be. However, you're not sincere in anything you do. At first, maybe you thought you were right in your motivations, but then every time society proved you wrong and you just dug your heels in.
Why do you continue to divide us? Is it just to win over your opponent? Is it just to crush the other side? Is it because you believe that everyone who doesn't vote your way is evil? Or is it that you just no longer care? I'm one American among many who no longer believe in you.
I can understand how easy it is to think people who vote differently than me are the problem. I really can, and those people aren't the problem. The problem begins with people, like you, who only care about money or power, or are so arrogant that they think they know better than the rest of us. You make yourselves and your system into a false god. The arrogance.
You make yourselves and your system into a false god.
You go after the disaffected, the weak, and the hopeless, and you prey on these people, promising to be their savior, hoping they will help you gain power over those who you call your enemies. You have lied. You have lied through half-truths. You have lied through omission. You have lied through fabrications. You have distorted the truth to the degree that it's no longer recognizable.
You call men women, and women men. In your world, our children are legally children until 25 for insurance purposes. Yet you also consider our children "adult" enough to alter their own bodies at eight years old. You have called evil good, and good evil. We do not have a gun problem in America. Per capita, there were more gun owners 50 years ago than there are right now, yet they didn't have these problems. Is it the gun, or is it the people?

What we have in America is a TRUTH problem. We have turned ourselves inside out. We have turned ourselves against the basic principles that gave us life and freedom, and the promise of a fuller life. Our women have no more children, and our men have lost all meaning, reason, and faith.
What we have in America is a TRUTH problem.
Just yesterday, the Wall Street Journal released a poll that showed what principles the American people value most. Children, God, family—the values that used to define us as Americans—were LAST on the list. What was on the top? Money was in the top three. Money? Since when has money become a principle?
Perhaps it is because money is the god that so many worship—money over principles every time a corrupt bank is bailed out, money over principles for those who never want to pay their school tuition, every time we make someone who didn't go to school pay for someone else's tuition.
What kind of god do we worship, that makes children so allegedly flawed that we lay them on our metal alters to the gods in the surgical gowns, who can mutilate and sterilize them to make them "just the way they were intended?" That's an ancient god I don't recognize.
We all know the words that were written in the summer of 1776: "We hold these truths." But other words were written later that year when things weren't so sunny. It was December 21st: "These are the times that try men's souls." These words turned our nation around. These truly are the times that try men's souls, and the modern-day patriots—the lovers of truth and justice—must stand firm in the face of an ever-growing storm of disinformation and division. The weak-hearted are not going to be able to weather the storm, but those with the courage to fight for what is true will emerge victorious.

Lovers of truth and justice must stand firm in the face of an ever-growing storm of disinformation and division.
We live in a time when our faith in institutions, our faith in everything we know, is at an all-time low. Our republic is under siege, and the only way out is to remember our founding principles. We are drowning in a sea of lies. Cling to the life raft! Cling to the enduring belief in life and liberty, truth and justice. We'll only be able to find our way out if we can rekindle the flame of unity and embrace the American spirit that carried us through so many crises before. We have been here before.

But this time, in our current American crisis, we have to constantly remind ourselves that our fight isn't against an external enemy that we conquer. Our enemy is causing the internal divisions that are threatening to tear us apart, divisions that are created by monsters of men. These monsters are not just tearing us apart individual to individual, but tearing us and our children out from the inside out.
Cling to the enduring belief in life and liberty, truth and justice.
America, it is high time to reaffirm our commitment to the values that define us as a people. It is our collective responsibility, as free people, to stand up for those principles of truth. The seeds of division have been sewn by those who seek to manipulate and exploit us for their own gain. They shatter our trust in one another to instill fear and hatred where there should be understanding and compassion.
Truth is now clouded by conspiracy. The lines between fact and fiction have been blurred. Truth is a light. Everything we face is not insurmountable, but now is the time to return to truth and decency and justice for all.
Our kids are the ones who are going to pay the highest of prices for what we do now.

Imagine a global health crisis. Everyone is ordered to "stay-at-home" and only to venture out for "essential" purposes. Travel is regulated by government surveillance, with only permitted workers allowed to go into the city. Inflation is at historic levels, and basic necessities, such as food and gasoline, become invaluable commodities.

Sound familiar?
As the COVID pandemic begins to recede into our cultural memory, it is harrowing to remember the sheer breadth of power we surrendered to our government in order to "keep us safe." We would be foolish to think that the pandemic wasn't a repetition of an age-old tale in the west, and we would be even more naive to believe that we aren't at risk of repeating it in the future: the government's manipulation of a crisis to secure its complete control over its people.
We would be foolish to think that the pandemic wasn't a repetition of an age-old tale
Filmmaker Matt Battaglia published a first in what is likely to become an emerging genre of post-pandemic apocalyptic literature, bringing to life the harrowing consequences of what could happen if we continue to surrender our liberty to the government for the sake of "safety and security."
Battaglia's graphic novel, House on Fire, brings this world to life in an even more vivid dimension through pictures, telling the story of a single day of a man living in this apocalyptic world that doesn't seem too distant from our own.
The setting
Imagine there is another global pandemic of a respiratory virus that is similar to COVID. The government implements COVID-like lockdowns and restrictions from their 2020 blueprint, but this time, the regulations are here to stay. After all, this pandemic isn't the only threat allegedly facing the American people. The future of our planet is at stake. On top of the pandemic regulations, our government restricts the types of food available for consumption, implements individual carbon quotas, mandates electric vehicles, eliminates gas-powered heating, cars, stoves, etc.
Of course, the pandemic and climate change policies require major government funding, so the President uses his emergency powers and executive orders to push through a multi-trillion-dollar proposal that secures the funding necessary to finance the "clean and safe transition." Yes, inflation will be an issue, but that is a small price to pay to secure our health and the future of our planet. Don't forget to include foreign aid for our warring allies in the multi-trillion-dollar packages as well.
Inflation is a small price to pay to secure the future of our planet.
Now fast forward 20 years of living under these all-too-familiar draconian policies. This is Battaglia's apocalyptic world where we meet our nameless main character, causing the reader to question whether our world could devolve into Battaglia's in such a short amount of time.
The plot
Battaglia's story begins with our character kissing his wife goodbye and leaving their country home on a one-day mission to the city in search of a cure for his wife's most recent bout of the illness that is, presumably, a result of the pandemic.
All of the themes that contribute to the apocalyptic nature of Battaglia's world are familiar to us, disturbingly so. Our character drives through country roads, passing by gas signs that list $20 per gallon prices. His radio reports on another invasion of Poland, while country fields transform into steeple-like towers of run-down factories, like old monuments to former industries of a time long past.
Our character reaches the city limit, a border-like security checkpoint where he is required to scan his identity card to enter the city, the likes of which we see in China today. Masks required. He then drives through empty streets of a once bustling city, save for several suspect people who seem to blend into the crevices of alleyways and corners, shrouded by their masks.
Finally, our character meets with his "contact," who gives him some type of canister, supposedly a remedy for his wife's ailment. He barters with several cuts of meat, a rarity more valuable than inflated cash in this "Green New World." From this point onward, things take a turn for our character—for the worst.
Glenn's warning
Many of these scenes bring to life themes that Glenn has been warning about for years, from the government's use of a pandemic to seize control over its people, the depleted dollar and record-high inflation resulting from government spending and foreign conflicts, the Great Reset's goals to eliminate meat, gas-powered products, and other "high emissions products." All of these will be done in the name of seemingly righteous goals: "health," "safety," "security," and the "future of our planet" come to mind. However, we won't realize our freedoms will be a faint memory of the past until it is too late.
All of these measures will be done in the name of seemingly "righteous" goals.
House on Fire's poignant ending leaves the reader with a terrifying yet vitally important question: are the issues plaguing our society latent within society itself, or do they stem from the troubles within our own souls? Does society mold the human soul, or is society, as Plato puts it, the human soul "writ large?"

Battaglia's short yet powerful graphic novel brings to life many of the themes that Glenn has been warning his listeners. It is sitting on his desk, and we hope it will sit on yours too. It gives the reader a glimpse into our society after years of decay and oppression, calling on the reader to halt its progression before it's too late.
Click HERE to get your own copy!