Why is abortion the issue always quoted when people are talking about Sarah Palin?
MarianVejcik | Getty Images
Let me give you something that I think is absolutely amazing. It's about an 11-year-old boy named Jude Kofi. He lives in Colorado with his parents from Ghana and his three other siblings. Jude is autistic with a very special talent. One day, Jude's father heard beautiful piano music coming from his old keyboard. He was astounded to find Jude masterfully playing the piano—without having any lessons.
When the local news picked up his story, a man—a complete stranger—wanted to invest in Jude's talent. If you've wondered where all the good people have gone, listen to this.
Courtesy of CBS Evening News
One of my favorite bands is Poor Man's Poison. They're from the farmlands of California. The lyrics of their song "Good People" asks the question, "If you could help or walk away, if that choice was up to you, what would you do? What if it were you? Where did all the good people go?"
We keep asking ourselves—at least I do—where are they? Where did all the good people go? It turns out, they're everywhere. We don't see them, because they don't generally make the news. But the good people are around us. That's you. That's me—the people who are looking for a second chance at life, who have the ability to do something.
The stranger who helped Jude Kofi spurs us on to pursue goodness. That guy was a tuner of pianos. His father had just died. He inherited money. He saw Jude's story on the local news and he thought, "This kid has got to have lessons and a piano." So he takes his inheritance from his father, buys the piano, promises to tune it every month for the rest of his life, and helps Jude get piano lessons.
I just want to bring you the news today that the good people are here. We're surrounded by them. The problem is, there's not enough examples that we see on a daily basis, but we should start looking for them. We should start sharing those stories, and we should start recognizing that we have been given the opportunity to help those around us—whatever it is. I wouldn't have thought to give this kid a piano. I'm not a piano tuner. But he did because that's his gift.
You are the good people. Where have you gone? Nowhere. Just a quick reminder to wake up and see the ways you can help all around you.

FreshSplash, Jiangang Wang / Contributor, U.S. Air Force / Handout | Getty Images
Glenn ended 2022 talking about the "loneliness epidemic" and its sobering correlation to skyrocketing suicide rates. New Chamber of Commerce data reveal Americans are lonelier than ever—and those living at our nation's capital are the loneliest.
According to the data, there are 36 million Americans living alone, equal to 10 percent of the entire country. When measuring the percentage of U.S. cities whose residents live alone, D.C. ranks the highest. Out of D.C.'s 316,565 residents, nearly HALF of the residents live alone. 48.3 percent of D.C. workers are still working remotely, further isolating its residents from meaningful interactions.
D.C.-commuter city Alexandria ranked third on the list of the U.S.'s top five loneliest cities, while Virginia's capital ranked fourth. St. Louis, Missouri came in second place, and Cincinnati, Ohio was number five. Meanwhile, Fontana, a town in California's San Bernadino Valley, is the least lonely city in America, with only 11 percent of its residents living alone.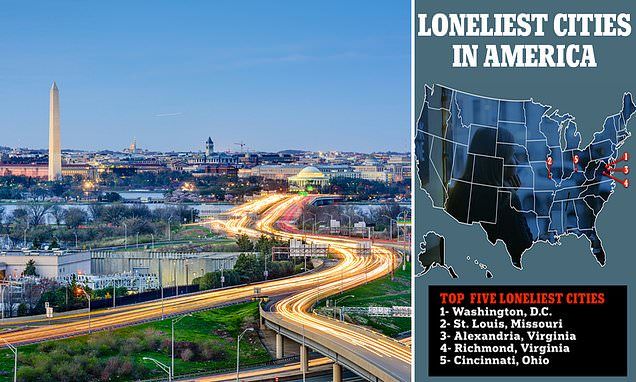 New data shows that Washington D.C. is the loneliest city in AmericaCourtesy of the Daily Mail UK and the Chamber of Commerce
This data resonates with Glenn's poignant 2022 message: "We have built a society that does NOT connect." We are in a dangerous situation where our physical isolation is coupled with our digital replacements to meaningful human interaction and relationships. Soberly recounting the 30 percent growth in suicides nationwide in 2022, Glenn said:

We have lost touch with each other, physically, with each other. We thought this would bring us closer, but social media is making us divide ourselves and get further apart from each other. We don't have friends, we have "Facebook friends," we have "likes." Humans need human interaction. Humans need to develop compassion. Humans need positive input.
Even if our current circumstances force us to live alone, it's more important than ever to pursue quality human interactions and cultivate new, meaningful ways to spend our time. Glenn said, "We all should be spending an hour learning something new every day." Glenn said he's going to be learning the piano with his hour. He also encouraged his audience to serve others, pointing to the direct correlation of service and a personal sense of fulfillment. While our digital world steals so much of our time, energy, and joy, we have to "get back to basics" by pursuing things that bring true fulfillment, like quality relationships, hard work, and service.
Glenn just dropped a sneak peek of the beginning stages of his newest painting on Instagram. Titled "We've been here before," the painting depicts the mugshots of civil rights activist Martin Luther King Jr., comedian Lenny Bruce, and Hollywood screenwriter Dalton Trumbo. All three men were arrested either for their political views or speech.
No American citizen, no matter their opinion, should be denied their First Amendment right to freedom of speech. As Glenn so aptly wrote, "Jailing people for speech, petition/redress and thought—when will we learn? It was wrong then, it is wrong now ... History repeats itself IF you don't know it."
Did you know Glenn is also an avid artist? Check out more of his amazing artwork, HERE!
Jason Koerner / Stringer, STEFANI REYNOLDS / Contributor | Getty Images
Last November, Glenn interviewed Louisianna AG Jeff Landry about his investigations into corruption regarding the government's COVID-19 response. Today, Landry tweeted THIS bombshell: the White House pressured Facebook to censor Tucker Carlson and others who criticized the safety and efficacy of COVID vaccines.
Landry tweeted a screenshot of internal emails between Biden's Director of Digital Strategy, Rob Flaherty, and a Facebook employee, whose name was blacked out in the post, revealing that Flaherty pressured the Facebook employee to censor Tucker Carlson in an effort to "reduce" COVID vaccine misinformation. The email from Flaherty to the Facebook employee reads:
Since we've been on the phone — the top post about vaccines today is tucker Carlson saying they don't work. Yesterday was Tomi Lehren saying she won't take one. This is exactly why I want to know what "Reduction" actually looks like — if "reduction" means "pumping our most vaccine hesitant audience with tucker Carlson saying it doesn't work" then...I'm not sure it's reduction!
The Facebook employee, signaling further action regarding Flaherty's request, responded, "Thanks—I saw the same thing when we hung up. Running this down now."
Though perhaps Landry's post would have come as a surprise several months ago, news of big government's collusion with social media to censor conservatives has become "expected" since the bombshell Twitter Files dropped. The files revealed that the Biden admin and FBI pressured and—in some cases—PAID Twitter to censor content, like the New York Post's Hunter Biden's laptop story, conservatives spokespeople like Charlie Kirk and Dan Bongino, and even permanently suspending Trump's profile altogether. Fox News host Tucker Carlson has just joined the list of high-profile conservatives who have been silenced by this collusion.
News of big government's collusion with social media to censor conservatives has become "expected" since the bombshell Twitter files.
While many politicians are "all talk" when it comes to holding the deep state and Big Tech accountable, Landry and other State AGs have actually started taking the Biden admin and Big Tech to task. Landry and former Missouri AG Eric Schmitt sued the Biden admin in May 2022 for pressuring and colluding with social media giants to suppress free speech—long before the Twitter Files broke. When Schmitt was sworn in as Senator on Jan 5, 2023, he was replaced by Andrew Bailey, who, during his swearing-in ceremony said, "We now have hard evidence that President Biden's Administration colluded with social media companies to censor differing viewpoints and silence 'misinformation.'" Landry, Schmitt, and Bailey are leading the legal fight to hold the Biden admin accountable for using Big Tech to censor and suppress the American people.
"We now have hard evidence that President Biden's Administration colluded with social media companies to censor differing viewpoints and silence 'misinformation.'"
As Glenn wrote regarding the Twitter files, "The press doing the bidding of the government is what they had in Soviet Russia or what they have in China and North Korea today." The Twitter Files and Landry's work continue to reveal that our government collusion is looking for like the global enemies of free speech. However, unlike our enemies, we have more hope and opportunity to hold these bad actors accountable through the work of freedom-loving and justice-seeking officials like Jeff Landry, Eric Schmitt, and Andrew Bailey.