Chip Somodevilla/Getty Images
We made it. It's Friday. This has been a tornado of a week. We endured the nonstop commotion of the migrant family separation policy and, best of all, we saw a near-immediate resolution, with President Trump's reversal of the policy. Whatever your stance on the policy, you have to admit, it's a good thing the chaos is over.
Apparently, not everyone feels the same. Time magazine, for instance, has chosen to focus on the now-resolved matter for their July 2nd issue. They've released the cover. It features a cutout of the sobbing 2-year-old Honduran asylum-seeker — you've likely seen the image — captured by Getty photographer John Moore. Only, instead of featuring the original image, Time has chosen to photoshop an oversized image of President Trump, postured to appear like a bully standing over the crying girl. The background is solid read. The caption reads: "Welcome to America."
It's not enough to blame Trump for the whole debacle. We can't even have that conversation. No, the mainstream media feels the need to literally plaster him on the cover, to photoshop him into an awful situation, to make him look like a villain however they can. What good does that accomplish? And how long is the media going to demonize the President—what does he have to do?

The cover story is titled "A Reckoning After Trump's Border Separation Policy: What Kind of Country Are We?" Excellent question. What sort of country are we? Are we the sort of country that can pull it together and make this thing work despite our differences? Or are we the kind of country full of ungrateful people who throw tantrums even when everything goes their way?
President Trump reversed the policy, shouldn't that get some attention? Shouldn't he get some credit for affecting change in a way that his predecessor — contrary to what you'd surmise from the media — was unable to? No, instead, lately, we're the sort of country that shames and bullies our own leader even when he does the right thing.
We're the sort of country that shames and bullies our own leader even when he does the right thing.
Nietzsche noted that the severest punishment you can inflict on a person isn't to punish them after they've done something wrong or bad. In many ways, that sort of punishment can actually foster relief. The severest punishment is to punish someone when they've done something good, because you lessen the chance that they'll continue to do good.
And we need good.
I know at the heart of things, we're the kind of country that can come together for the good of mankind. We've proven that. But we need everybody.
The Left has been protesting and throwing tantrums since the day Trump was elected. They don't like him, we get it. At some point they need to change from diapers to undies so we can move forward.

June 22, 2018
Tom Pennington/Getty Images
Has anybody else noticed how politicized sports have gotten? The NFL is practically three berets away from a socialist revolution. They seem more concerned with dismantling social norms and protesting than with playing football. The Minnesota Vikings announced yesterday they will host a summit and fundraiser for LGBTQ inclusion in sports.
According to LifeSiteNews, the LGBTQ inclusion summit will "include speeches, interviews, and panel discussions with a variety of athletes, coaches, and activists who are homosexual or transgender" and "will be hosted at the team's recently-completed TCO Performance Center."
The summit marks the latest in the NFL's continued advocacy for LGBTQ rights and initiatives. Last year, the league launched NFL Pride, in a bid to "heighten sensitivity to the LGBTQ community" and reinforce "commitment to an inclusive environment in which all employees are welcome."
RELATED: New NFL policy will punish players who protest the national anthem
Fair enough. No one should be harassed or discriminated against in the workplace, but is that really what this is about? Because it kind of seems like there's more going on here. Kind of seems like there's a political, ideological slant to it. At the very least, it's virtue signaling.
The summit is "part of a settlement agreement the Vikings made after [former Vikings punter Chris Kluwe], who is straight, filed a lawsuit against the team in 2014 for allegedly creating a hostile work environment for homosexual and transgender people."
So, yeah, virtue signaling.
Ultimately, the NFL is a private business and, as we saw with the National Anthem kneelers, they can conduct their business however they like, and in turn the consumers can decide whether or not to keep giving them their money.
Mostly, the situation is just strange. Can you imagine how well this partnership would have gone over in the 1970s? Moreover, at what point does being LGBTQ come up during sports? How have we landed in this strange place, where politics and gender and race must be represented within every single interaction?
It's also worth mentioning that most people don't care if an athlete is gay — with the possible exception of transgender athletes, but that's another topic entirely. This tolerance has actually been confirmed by studies and surveys throughout all kinds of sports, in various countries throughout the world. Even countries with, shall we say, a far less tolerant view of the LGBTQ community than we have here in the USA — even people in those countries believe that it doesn't matter. People watch sports to see athleticism, to enjoy the unpredictable fury of sports at its finest.
People watch sports to see athleticism, to enjoy the unpredictable fury of sports at its finest.
Overwhelmingly, regardless of the sport, people do not care about the athletes' sexuality — in fact, most of us would rather not know. We don't watch golf to muse the social significance of gender norms and sexuality. We don't go to a baseball game to meditate on the evils of the patriarchy and the terrors of cultural appropriation. If an athlete is good, who cares what their orientation is? It's certainly not a new idea that LGBTQ can perform in sports. Typically, what sports fans care about is talent. Is the athlete good?
I guarantee that if Liberace rose from the dead tomorrow morning and was suddenly able to play basketball as well as 90s-era Michael Jordan, Chicago Bulls fans would not complain if he joined the team. I think it's fair to say that most people like sports better when they aren't swamped with politics. Keep the politics elsewhere, especially these days, when it's nearly impossible to escape the increasingly intolerant politics of the Left.
Perhaps they could learn a lesson from our friends, the Ancient Greeks. It's no secret that the Ancient Greeks indulged in, well, LGBTQ activities. They were quite fond of the various activities. But they also built a civilization of tremendous importance to humanity as a whole. Philosophy, art and, yes, sports. When they were charged off to war, they didn't slap a Rainbow flag bumper sticker on the back of their chariot. Their sexuality did not define their identity. They were multifaceted human beings, able to go to war or to the theater or to the town hall as a citizen, because citizenry was what mattered, personhood and selfhood. More importantly, they lived in a time when people cared about self and tribe over sexuality and gender. Identity was selfhood, not sexuality.
At the end of the day, who cares if the Minnesota Vikings want to host an LGBTQ event? But they should expect to see an increase in shoulder-padded men traipsing across the stage on Broadway.
UPDATE: Here's how the discussion went on radio. Watch the video below.
Most people like sports better when politics aren't involved
Breaking down the announcement that the Minnesota Vikings will be hosting a summit and fundraiser for LGBTQ inclusion in sports.

June 21, 2018
Mario Tama/Getty Images
All the outrage this week has mainly focused on one thing: the evil Trump administration and its minions who delight in taking children from their illegal immigrant parents and throwing them all in dungeons. Separate dungeons, mind you.
That makes for a nice, easy storyline, but the reality is less convenient. Most Americans seem to agree that separating children from their parents — even if their parents entered the US illegally — is a bad thing. But what if that mom and dad you're trying to keep the kids with aren't really the kids' parents? Believe it or not, fraud happens.
RELATED: Where were Rachel Maddow's tears for immigrant children in 2014?
While there are plenty of heartbreaking stories of parents simply seeking a chance for a better life for their children in the US, there are also corrupt, abusive human traffickers who profit from the illegal immigration trade. And sorting all of this out is no easy task.
This week, the Department of Homeland Security said that since October 2017, more than 300 children have arrived at the border with adults claiming to be their parents who turned out not to be relatives. 90 of these fraud cases came from the Rio Grande Valley sector alone.
In 2017, DHS reported 46 causes of fraudulent family claims. But there have already been 191 fraud cases in 2018.
Shouldn't we be concerned about any child that is smuggled by a human trafficker?
When Homeland Security Secretary Kirstjen Nielsen pointed out this 315 percent increase, the New York Times was quick to give these family fraud cases "context" by noting they make up less than one percent of the total number of illegal immigrant families apprehended at the southern border. Their implication was that Nielsen was exaggerating the numbers. Even if the number of fraud cases at the border was only 0.001 percent, shouldn't we be concerned about any child that is smuggled by a human trafficker?
This is the most infuriating part of this whole conversation this week (if you can call it a "conversation") — that both sides have an angle to defend. And while everyone's busy yelling and making their case, children are being abused.
What if we just tried, for two seconds, to love having mercy more than we love having to be right all the time?

June 21, 2018
John Moore/Getty Images
Remember when cartoons were happy things? Each panel took you on a tiny journey, carrying you to an unexplored place. In Understanding Comics, Scott McCloud writes:
The comics creator asks us to join in a silent dance of the seen and the unseen. The visible and the invisible. This dance is unique to comics. No other artform gives so much to its audience while asking so much from them as well. This is why I think it's a mistake to see comics as a mere hybrid of the graphic arts and prose fiction. What happens between . . . panels is a kind of magic only comics can create.
When that magic is manipulated or politicized, it often devolves the artform into a baseless thing. Yesterday, Occupy Wall Street published the perfect example of low-brow deviation of the artform: A six-panel approach at satire, which imitates the instructions-panel found in the netted cubbyhole behind seats on airplanes. The cartoon is a critique of the recent news about immigrant children being separated from their parents after crossing the border. It is a step-by-step guide to murdering US Immigrations and Customs Enforcement agents.
RELATED: Cultural appropriation has jumped the shark, and everyone is noticing
The first panel shows a man shoving an infant into a cage meant for Pomeranians. The following five panels feature instructions, and include pictures of a cartoonish murder.
Occupy Wall Street promotes killing ICE agents in gory, step-by-step cartoon. https://t.co/nEogmrIDBC
— Fox News (@FoxNews) June 20, 2018
The panels read as follows:
If an ICE agent tries to take your child at the border, don't panic.
Pull your child away as quickly as possibly by force.
Gently tell your child to close his/her eyes and ears so they won't witness what you are about to do.
Grab the ICE agent from behind and push your knife into his chest with an upward thrust, causing the agent's sternum to break.
Reach into his chest and pull out his still beating heart.
Hold his bloody heart out for all other agents to see, and tell them that the same fate awaits them if they f--- with your child again.
Violent comics are nothing new. But most of the time, they remain in the realms of invented worlds — in other words, not in our own, with reference to actual people, let alone federal agents.
The mainstream media made a game of crying racism with every cartoon depiction of Obama during his presidency, as well as during his tenure as Senator, when the New Yorker, of all things, faced scrutiny for depicting him in "Muslim clothing." Life was a minefield for political cartoonists during the Obama era.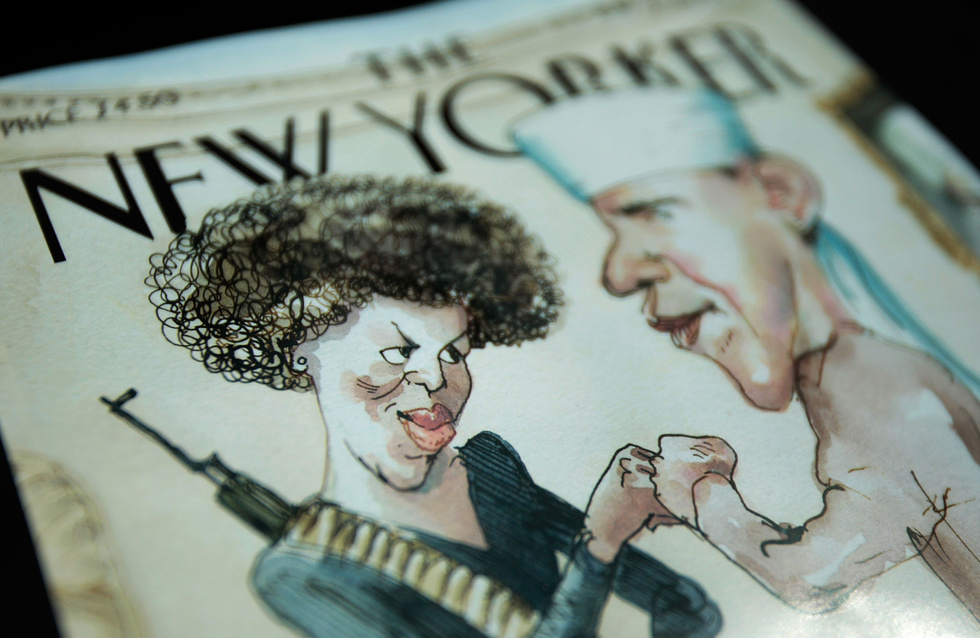 Chris Hondros/Getty Images
This year, we saw the leftist outrage regarding The Simpsons character Apu — a cartoon representation of a highly-respected, though cartoonishly-depicted, character on a cartoon show composed of cartoonishly-depicted characters.
We all remember Charlie Hebdo, which, like many outlets that have used cartoon satire to criticize Islam, faced the wrath and ire of people unable to see even the tamest representation of the prophet, Muhammad.
Interesting, isn't it? Occupy Wall Street publishes a cartoon that advocates murdering federal agents, and critics are told to lighten up. Meanwhile, the merest depiction of Muhammad has resulted in riots throughout the world, murder and terror on an unprecedented scale.
The intersection of Islam and comics is complex enough to have its own three-hour show, so we'll leave it at that, for now. Although, it is worth mentioning the commentary by satirical website The Onion, which featured a highly offensive cartoon of all the major religious figures except Muhammad. It noted:
Following the publication of the image above, in which the most cherished figures from multiple religious faiths were depicted engaging in a lascivious sex act of considerable depravity, no one was murdered, beaten, or had their lives threatened.
Of course, Occupy Wall Street is free to publish any cartoon they like. Freedom of speech, and so on—although there have been several instances in which violent cartoons were ruled to have violated the "yelling fire in a crowded theater" limitation of the First Amendment.
Posting it to Twitter is another issue — this is surely in violation of Twitter's violent content policy, but something tells me nothing will come of it. It's a funny world, isn't it? A screenshot of a receipt from Chick-fil-A causes outrage but a cartoon advocating murder gets crickets.
RELATED: Twitter mob goes ballistic over Father's Day photo of Caitlyn Jenner. Who cares?
In Understanding Comics, Scott McCloud concludes that, "Today the possibilities for comics are — as they've always been — endless. Comics offers . . . range and versatility, with all the potential imagery of film and painting plus the intimacy of the written word. And all that's needed is the desire to be heard, the will to learn, and the ability to see."
Smile, and keep moving forward.
Crude and awful as the Occupy Wall Street comic is, the best thing we can do is nod and look elsewhere for the art that will open our eyes. Let the lunatics draw what they want, let them stew in their own flawed double standards. Otherwise, we're as shallow and empty as they are, and nothing good comes of that. Smile, and keep moving forward.
Things are getting better. Show the world how to hear, how to learn, how to see.