As we move along this endless primary season, we implement our first major adjustments to our power rankings model. Because of all the changes on the model itself, we'll keep the write ups short this week so that we can get an update posted before we hit the second round of debates.
There are now 40 separate measures of candidate performance which are summarized by the 0-100 score that helps us makes sense out of this chaos.We also have a new style of graphs, where the section highlighted in blue will show the progress (or lack thereof) made by each candidate over the life of their campaign.
In this update, we have our first campaign obituary, a couple of brand new candidates (when will it ever stop) and plenty of movement up top.
Let's get to it.
In case you're new here, read our explainer about how all of this works:
The 2020 Democratic primary power rankings are an attempt to make sense out of the chaos of the largest field of candidates in global history. Each candidate gets a unique score in at least thirty categories, measuring data like polling, prediction markets, fundraising, fundamentals, media coverage, and more. The result is a candidate score between 0-100. These numbers will change from week to week as the race changes. The power rankings are less a prediction on who will win the nomination, and more a snapshot of the state of the race at any given time. However, early on, the model gives more weight to fundamentals and potentials, and later will begin to prioritize polling and realities on the ground. If you're like me, when you read power rankings about sports, you've already skipped ahead to the list. So, here we go.
See previous editions here.
Campaign Obituary #1
The Eric Swalwell Campaign
California State Congressman

April 8, 2019 - July 8, 2019
Lifetime high: 20.2
Lifetime low: 19.5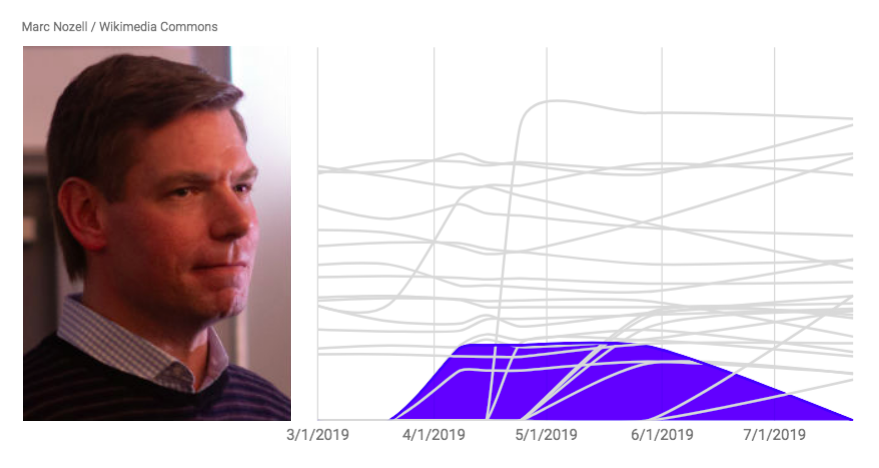 I ended my initial profile on Eric Swalwell with this:
"There's a certain brand of presidential candidate that isn't really running for president. That's Eric Swalwell."
amp only placement
It's now more true than ever that Swalwell isn't running for president, because he has officially dropped out of the race.
To any sane observer, Swalwell never had a chance to win the nomination. This was always about raising his profile with little downside to deter him from taking money and building a list of future donors.
In one of many depressing moments in his FiveThirtyEight exit interview, he noted that one of his supporters told him he definitely thought he'd eventually be president, but it wasn't going to happen this time. (This supporter was not identified, but we can logically assume they also have the last name Swalwell.)
Swalwell did outline a series of reasons he thought his ridiculous campaign might have a chance.
He was born in Iowa. After all, people from Iowa will surely vote for someone born in Iowa, even if they escaped as soon as possible.
He had what he believed was a signature issue: pretending there was no such amendment as the second amendment.)
He's not old.
It was on point number three where Swalwell made his last stand. In an uncomfortably obvious attempt to capture a viral moment that would launch his fundraising and polling status, Swalwell went after Joe Biden directly.
"I was 6 years old when a presidential candidate came to the California Democratic Convention and said it's time to pass the torch to a new generation of Americans. That candidate was then-Senator Joe Biden." This pre-meditated and under-medicated attack, along with Swalwell's entire campaign future, was disassembled by a facial gesture.
Biden's response wasn't an intimidation, anger, or a laugh. It was a giant smile that somehow successfully communicated a grandfathery dismissal of "isn't that just adorable."
Of course, headlines like this didn't help either:
Eric Swalwell is going to keep comparing the Democratic field to 'The Avengers' until someone claps
The campaign of Eric Swalwell was pronounced dead at the age of 91 days.
Other headlines:
Eric Swalwell ends White House bid, citing low polling, fundraising
Republicans troll Swalwell for ending presidential campaign
Eric Swalwell Latest 'Cringe' Video Brags About Omar Holding his 'White' Baby
Eric Swalwell's message to actor Danny Glover is 'the cringiest thing I've ever seen in a hearing'
Eric Swalwell's 'I Will Be Bold Without The Bull' Bombs
Online Marketing/Unsplash
Another day, another proposed fix to a pressing national problem by a Democratic presidential hopeful. Former Vice President Joe Biden has positioned himself as the "moderate" leader of the Democratic Party, putting pressure on him to come up with a "sensible" alternative to Sen. Sanders' (I-Vt.) Medicare for All plan. But Biden's healthcare proposal, released July 15, doubles down on flawed, top-down solutions without offering any new ideas. Presidential hopefuls should instead pledge to unleash market innovation and lower healthcare prices for all.
Of course, a former vice president will inevitably find it difficult to make a clean policy break from the administration he has repeatedly hailed and defended. Biden's tenure as vice president made him into a second-tier political rockstar, and it makes sense that he's reluctant to separate himself from former President Obama's Affordable Care Act (aka "Obamacare"). It's also no surprise that "Bidencare" preserves Obamacare's disastrous expansion of Medicaid, the federal government's insurance program for low-income Americans. His plan even provides a public option for residents of states that have not expanded Medicaid. Perhaps more surprising, or just disappointing, is how thoroughly the Democratic orthodoxy has embraced government medical insurance even at gargantuan cost, despite little evidence that it'll work.
Back when he was a heartbeat away from the presidency, Biden vigorously defended Obamacare, criticizing Republican governors for failing to expand Medicaid and predicting that all states would eventually see the light. That never quite happened (as of now, 17 states wisely refuse to expand health insurance targeted at low-income Americans). But the Obama administration tried to cajole red and purple states into expanding the Medicaid eligibility threshold "up to 138 percent of the poverty level." Nevertheless, states such as Texas, Florida, and North Carolina wisely considered the evidence that Medicaid was breaking the bank — without helping the poor get access to the care they needed.
This evidence isn't just based on one or two stray studies produced by the "right" think-tank. In June 2018, Health Affairs published a blockbuster analysis of 77 studies on Medicaid's effectiveness, and the results may be disappointing for fans of government-provided insurance. Around 60 percent of the studies included in the meta-analysis found that health status and quality of care failed to improve for low-income patients after Medicaid expansion. The analysis also finds that a majority (56 percent of studies) found no improvement in the financial performance of hospitals post-Medicaid expansion. This finding contradicts claims by Obama, Biden and co. that Medicaid expansion would shift patients from the emergency room to doctor's offices, lowering system-wide costs.
These findings are scandalous for an expansion program that costs federal taxpayers at least $70 billion per year. How could all of this money be failing to improve outcomes? Plausibly, the types of institutions that accept Medicaid are larger facilities that aren't as great at delivering quality health-care as smaller offices? The copious paperwork and documentation required by the program don't really allow smaller facilities the bandwidth to deal with Medicaid in an efficient manner. Yet this documentation is necessary to curb rampant fraud in the program that costs taxpayers tens of billions of dollars each year.
Greater Medicaid funding and corresponding anti-waste measures fail to address the cancer undermining the healthcare system: sky-high drug prices and expensive medical equipment.
Greater Medicaid funding and corresponding anti-waste measures fail to address the cancer undermining the healthcare system: sky-high drug prices and expensive medical equipment. Instead of pushing for ever-higher government spending, a President Biden could push for a streamlined Food and Drug Administration approval process for drugs and medical devices, which would keep medical costs down and give a green light to innovators everywhere. The cost to develop a single medication is now more than $2 billion, and an onerous FDA approval process costs lives by being too risk-averse.
Presidential hopefuls such as Biden should also pledge to work with states to roll-back "certificate of need" laws, which force medical institutions to jump through countless barriers to expand their facilities and invest in new services. It's not just hospitals and their patients that suffer from these needless laws; Harvard medical scholar David Grabowski sums up the evidence that these laws make nursing homes far worse and costlier than they need to be. Getting rid of these laws nationwide would give patients and consumers far more options when shopping around for the care and facilities they need.
The price problem gripping the American healthcare system simply won't go away while regulatory barriers and onerous approval processes continue to stifle the sector. Presidential hopefuls such as Biden can make a dent in this problem by supporting market reforms, instead of doubling-down on failed government healthcare.
Ross Marchand is a Young Voices contributor and the director of policy for the Taxpayers Protection Alliance.
July 09, 2019
Frank / Unsplash
Thomas Jefferson and John Adams both fulfilled their goal of living to see the 50th anniversary of the signing of the Declaration of Independence. Then, both died later that day — July 4, 1826. Adams was 90. Jefferson was 83.

Because of their failing health, Jefferson and Adams each declined many invitations to attend July 4th celebrations. Adams sent a letter to be read aloud at the 50th Independence Day celebration in his local town of Quincy, Massachusetts. He wrote that the Declaration is:
... a memorable epoch in the annals of the human race, destined in future history to form the brightest or the blackest page, according to the use or the abuse of those political institutions by which they shall, in time to come, be shaped by the human mind.

It's remarkable how well the Founders understood human nature and what could happen to the United States. It's the postmodern mindset that increasingly rules the U.S. now. It has infected our institutions and untethered us from the bedrock principles of the Declaration. In its place? Hypocritical and vitriolic partisan righteous indignation.
Less than a century after Adams' and Jefferson's deaths, the most serious attempt to undermine the Declaration of Independence and the Constitution came from America's 28th president — Woodrow Wilson. He wrote:
Some citizens of this country have never got beyond the Declaration of Independence.

As if that's a bad thing.
During Wilson's career as a college professor, he thought deeply and wrote extensively of his contempt for our founding documents. His issue with them formed the core beliefs of Progressivism that are still alive today.
In 1911, before he was elected President, Wilson said in a speech:
I do not find the problems of 1911 solved in the Declaration of Independence ... It is the object of Government to make those adjustments of life which will put every man in a position to claim his normal rights as a living human being.

See what he does there? He completely inverts the Declaration — he's saying, you don't have inherent rights until government puts you in a position to claim them. That's the heart of Progressivism.
In a later speech, Wilson said:
If you want to understand the real Declaration of Independence, do not repeat the preface.

Wilson did not think the equality, natural rights, and consent-of-the-governed parts of the Declaration defined the proper role of government. He preferred the Declaration's list of grievances because they addressed specific problems. That's what he thought government existed to do — solve problems for people. And since people's problems change over time, so should the Constitution and government to keep up with the times.
Wilson said:
No doubt we are meant to have liberty; but each generation must form its own conception of what liberty is.

We hear this sentiment echoed all the time today: follow your heart, find your truth, etc.
Another key to Wilson's Progressive theory of government was human evolution. He thought that because humans were now more enlightened, they could be trusted not to abuse government power. The Declaration's committee of five (Adams, Sherman, Franklin, Livingston and Jefferson) would've laughed Wilson out of the room.
It's hard to believe that less than 150 years after the signing of the Declaration, the U.S. president — Wilson — was saying this:
We are not bound to adhere to the doctrines held by the signers of the Declaration of Independence: we are as free as they were to make and unmake governments. We are not here to worship men or a document. Every Fourth of July should be a time for examining our standards, our purposes, for determining afresh what principles, what forms of power we think most likely to effect our safety and happiness. That and that alone is the obligation the Declaration lays upon us.

Wilson was so effective at imposing his philosophy on government that he forever diverted the U.S. presidency away from the Constitution. Progressives have kept Wilson's torch alive ever since.
Progressives are still hostile to the Declaration of Independence because of this idea of "historical contingency" which holds that truths change over time. Progressives think the "self-evident" truths of the Declaration are outdated and may no longer apply. And that means the Constitution based on those truths may no longer apply either. Wilson and Progressives especially don't like the whole separation of powers thing, because it hinders the fast action they want out of government. They want a justice warrior president who will bring swift change by fiat.
The current trend in attacking the Declaration and Constitution is to tear down the men who wrote them. In late 2015, students at the University of Missouri and the College of William & Mary, placed notes all over the statues of Thomas Jefferson on their respective campuses. The handwritten notes labeled Jefferson things like, "racist," "rapist," "pedophile" (not sure what that one's supposed to mean), "How dare you glorify him," "I wouldn't be here if it was up to him," and "Black Lives Matter."
That is the handiwork of students who are blinded by self-righteous victimhood and can't see the value and merit that the Declaration still holds for us today. After these incidents, Annette Gordon-Reed offered a reasoned defense of Jefferson. Reed is a respected history professor at Harvard Law School, who also happens to be a black woman. She wrote:
I understand why some people think his statues should be removed, but not all controversial figures of the past are created equal. I think Jefferson's contributions to the history of the United States outweigh the problems people have with aspects of his life. He is just too much a part of the American story to pretend that he was not there ... The best of his ideals continue to influence and move people. The statues should be a stimulus for considering all these matters at William & Mary and the University of Missouri.

At the opposite end of the spectrum from Woodrow Wilson's disdain for the Declaration of Independence, Abraham Lincoln loved it. If there is one overarching theme in Lincoln's speeches, it is the Declaration. Lincoln pointed the nation back to the Declaration as a mission statement, which ended slavery and preserved the Union.
Unlike Wilson, who recommended leaving out the Preamble, Lincoln considered it the most vital part. To Lincoln, the self-evident truths were universal, timeless, and more important than the list of grievances. Lincoln wrote that these truths were:
... applicable to all men and all times ... that today, and in all coming days, it shall be a rebuke and a stumbling block to the very harbingers of reappearing tyranny and oppression.

In a speech Lincoln gave in 1861, shortly after he was first elected president, he said:
I have never had a feeling politically that did not spring from the sentiments embodied in the Declaration of Independence… I have often inquired of myself what great principle or idea it was that kept this Confederacy so long together. It was not the mere matter of the separation of the Colonies from the mother-land, but that sentiment in the Declaration which gave liberty, not alone to the people of this country, but, I hope, to the world, for all future time.

Lincoln went on to say that he would rather be assassinated than see the nation forfeit the principles of the Declaration. His Gettysburg Address is a brilliant, concise renewal of the Declaration:
... that this nation, under God, shall have a new birth of freedom — and that government of the people, by the people, for the people, shall not perish from the earth.

We cannot assume that this radical idea of freedom will always be embraced by Americans. It has found hostility on our shores every step of the way. The Declaration's principles must be continually defended. Because while humans do have certain unalienable rights that are endowed by our Creator, there is darkness in the world, and for some strange reason humans, while valuing freedom, also seem to have a natural bent toward tyranny. That's why we must understand and discuss the Declaration. It's not alarmist. It's not a quaint history lesson. It's a reality, right now, that the fundamental principles of the Declaration are under attack. The Founders would have undoubtedly shuddered at most of the rhetoric from last week's Democratic presidential debates. Left to its own mob devices, even America would turn its back on freedom.
Shortly before his death in 1826, 90-year-old John Adams was asked to recommend a toast that could be given in his honor on July 4th. Adams didn't hesitate. He suggested, "Independence Forever." The small group of visitors silently glanced at each other for a moment, before someone asked Adams if he'd like to add anything else. Adams shifted forward in his chair, leaned on his cane, stared intently at the men, and replied, "Not a word."
July 09, 2019
Unknown Wong / Unsplash
Freedom. It usually begins as a whisper. A secret passed on between patrons at a secluded bar or private meeting. And no matter how hard the tyrants may try and stop it, no matter how many dams they throw up to try and contain it, the whispers eventually become a flood. Sometimes it takes longer to break through, but it's the same EVERY TIME. Liberty and freedom always wins. It's an unstoppable force that knows no immovable object.
For us it was exactly 243 years ago to this month that those whispers became a flood. A group of ragtag colonists took on the world's only superpower —and won. Our forefathers proved it — freedom refuses to recognize tyranny as an immovable object. The world was forever changed.
And I can't help but see the poetic justice as more whispers became a flood, defying their own immovable object, just three days before all of us were buying fireworks to celebrate our Independence Day. But this time it was just off the coast of mainland China.
Last week over a MILLION protesters filled the streets in Hong Kong. Literally a FLOOD of humans looking for one thing — freedom. They stormed the government building that is the equivalent of their Congress. They smashed windows, broke down doors, and a photo was taken that I think just might be the picture of the year.
A British colonial flag, a symbol thrown out when Hong Kong was given back to China, was draped — BY THE PROTESTORS — over the chair of their head of government. I can't restate how historic this actually is. The people of Hong Kong, with a population that is over 90 percent ethnic Han Chinese, are saying to the mainland that they prefer colonial rule over the tyranny of the Chinese government. Leftists would tell you that communism is the remedy for colonialism, but for those living in the dark shadow of communism, they actually prefer colonial rule over what they now face.

The local Hong Kong government is caught between the immovable object of the Chinese communist government, and the unstoppable force of liberty.
When Hong Kong was given back to the mainland, China agreed to allow them a few freedoms that the rest of the Chinese don't enjoy. They're free to engage in protest against the government and they maintain a legislative body — both of which are outlawed on the mainland. But, as every tyrannical oppressor always does, China has been looking to reel that in. Most recently, China attempted to make it possible to extradite dissenters back to Beijing. The result? The quiet whispers of freedom, the secrets told in private at clandestine meetings, became a flood of millions in the streets.
On July 3rd, police began a crackdown. More than 13 people have been arrested so far. If China eventually gets their way, those 13 people will no doubt be the first of many to be extradited over to the mainland. Their crime? The dream of freedom. As of right now, the extradition law has been temporarily delayed. The local Hong Kong government is caught between the immovable object of the Chinese communist government, and the unstoppable force of liberty.
History has shown who will win in the end. Yesterday, over 200,000 protestors gathered at the high speed train station that links mainland China to Hong Kong. The message was just as clear as the British colonial flag hung inside their legislative building. For our forefathers it was symbolized with the Gadsden Flag and the phrase "Death To Tyranny." The message is simple: "we will not be ruled. Freedom knows no immovable object."
News of the protest movement has been censored in mainland China, but how long will they be able to contain THEIR OWN whispers with over two hundred thousand freedom lovers camped out at the bridge between Hong Kong and mainland China? How long before those whispers spread to secret meeting locations in Beijing or Shanghai? How long before that cascades to the Christian and Muslim minorities that are tired of being rounded up and thrown into camps?
We might have just witnessed the Chinese version of the Boston Tea Party. July 4th is still a long way away for them, but — as it does time and time again — freedom and liberty always win in the end.