Earlier this week, tech titans, lawmakers, and union leaders met on Capitol Hill to discuss the future of AI regulation. The three-hour meeting boasted an impressive roster of tech leaders including, Elon Musk, Mark Zuckerberg, Bill Gates, Google CEO Sundar Pichai, OpenAI CEO Sam Altman, and others, along with more than 60 US Senators.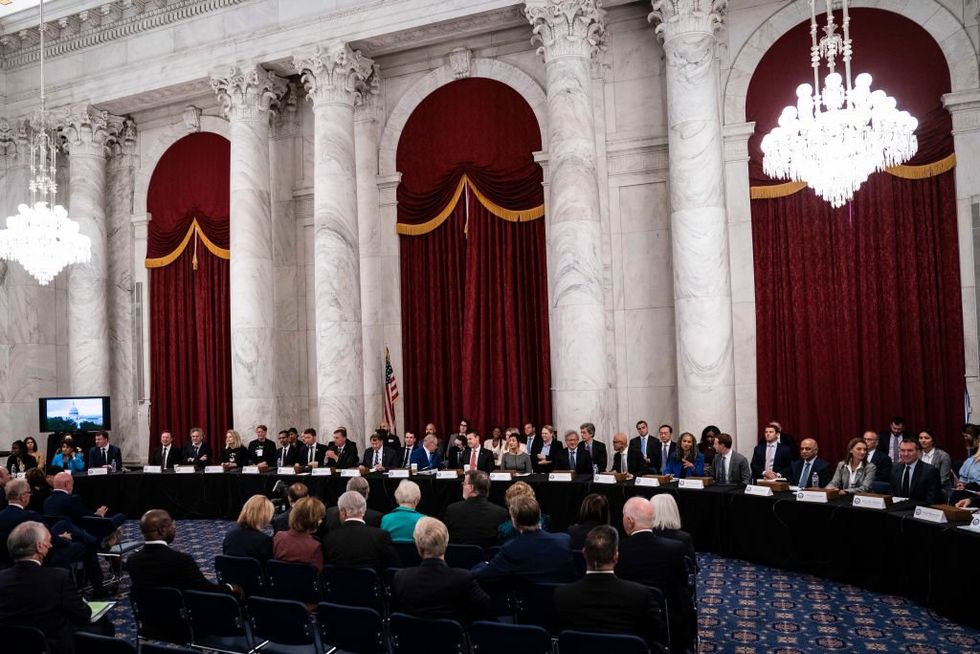 Tech Titans and Senators gathered in the Kennedy Caucus Room.The Washington Post / Contributor | Getty Images
The meeting was closed to the public, so what was exactly discussed is unknown. However, what we do know is that a majority of the CEOs support AI regulation, the most vocal of which is Elon Musk. During the meeting, Musk called AI "a double-edged sword" and strongly pushed for regulation in the interest of public safety.
A majority of the CEOs support AI regulation.
Many other related issues were discussed, including the disruption AI has caused to the job market. As Glenn has discussed on his program, the potential for AI to alter or destroy jobs is very real, and many have already felt the effects. From taxi drivers to Hollywood actors and writers, AI's presence can be felt everywhere and lawmakers are unsure how to respond.
The potential for AI to alter or destroy jobs is very real.
Ultimately, the meeting's conclusion was less than decisive, with several Senators making comments to the tune of "we need more time before we act." The White House is expected to release an executive order regarding AI regulation by the end of the year. But now it's YOUR turn to tell us what YOU think needs to be done!
Should A.I. be regulated?
Can the government be trusted with the power to regulate A.I.? 
Can Silicon Valley be trusted to regulate AI? 
Should AI development be slowed for safety, despite its potential advantages?
If a job can be done cheaper and better by AI, should it be taken away from a human?
Do you feel that your job is threatened by AI?