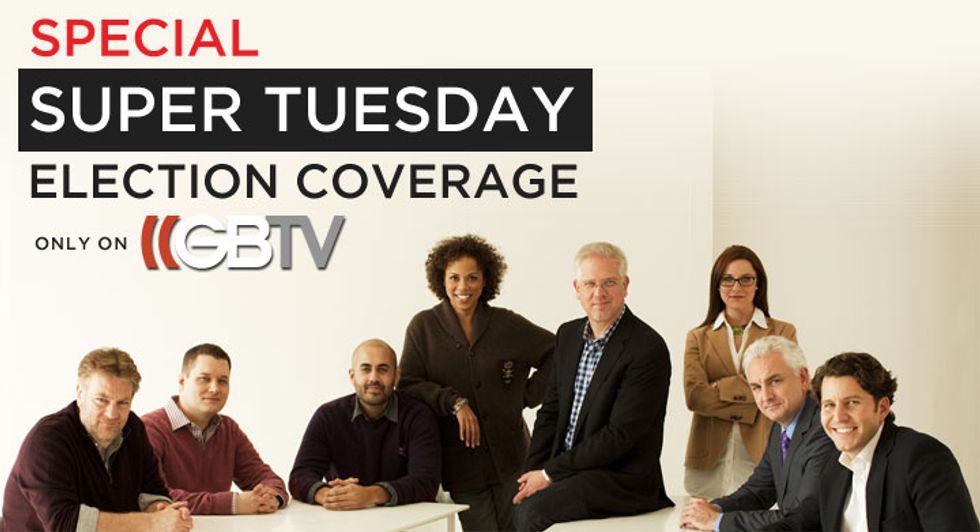 Tired of the same old election coverage? Sick of seeing some boring talking heads read numbers off teleprompters and spouting off "analysis" that is completely out of touch with real America? We're doing something about it! TONIGHT beginning at 5pm ET, Glenn's bringing you full-fledged special election coverage – YOUR alternative to the mainstream media – available only on Glenn's network, GBTV. Unlike those mainstream media networks, GBTV won't put you to sleep before the winners are even announced!
5-7pm: Glenn Beck Program

7-9pm: Special Expanded Edition of Real News from The Blaze

9-10pm: Super Tuesday post-game report with Glenn, Pat and Stu
Completely different than anything you're going to get on other cable news programs. Glenn will be involved throughout the entire evening and also joining the coverage will be real experts including Congresswoman Michele Bachmann.
Start your 14 day free trial now on GBTV and watch for free. If you don't like it, you can cancel any time and you won't be charged until after your free trial ends.