After his speech at the Boone County fairgrounds, Joe Biden nodded and people engulfed him like he was their oxygen. Journalists shouted questions, photographers shoved people aside. Biden's bodyguards even drew closer. I found a good oak tree and hid out in the shade, 100 yards from the chaotic huddle.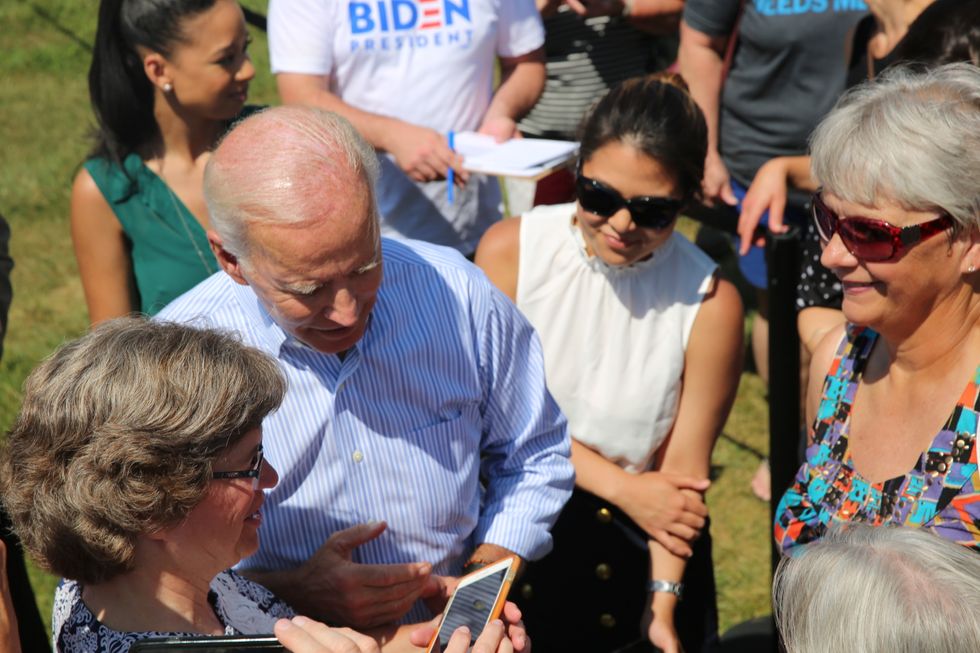 Photo by Sean Ryan
They shoved closer and closer and closer, with a vacant urgency to their eyes. They had to get as close as possible. It was like some force of nature had taken control of everyone, and now their only goal was to merge their lifeforce with Biden's.

The frenzy of writhing arms and contorted bodies reminded me of Shark Week, when the hulking Great White breaks through the protective cage and how's the diver gonna make it out alive this time?
*
A need for convergence, often leading to upheaval.
Most of the Democratic candidates caused this effect. As did their opponent, to a far greater degree. Because he was the president, and he was Donald Trump, so, for the time being, he embodied this magnetism more fully than anyone else in the entire world.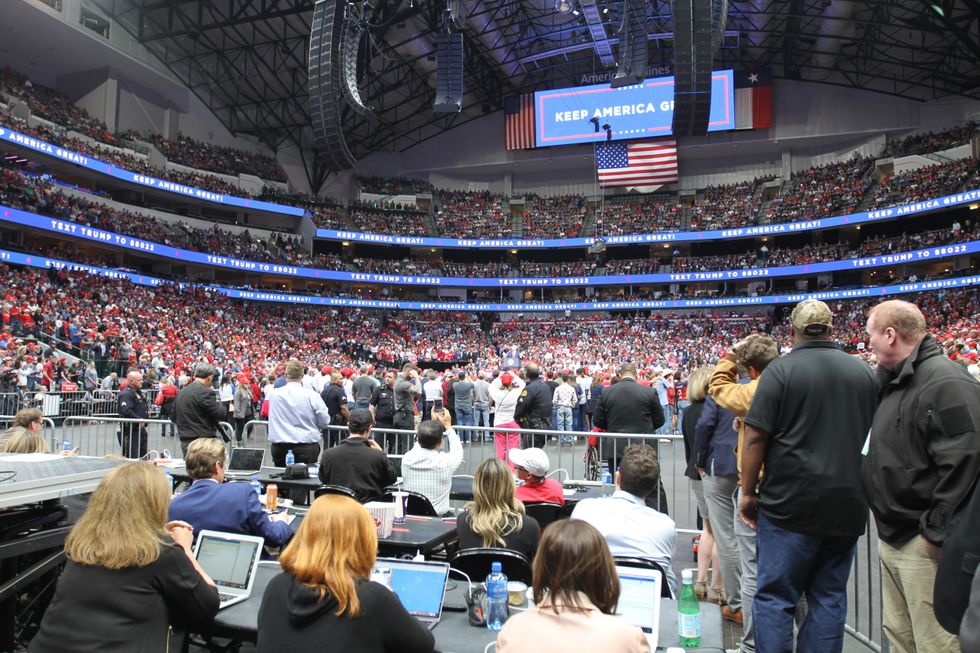 Photo by Sean Ryan
Every time Trump entered a room or a building or a space of any kind, every person within a reasonable distance felt it. And they couldn't help but bob their head around, and arch up on their tiptoes, scouring till they saw him, and then all they could do was lean forward and wonder if it was actually him.

Some of the Democratic candidates had a stronger magnetism than others. Which meant the gravitational pull had laws that guided it. The term I started using for it was "suction energy."
It was something you could physically feel.
At the Iowa State Fair, Bernie Sanders' suction energy was so intense, so visceral that it reminded me of a hurricane.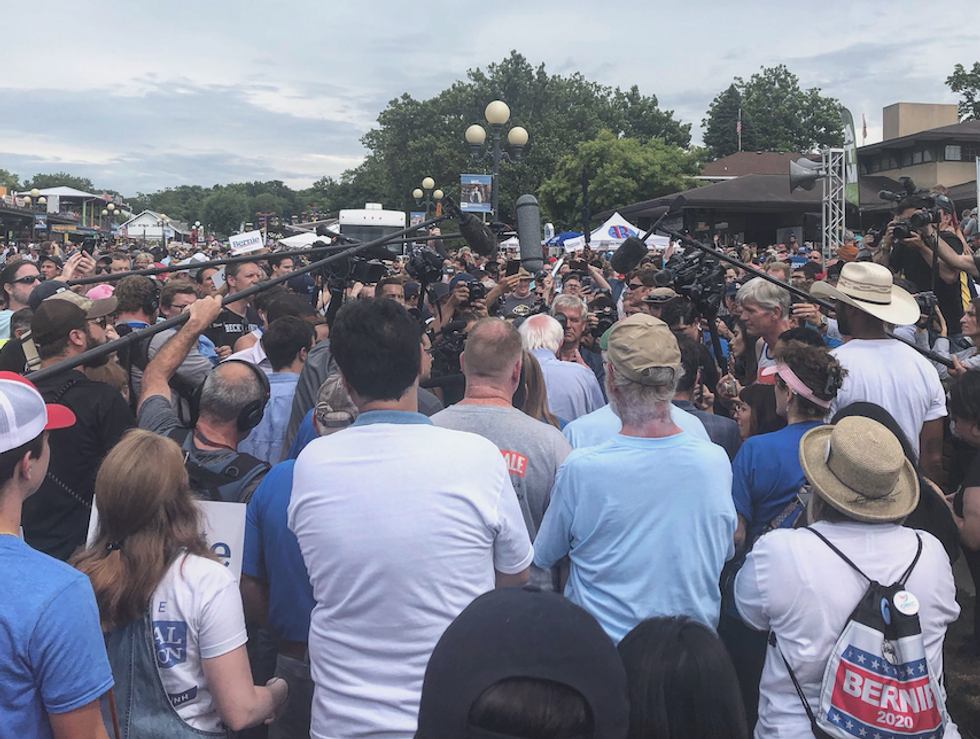 Photo by Sean Ryan
People wanted to be as close to the man as possible. They wanted a picture. Proof that it happened—that they had actually seen someone that famous.

And they were perfectly right. And their reactions were understandable and lovely even, and altogether innocent. Encouraging. Because they were genuine.
Even journalists were susceptible to suction energy. In fact, they could spazz even harder. Unlike the public, they were there as workers.
*
Suction energy is an art, something you cultivate. But it's also a result of luck and reality. Some people will just never have an ounce of it.
Take, for instance, Jay Insleey, who was apparently a Democratic presidential candidate in the 2020 election. At some point in my travels, I wound up in the same place as him.
Maybe it was a couple times. A couple, two, three. I can't remember.
All I know is that I went to Clear Lake, Iowa for the Democratic Wing Ding, to see Joe Biden and Elizabeth Warren and the 20 other candidates, and this guy Jay Insless ... sorry, I mean Inslee took the stage at some point. It's hard to say when exactly because, as I mentioned, he was impressively forgettable, like a human thumbtack.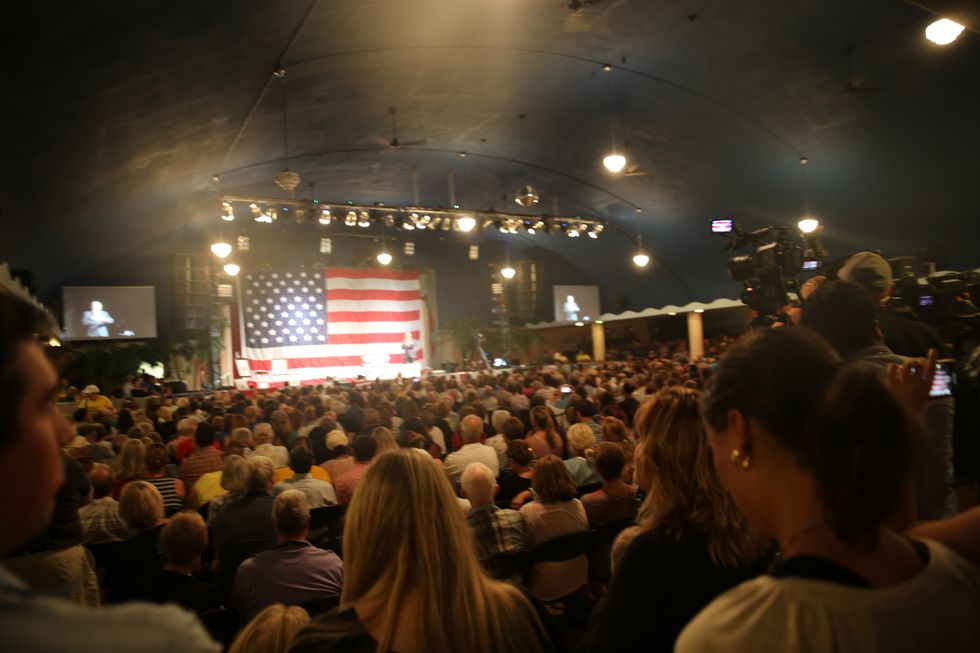 Wing Ding featured Jay Insee?Photo by Sean Ryan
He was yammering about something, and, man, he looked and sounded like P.C. Principal, from South Park, and that was pretty funny.

I told my dad, and then we were both laughing. Then my dad did an imitation of P.C. Principal, and we were really hooting.
Then all I could think about was P.C. Principal. So I ducked out into the hall to watch a P.C. Principal clip compilation, and I laughed and laughed and nobody went "Shush!," because there were plenty of others like me.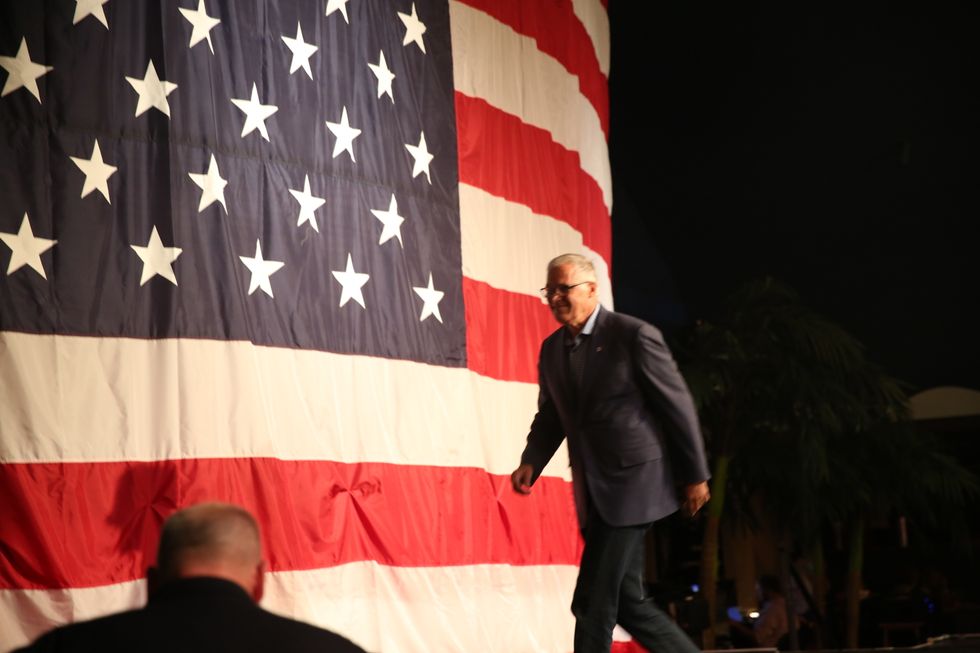 Photo by Sean Ryan
And, boy, I laughed. I was actually a bit sad when the clip was over. I'd forgotten where I was, and when I caught a glimpse of the guy onstage, my sadness deepened into pity. The feeling you get when you realize that the amateur thinks he can beat the professional. When the replacements think they will know valor. When your dog thinks they're going to the park, but really it's the vet, and they wake up without balls.

Do we have an obligation, a moral imperative, to tell a Square when she's trying to shove into a Triangle hole? How much teeth-lettuce does a person lodge into their incisors before you are inclined to alert them?
Like, after this speech, that guy John Insley, would wander around the walkways of the Surf Ballroom, same as Kamala Harris and Andrew Yang, only he'd lack their glow.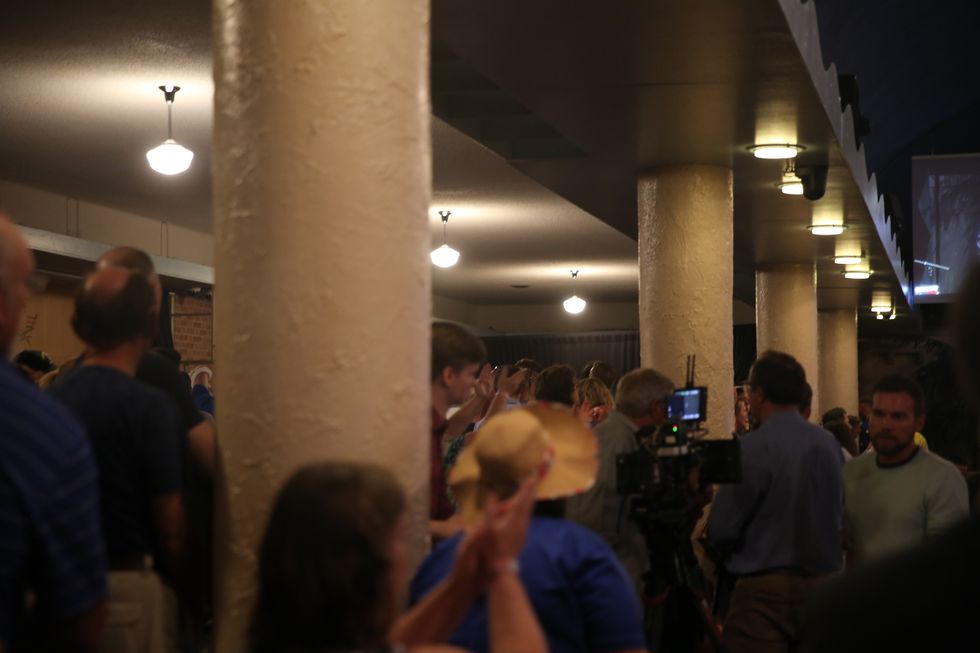 Crowds flocking to Kamala HarrisPhoto by Sean Ryan
At one point, he'd clench his jaw into what must have been a smile, ready for any nearby journalists to sneak a candid photo or rush forward for a quote.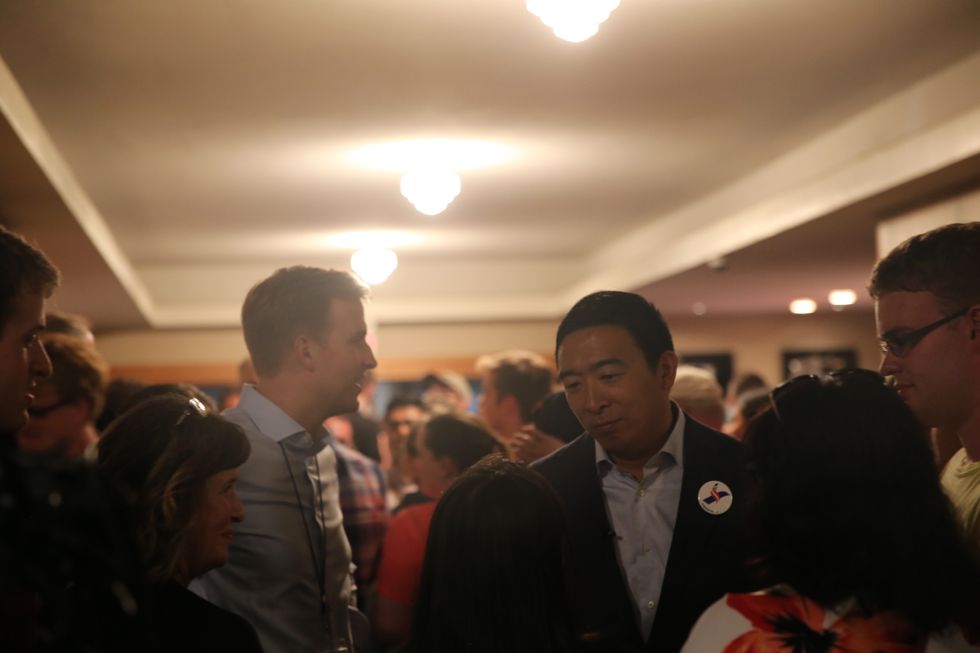 Photo by Sean Ryan
If any of the others noticed, they didn't let on. So here was this chubby kid in a costume knocking on the front door, and I know full well Halloween was weeks ago, but who's gonna feed the harmless lie if I don't?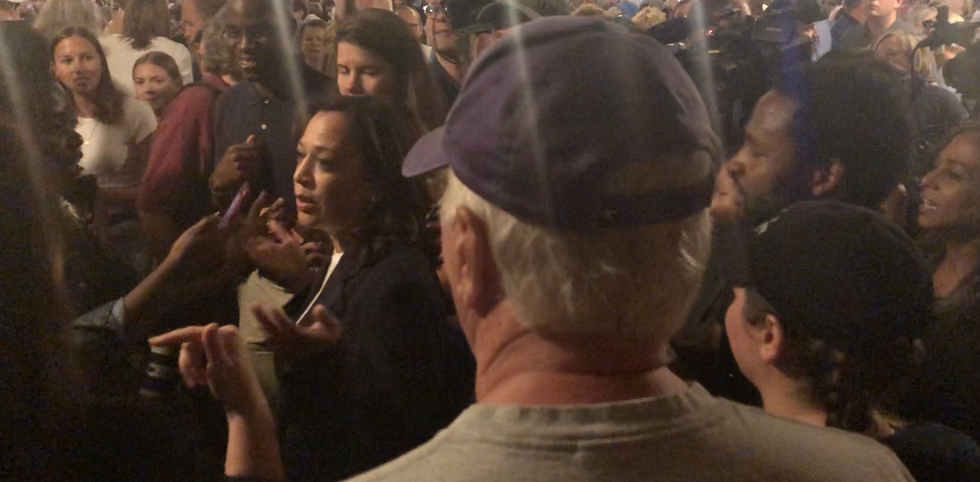 Photo by Sean Ryan
Nobody, that's who.

So I groaned and shrugged and told my dad, "Let's give the tubby kid some Starburst."
"Wha?" he asked.
Then I asked would he get a picture of that candidate over there.
"Who," he replied. As in, "I can't see an important person over there, which one is running for president?"
In other words, Insleep had absolutely zero suction energy. To a near-magical extent.
Within a few weeks, he would announce the end of his campaign on The Rachel Maddow Show.
Yet there he was, somehow center stage, looking out at the packed Surf Ballroom, where, on February 2, 1959, Buddy Holly played his last show.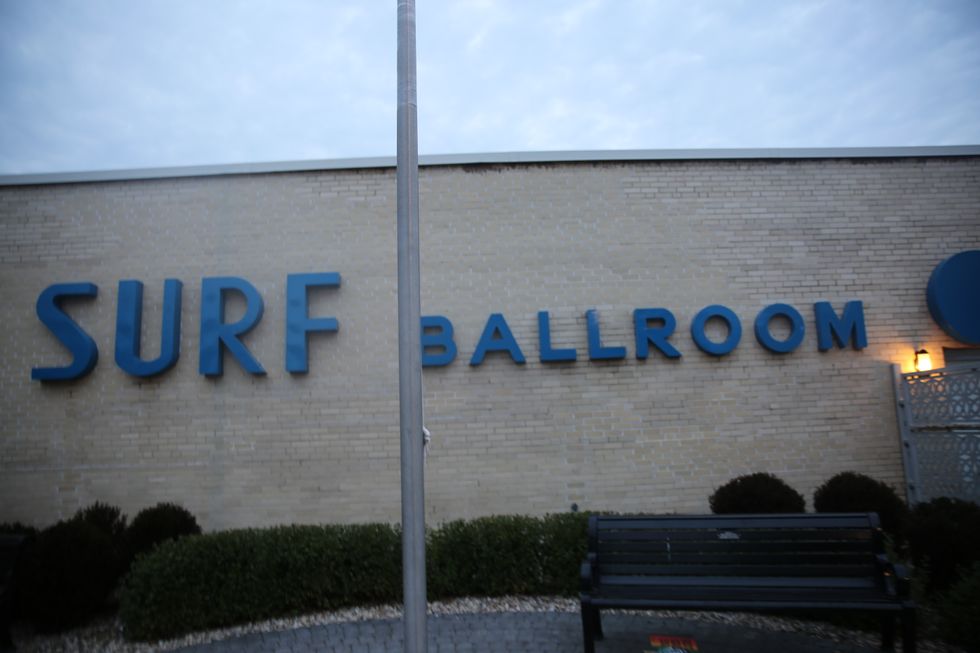 Photo by Sean Ryan
Buddy Holly, now there's a man with suction energy. So much suction energy that, when he died, music went with him.

*
When I saw Kamala during the week of the Iowa State Fair, she was at the height of her campaign, having climbed to second place, within nine points of Biden.
Everywhere I went, there was Harris, with her personalized KAMALA bus, and her chartered press pool, and her entourage of staff and fans and media.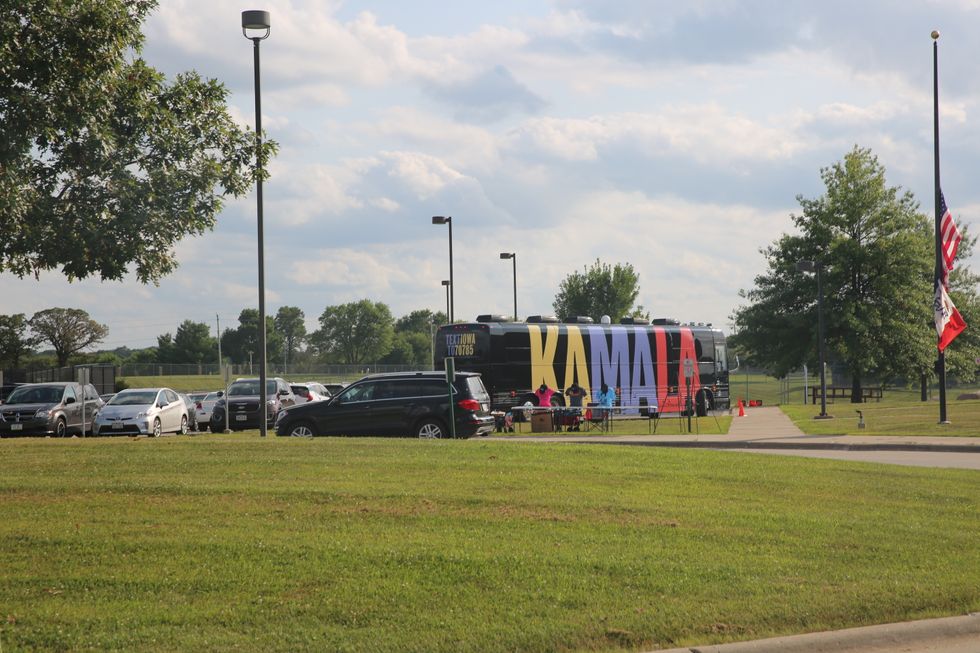 Photo by Sean Ryan
On the first Saturday of the Fair, my dad and I wound up seeing Harris five times. Five times! In part because she could hustle. She wanted that job. But also because she understood power and optics.
Before her speech at Jasper Winery, (when she played savage 4D chess with Andrew Yang, she spoke to several hundred people packed into the atrium of Valley Southwoods Freshman High School in West Des Moines, her fourth rally of that day.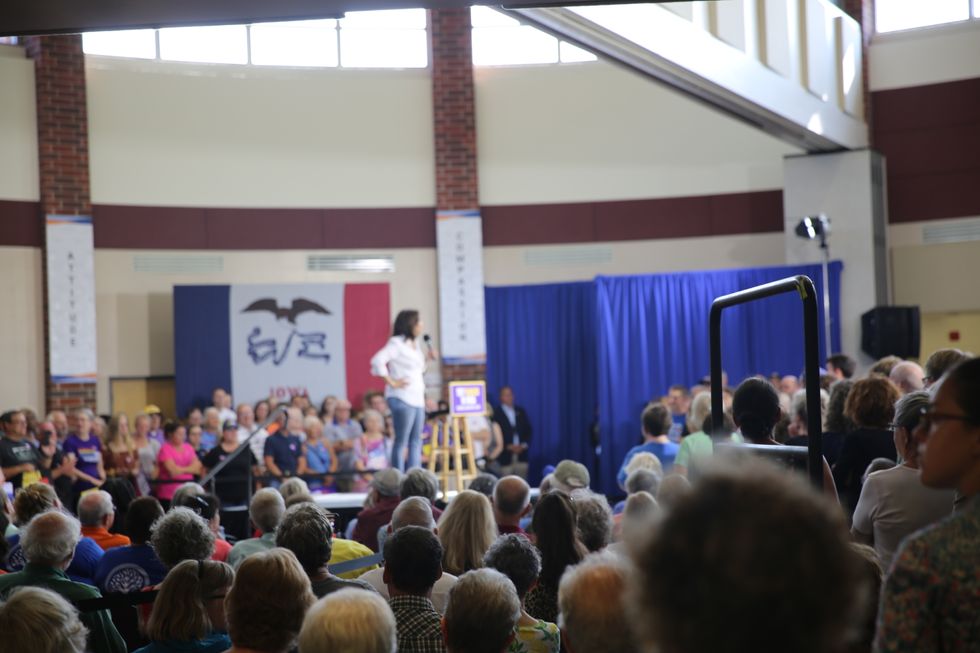 Photo by Sean Ryan
When she finished her speech, a horde surged straight for her, eighty or so.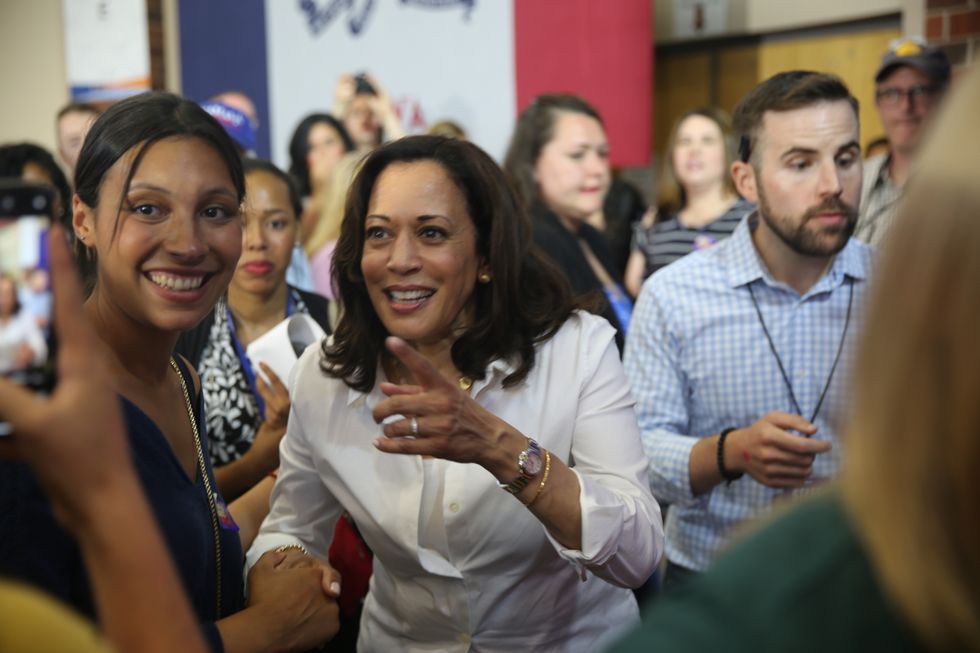 Photo by Sean Ryan
Just a month earlier, The New Yorker had run a glowing profile on Harris. That was huge. As of the release of this story, Harris was the only 2020 presidential candidate that The New Yorker had featured.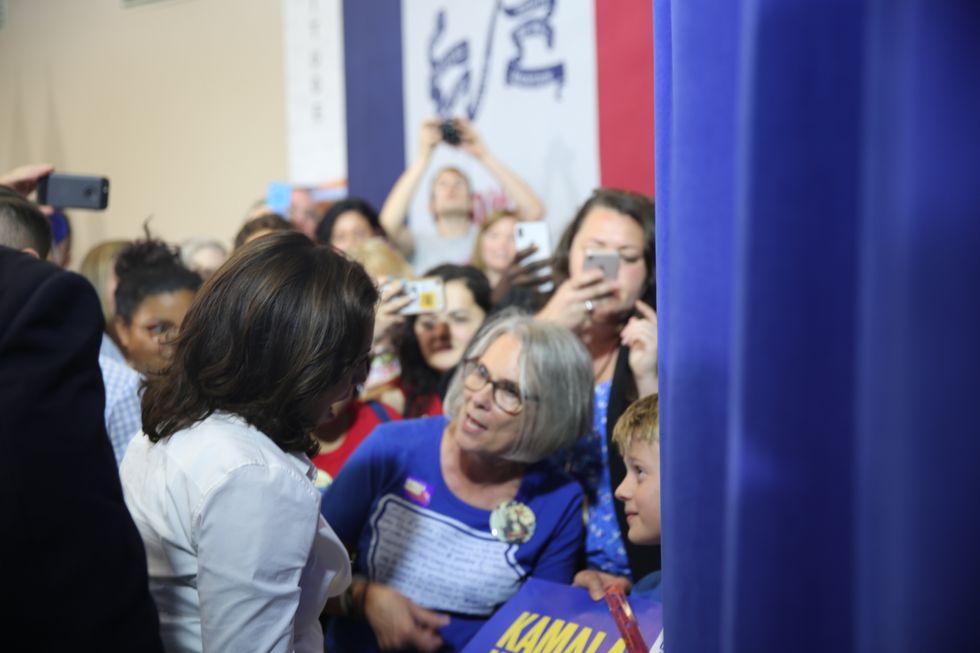 Photo by Sean Ryan
At that point of the election, excitement for Harris was so intense that it seemed obvious she would get the nomination, or close to it. So I wrote five pieces about her.

But by the time I finished all five stories and added them to the publishing schedule, Harris had sunk 11 points to 4 percent, which put her in 8th place. In New Hampshire, the first state to hold primaries, she was polling at 1 percent. By comparison, Biden, Warren, and Sanders were locked at 19.
Now, the only headlines were about her foundering campaign and her dwindling cash and her downsized staff. In each case, the sentiment was the same, "Whatever happened to Kamala Harris?"
Which answer a question I posed in my first story. Would Harris "I got this one in the bag" attitude help her or ruin her? Turns out the ostentatious bus and the unnecessary press accommodations had been a premature move, and now she just seemed cocky.
Because suction energy can, and often does, vanish in an instant.
A Bernie can always become a Jay InslepInslee. Nobody is immune, no matter how powerful they appear. Look at Bill Cosby. Harvey Weistein. Both were godlike in their power. Both had a gravitational pull so intense that they raped women for decades and nobody did a thing. Cosby's suction energy was so intense that he collected honorary degrees like a vacuum collects dog hair. 70 of them. Then, off to prison to eat pudding in the dark.
By the time I saw Harris at the Democratic Debate in Houston, a month after she stormed Iowa, she'd begun transforming into Joe Biden, focused on all the wrong things, laughing at her own jokes, without realizing that nobody else was laughing.
New installments of this series on the 2020 elections come out every Monday and Thursday. Check out my Twitter. Email me at kryan@mercurystudios.com