The Glenn Beck Program with Glenn Beck, Pat Gray, Stu Burguiere and Jeff Fisher, Weekdays 9a–12pm ET on TheBlaze Radio.
Joe Biden leaned into the white barn. Up and to the left, a green sign that said "SWINE."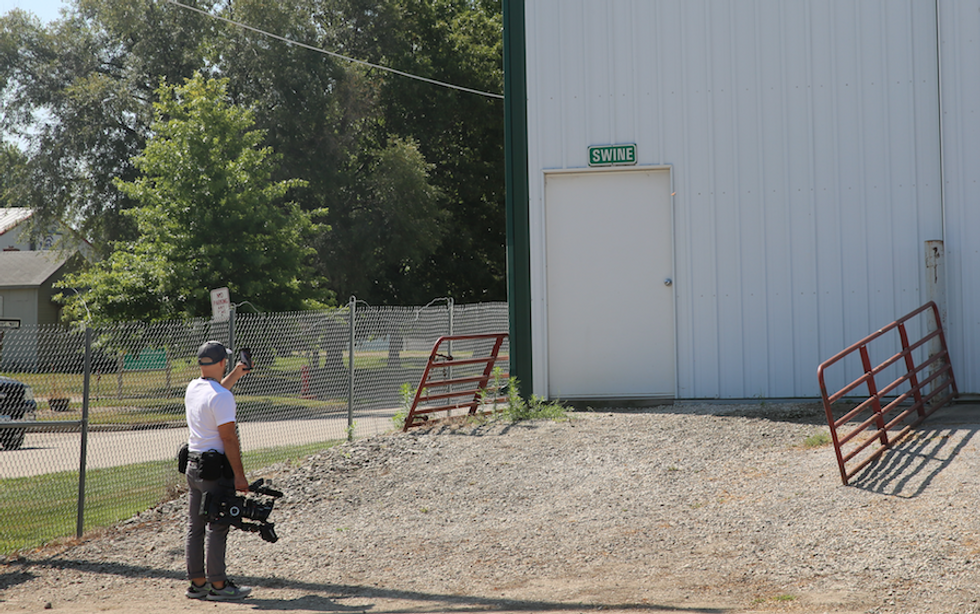 Just in case you had doubts, here's the "SWINE" sign.Photo by Sean Ryan
His warm-up music was playing, nice and loud. A country song about a Bruce Springsteen song. Which was followed by an actual Springsteen song. A newer one, with an electronic drumbeat.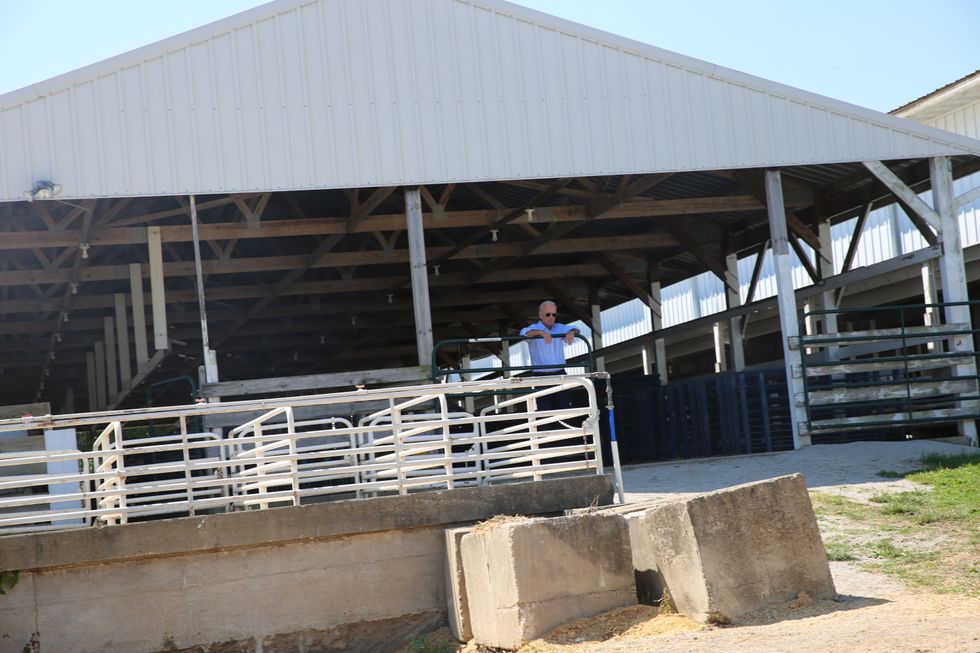 Photo by Sean Ryan
Then Jackie Wilson's "Higher And Higher" erupted, and Biden sprinted to a makeshift podium in the empty field.

Higher and higher
Biden was somehow spry and stiff at the same time. And maybe he had had some work done. Plastic surgery.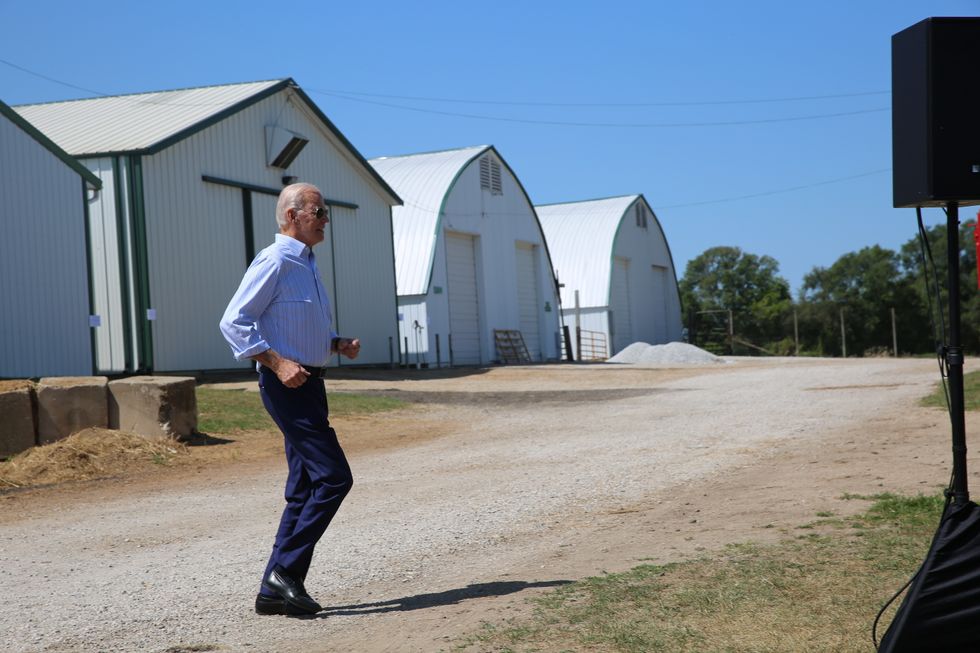 Photo by Sean Ryan
His secret service were disguised as urban ranchers types as they monitored the scene. Not too far away, the highest double track railroad bridge in the world, Kate Shelley Bridge.

The media gawked at Biden through cameras, over laptops. From some nearby pasture, a donkey brayed, cows mooed.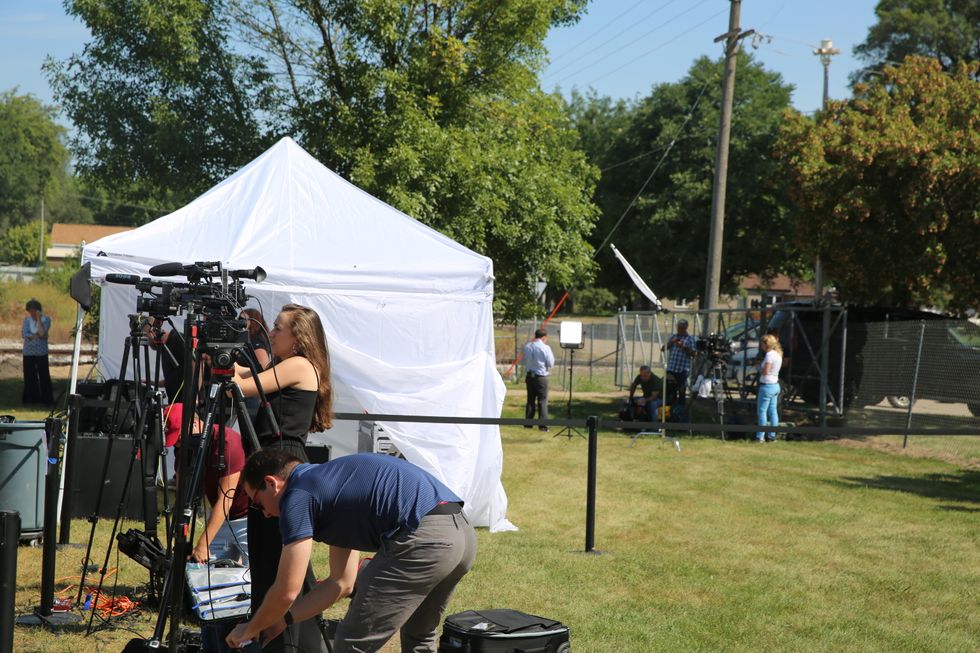 The makeshift media area at the back of the field.Photo by Sean Ryan
Your love, lifting me higher… Than I've ever been

The music yanked to a close as Biden apologized for wearing sunglasses. Everyone was sweating. Glassy beads streaked down Biden's face. Yet there he was, in an elegant pale-blue button-up.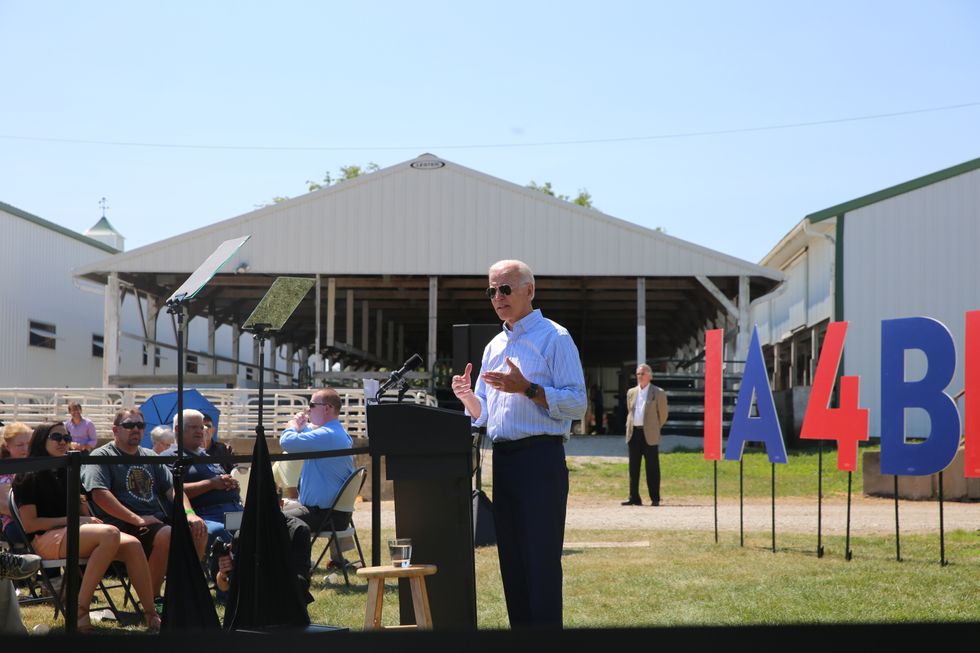 Photo by Sean Ryan
To his left, an elaborate "I AM 4 BIDEN" sign. To his right, a "Biden Works for America" billboard. He gripped the podium and faced the crowd in folding chairs and humid morning light.

Behind Biden, American-flag tassels, still crinkled from the bag. In front of him, 70-odd people surrounded by a chain-link fence, and on the other side, an empty road.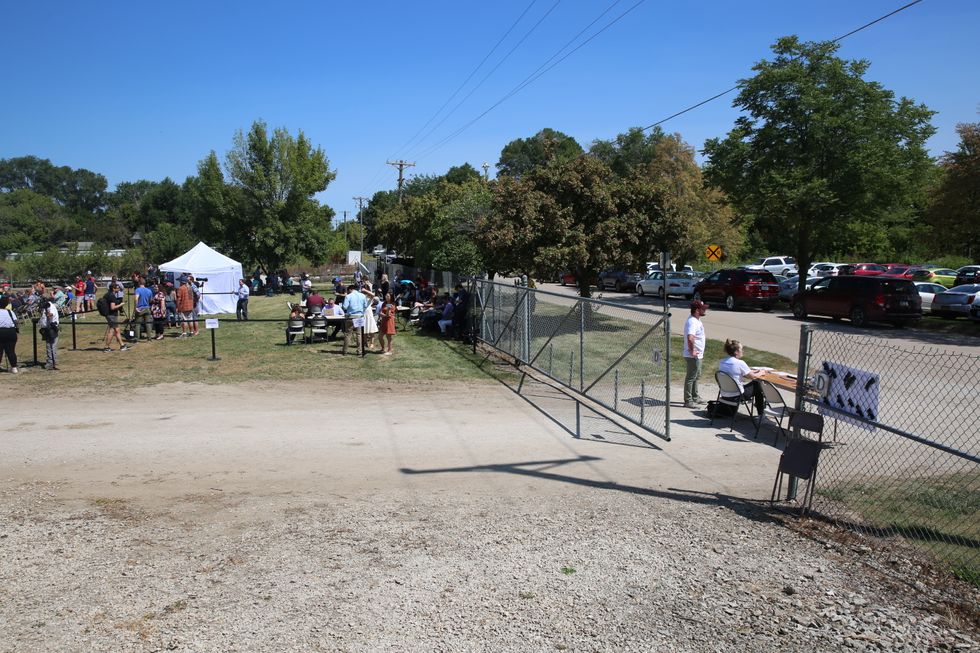 Photo by Sean Ryan
News broke that Jeffrey Epstein had hanged himself earlier that morning.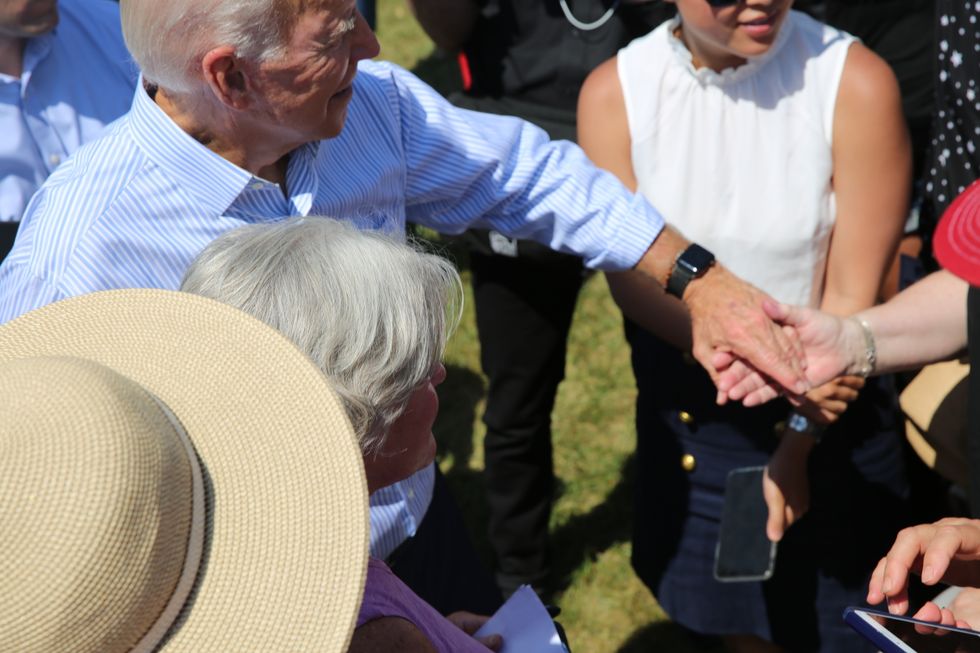 Photo by Sean Ryan
Since announcing his Presidential bid, Biden had turned into a meme, mocked for his old-school approach to connecting with people, which the new generation had branded unacceptable. As I argued in my first Biden story, I found his affection to be charming, rooted in kindness, and I never once saw him get handsy with someone who didn't feel absolutely honored that he'd narrowed his focus to them alone.

Once again, the outrage was the actual problem. And the hypocrisy was disgusting. Politicians are notorious for affairs and downright sexual depravity, so PDA was hardly a crime. John F. Kennedy once said, "If I don't have a lay for three days I get a headache." JFK alone puts Biden to shame. Both John Edwards and Arnold Schwarzenegger had their own second families as a result of affairs.
Beyond that, it had been a rocky start in Iowa for Biden. Lots of bad optics. Lots of awkward phrasing. Like the "poor kids are just as talented as white kids" remark he made the previous night at the plumbers' union in Des Moines.
Or a few hours before that, at the Iowa State Fair, when he got into a weird argument with Breitbart News editor Joel Pollak, who criticized one of Biden's story about the disastrous events in Charlottesville nearly two years before to the day, and accused Biden of mischaracterizing Trump's reaction to the Unite the Right rally.
Biden responded with indignation, using portions of his "contorted faces" stump speech word-for-word.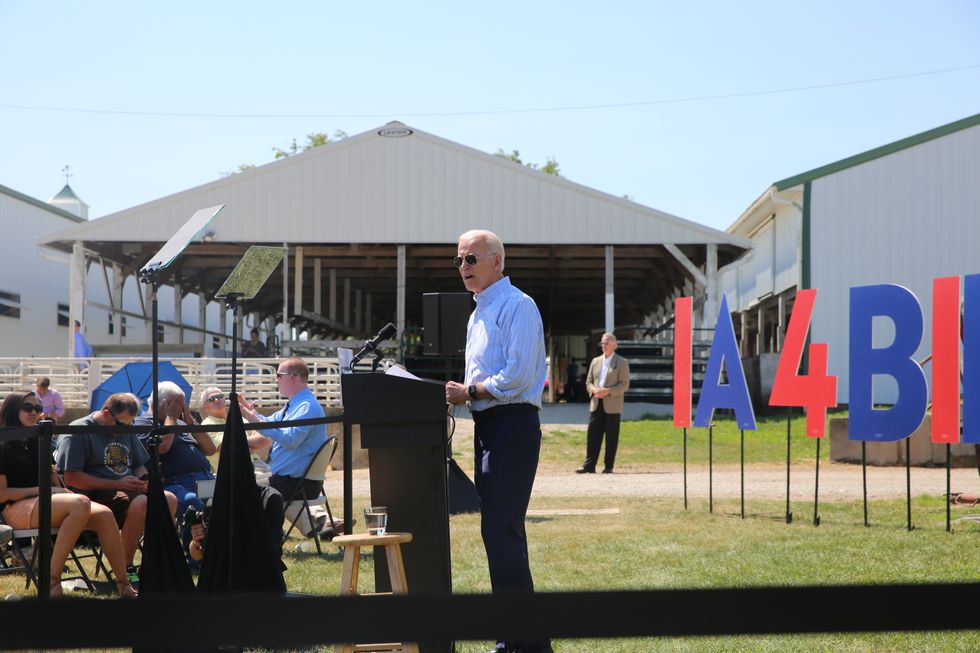 Photo by Sean Ryan
The issue of Trump and Charlottesville remains far more complicated, steeped in semantics and implication. Many on the left and in the press took umbrage with President Trump's speech. His use of equivalency. As Jake Shafer at Politico noted, the speech "sound[ed] like he [was] channeling Barack Obama, a realization that must have clawed at him." According to Bob Woodward's book Fear, Trump described the speech as "the biggest f***ing mistake I've made."

Didn't matter. The point was, Trump had to go. Most of the candidates took this approach, some more fecklessly than others.
Kamala Harris referred to Trump's twitter feed as ammunition for mass shooters. Biden also linked Trump directly to the tragedies. Don't get me wrong, Trump, as President, still regularly calls entire nations "loser" on Twitter. But, as recently as four days earlier, he said that, "in one voice, our nation must condemn bigotry, hatred and white supremacy. These sinister ideologies must be defeated."
Biden agreed.
*
Different news outlets assign reporters and photographers to the presidential front-runners.
Kamala Harris was so confident in her campaign that she went ahead and bought the personalized KAMALA tour bus. There were over 20 other candidates left, some of whom could still go to a grocery store without being noticed, and Harris already had the KAMALA wagon. As well as a charter bus specifically for press covering her campaign.
Everywhere she went, a herd of media and staff followed along, surrounding her on all sides.
At that stage of the race, Biden and Harris and Sanders received the most media attention. Biden, by default. Harris, by maneuver. Sanders, by nonchalance. Warren floated around somewhere in the background with her wispy voice and her perennial look of innocence.
*
Journalists prowled, recording everything. The media were set up behind the audience. A bank of cameras from CNN, Fox News, ABC, Associated Press, you name it. Reporters, scrawling in slender notebooks, from the Wall Street Journal, the New York Times, the Washington Post, the BBC. Most of them were young. Diverse group.
A local councilman had introduced Biden.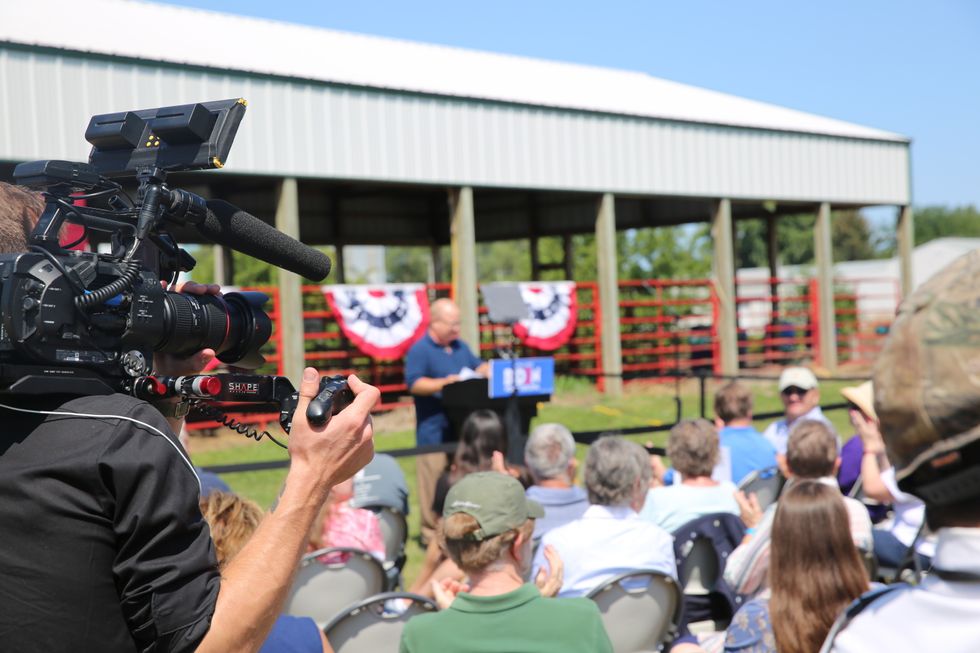 Photo by Sean Ryan
"Democrats are the party that cares about people," he said, "and nobody cares about people more than Joe Biden."

Biden loved that.
"Mr. Chairman, I'd like to take you on the road with me," Biden jested at the podium.
Then he let the air settle for a moment.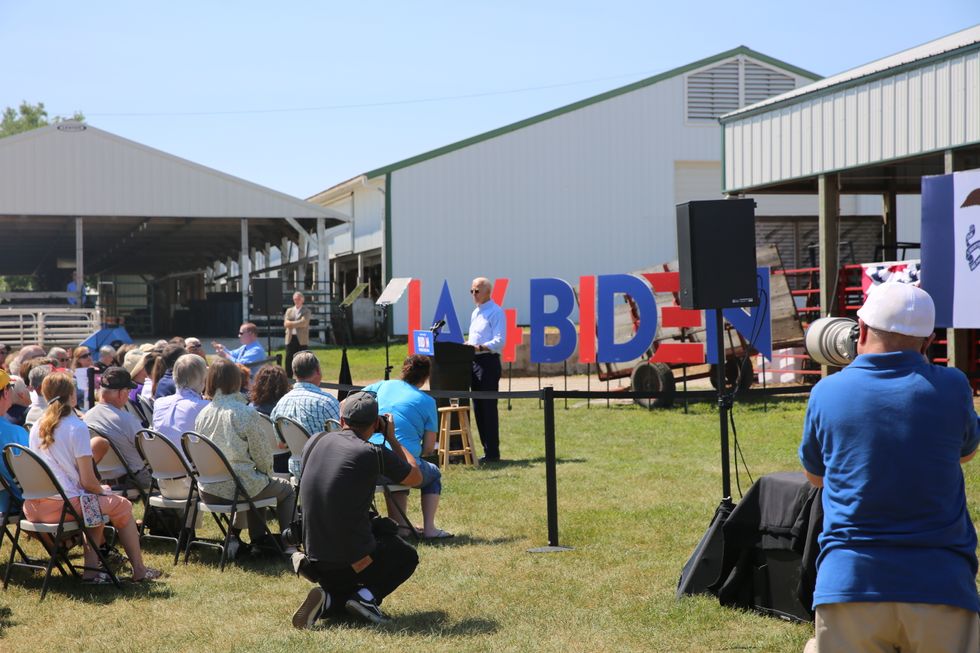 Photo by Sean Ryan
"You know what, I used to be, a county councilman," he said. "And the fact of the matter is that you affect the quality of life of the people in your city more than almost anyone else does. I ran for the United States Senate from County Council because it was too hard being a councilman."

Everyone laughed, warmly. Even Biden. Maybe even the Secret Service. But not the media. They had heard the line before, in all of its variants. Anyway, every single candidate uses that formula, "I tried your job and it was so much harder than this whole President thing."
And it was a ridiculous claim every time, brazen pandering. The day a county council job is more important than a seat in Congress is the day our country has collapsed.
*
Somehow, the Boone Co. Fairgrounds did not smell like cow dung and fertilizer. This place was quiet, and empty. While the Iowa State Fair flourished 90 miles away in Des Moines, this was just a vacant fairgrounds. People kept looking around, as if to say, "Where are the rides? the corn dogs? The gaudy Corvettes?"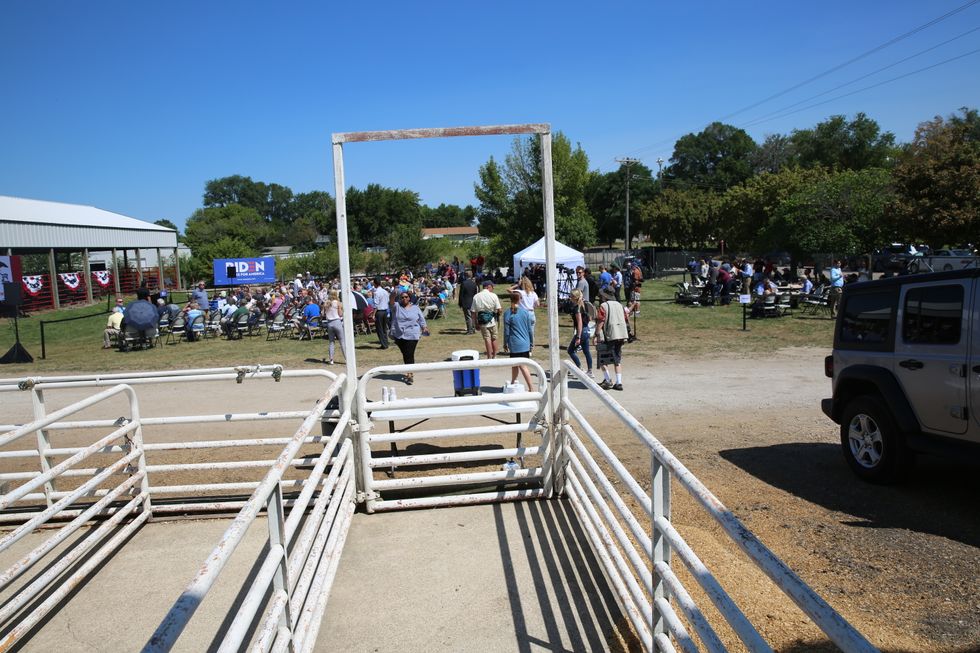 Photo by Sean Ryan
Instead, it was lots of countryside noises. The birds and the wind and occasionally a faraway tractor or a pickup truck passing.

The audience stared at Biden with automatic deference, or at least the attentiveness of a friendly crowd. In the back row, a man in a black t-shirt with a quote from Martin Luther King: "The time is always right to do what is right." Beside him, a scrawny twenty-something in a t-shirt that said "I was country before country was cool," next to clipart of some skeletons or American flags or shotguns or something.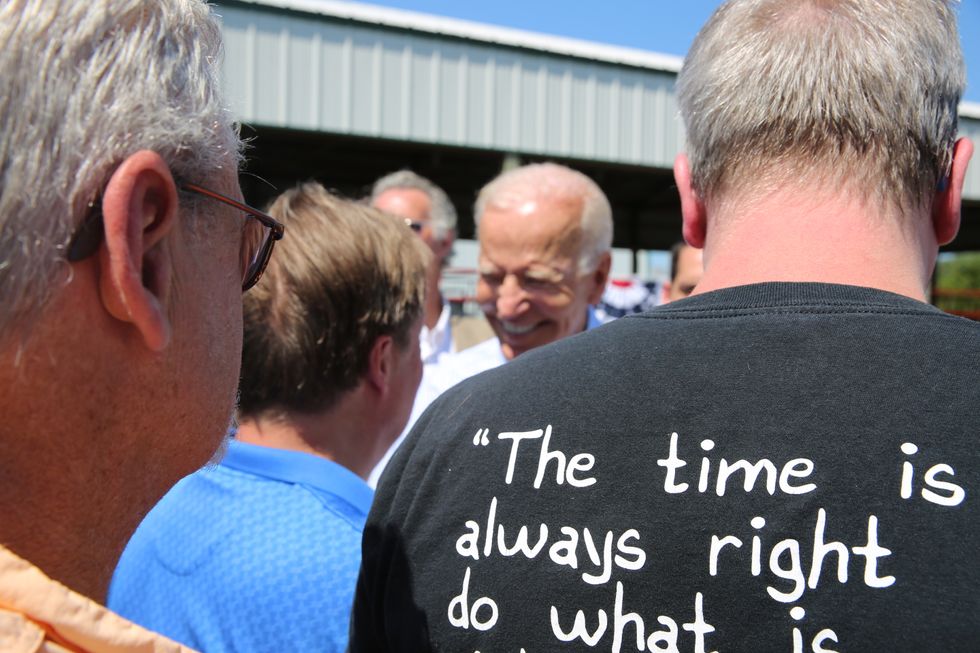 Photo by Sean Ryan
Here, like most of the Iowa campaign events I attended, there were a lot of people in message-laden outfits. Typically, this is considered low-brow, wearing t-shirts with slogans and whatnot. But these were political people, converging on a political event. And politics had become so personal to them that they were literally adorning their body with its better perspectives.

During the rallies, T-shirts turned ideological. Clothing became a platform. Slogans flew from everywhere. Deeper down, maybe these messages were an opportunity, social lottery tickets. Rooted in a desire to connect with others, anyone who might share your opinion.
Or maybe it was because they had come to watch someone important, and all they could do was listen, yet they had a lot to say, so they found other ways to signal who they were and what they believed, and, maybe, Biden would see it and be impressed and they'd be on the same level. It could happen. It would never happen.
*
Biden had sand in his voice.
When he spoke, it lacked the playful jaunt you heard during his tenure as chairman of the Senate Judiciary Committee for Ruth Bader Ginsburg's Supreme Court confirmation hearings. But it still had that soft acuity. Calming. Without much of an accent despite his having grown up in both Pennsylvania and Delaware.
"No matter how young or old you are, there's not a more important election to participate in," he said. "And we all know who this President is. And we all know — except him I suspect — that the words Presidents speak matter."
He let that phrase linger.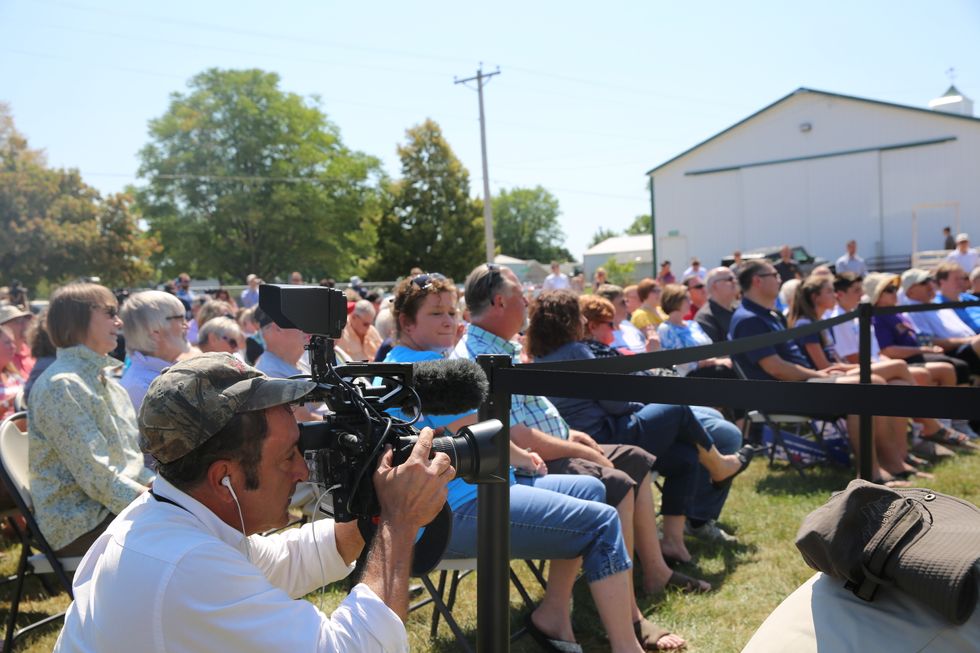 Photo by Sean Ryan
"They can move markets. They can send brave women and men to war. They can bring peace. They can be a voice of calm in moments of national turmoil. They can console. And they can comfort, in moments of tragedy. They can inspire us to literally go to the Moon. Or they can appeal to our better angels in times of difficulty."

A measured pause.
"Or — Or, they can unleash the deepest, darkest forces in this nation," he said. "And that's what Donald Trump has chosen to do."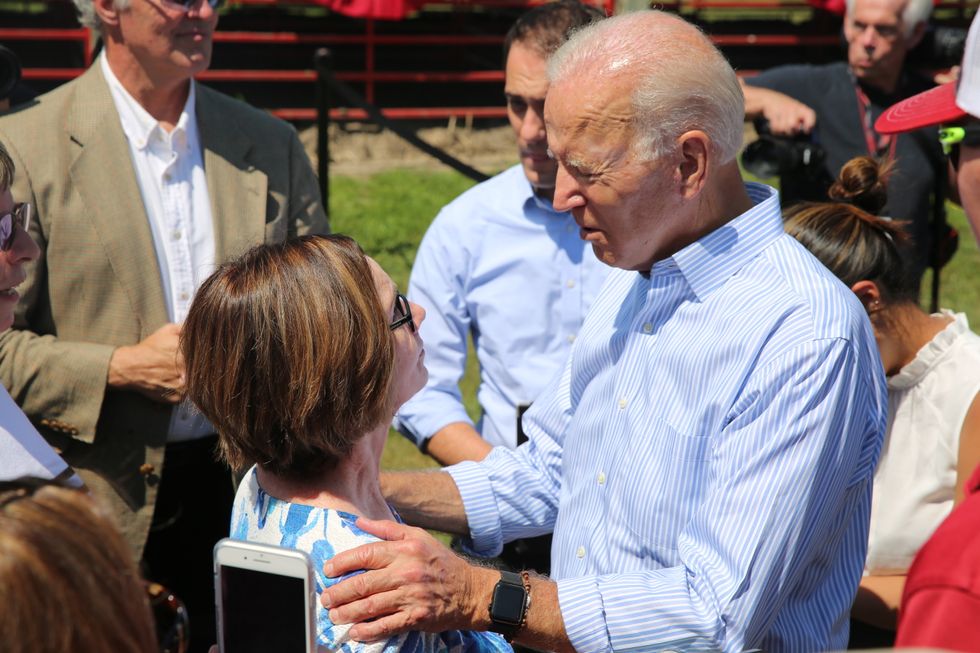 Photo by Sean Ryan
He kept using the word "seriously" after undisputedly serious statements. "Seriously, I mean it," even though everyone already knew that he meant it. Or "seriously, folks, this President is a menace." It was a better way of saying, "Please clap." Only, when Biden did it, it was followed by a natural, perfectly timed clack of applause.

*
Every speech Biden gave in Iowa opened with a description of the 2017 Unite the Right rally in Charlottesville. He described the contorted faces of neo-Nazis, veins bulging from their heads. "Literally," he shouted.
How they emerged from fields like zombies in Nazi regalia, gripping signs with antisemetic slogans, chanting, "Jews will not replace us!" and "Blood and soil."
He said that, in response, Trump referred to the Neo-Nazis and KKK as "very fine people."
Biden told it darkly, like he loved the narrative language. The descriptiveness. Who wouldn't?
Then, he used it as a premise, as unequivocal proof that President Trump was a racist who "gave licence and safe harbor to hate and white supremacy."
In all that sunlight at the Boone Co. Fairgrounds, Biden cut through his stump speech much better than he had the night before at the plumber's union.
*
Occasionally, a train heaved past the field, rumbling the ground. Other times, it would just park on the tracks, blocking so many roads. This seemed to happen a lot in Iowa. And people had to navigate elsewhere to get where they wanted.
"We are, today, in a battle for the soul of this nation," he said. "And that's the primary reason I'm running for President of the United States."
Photo by Sean Ryan
I don't even have to tell you about the applause because this is the sort of statement that people always clap after.

He said it as if the Presidency represents a kind of fatherhood. At other speeches, he talked about his late son, Beau — as you can imagine, he didn't mention his other son, Hunter, all that often — but at Boone Co. Fairgrounds it was only fatherhood in the symbolic, anecdotal, sense.
His speech was loaded with snapshots of his own father, who seemed to represent faith in the middle class, or even America itself. His dad was a furnace cleaner in Pennsylvania. His dad lost his job, and it felt like he'd been emasculated. His dad said things like, "Joey, a job is more than a paycheck."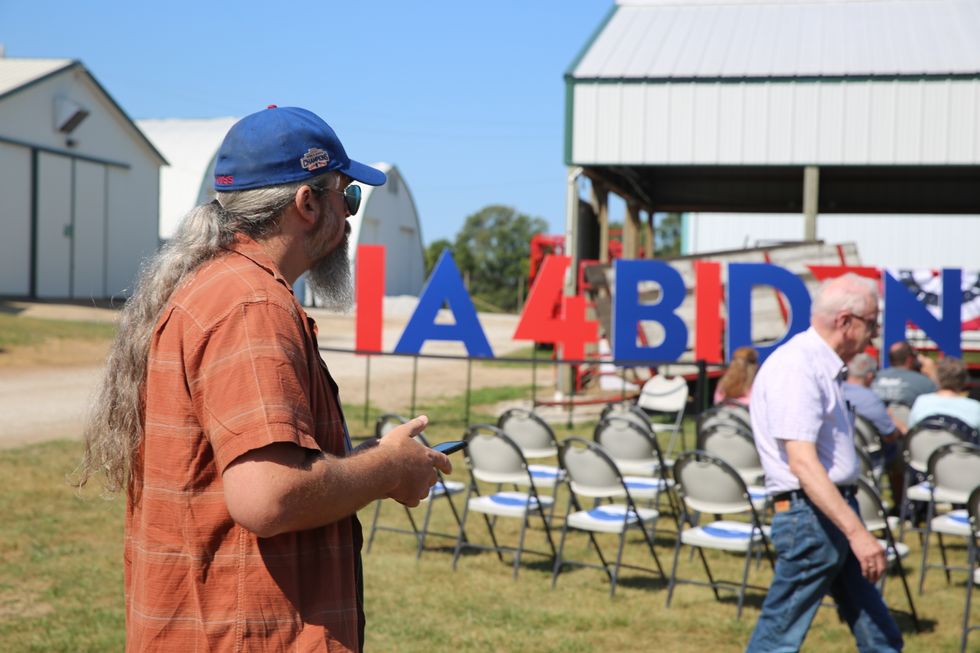 Photo by Sean Ryan
Biden was building the crescendo of his speech. He could no doubt see the landing perfectly, just a few more maneuvers.

"Seriously, when we passed the Affordable Care Act," he said, with a hint of the jocular, "I told the President it was a big deal, or something to that effect."
A wave of laughter spread through the crowd. He'd landed the joke, a reference to his "this is a big fucking deal" gaffe.
He told the joke often, with unpredictable success, depending on his delivery.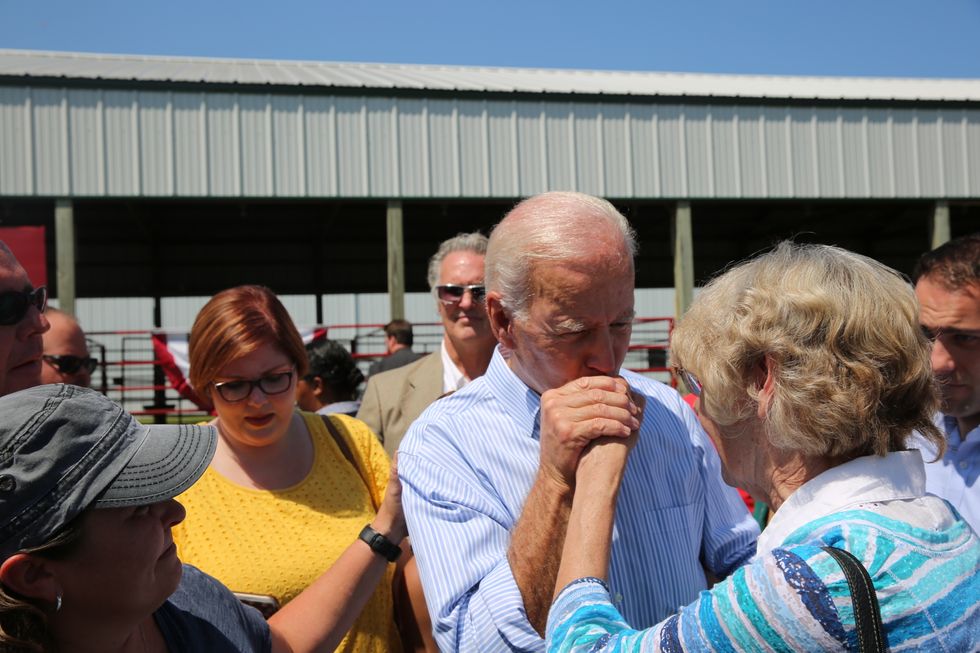 Photo by Sean Ryan
The subtle allusion to the f-word landed much better than it did the night before. The way he said it, it was less of an in-joke. This approach to profanity marks a distinction between Biden and, say, New Jersey Senator and Democratic candidate Cory Booker, who, during the second debate, used the word "shithole" on live TV, smirking.

Instead, Biden hints. Implies.
As Vice President, he said the f-word near a hot mic, as the nation watched live. It was supposed to be a private moment between him and President Obama. Everybody heard it, and was it really all that bad anyway? Wasn't it kind of charming? His excitement, his conviviality. Another of Joe's gaffes, to some. Middle Class Joe fumbling again.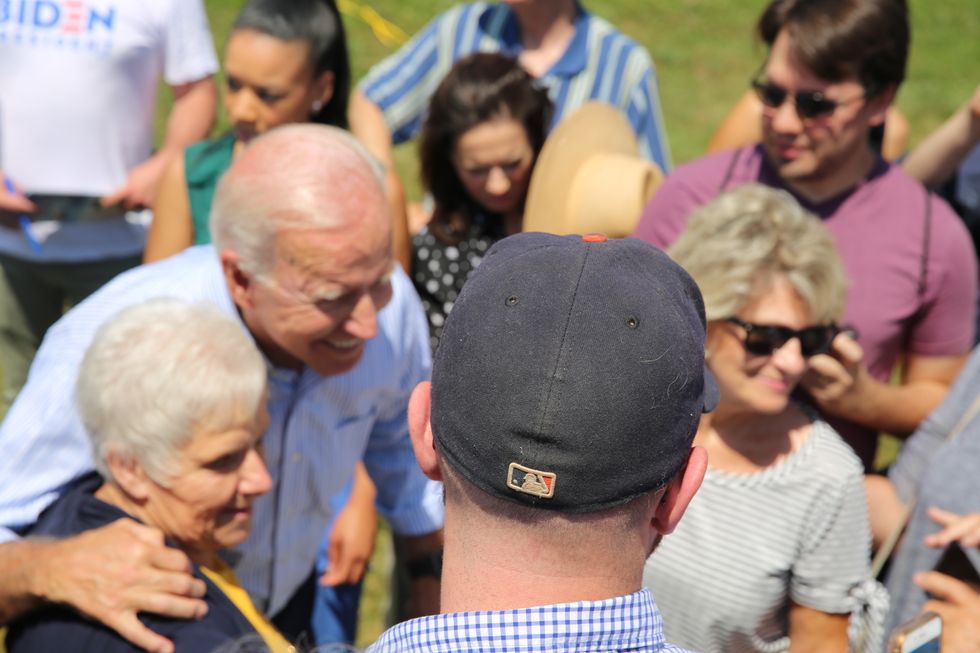 Photo by Sean Ryan
Just as much, there's a mystique to Biden's clumsiness. Like how he hastened the legalization of gay marriage in America because he said the wrong thing at the wrong time.

And he didn't do it strategically. It just sort of popped out.
"Now, I know my opponents attack me for, uh, being a little naive," he said, with his low soft gravelly voice. "I find it interesting: I'm the old guy but I'm naive."
People chuckled.
He nodded, as in, "Seriously, though."
*
"We have to reach out," he said. "You know the fact of the matter is, the only way we're gonna get anything done, get this country working together, is if we're able to bring it back together."
Such a nice utopian vision. Which he used as the basis for another attack on Trump.
"We choose truth over lies," he said. "This guy's a pathological — he doesn't tell the truth!"
Measured pause.
"I'll be a President for all Americans," he said. "Democrats, Republicans, Independents. Because that's who we are."
Yes, he was maneuvering the speech toward that perfect landing. He could nail it. He was nailing it.
"Everyone knows who Donald Trump is," he said. "We need to let him who we are." Silence, no reaction. Then a bit softer, moving closer to the mic, "We gotta let him know who we are." In other words, Please clap.
Applause. Lots of applause. Bright as confetti.
"We the people," Biden said, focused on his finale. "That's who we are. We've never fully lived up to that." Then he glided into a recitation of the Preamble of the Constitution, "We the people, in order to form a more perfect union. We hold these truths self evident, that all men and women are created equal." He paused. "America is an idea. An idea."
And in the silence between Biden's closing lines, a red GMC rumbled by and the driver leaned out and shouted, "Biden sucks!"
New installments of this series come out every Monday and Thursday. Check out my Twitter or email me at kryan@mercurystudios.com

Mercury One would like to invite you to be a neighbor in your community to help us restore the human spirit through simple — yet impactful — random acts of kindness and volunteer opportunities on November 16, 2019.
This nationwide Be A Neighbor Campaign, hosted by VOMO in association with the film A Beautiful Day in the Neighborhood, allows us to honor the legacy of Mr. Rogers and the impact he made in communities across the world.
You can join the movement by partaking in volunteer opportunities in participating cities, like Dallas, or you can create change from anywhere in the United States.
Don't want to participate on your own? Join together with your friends, family, co-workers, church group, or neighbors. There's something for everyone!
Interested in participating in the Be A Neighbor Campaign on November 16th? Heres how…
1. Visit the link bit.ly/mercuryoneneighbor on your smartphone or computer to log in or to create your VOMO account in association with Mercury One.
2. Once logged in, check out the different ways you can participate and give back in your community on November 16th in association with the Be A Neighbor Campaign.
3. Join any of the 16 different ways to participate in the Be A Neighbor Campaign.
Ways to participae incldue…
– Perform a random act of kindness
– Give a teacher supplies needed for a class
– Donate to a charity of your choice, like Mercury One
– Visit and volunteer with seniors
– Clean up a part of your neighborhood
– Give someone a genuine compliment
4. On November 16th, get out in your communities to partake in your act of good within your neighborhood. Make sure you track your tie on the VOMO app to show you've participated in the campaign.
If you decide to join Mercur One in being a neighbor this weekend, please share your participation with us on social media! Use the hashtags #MercuryOne and #BeANeighbor so we can see the ways you make your community a batter place.
Thank you for your ongoing support that makes Mercury One's education and humanitarian efforts possible. We are proud to work alongside each and every one of you.
Donate
Because this is the state of our politics nowadays, the past few days have seen the Washington Nationals World Series victory overshadowed by the team's visit to the White House. When catcher Kurt Suzuki donned a MAGA hat and first baseman Ryan Zimmerman praised Trump, Woke Twitter erupted and another outrage cycle began—and has yet to dissipate fully.
At this point, anger with celebrities for their politics has become a normal function of our culture. And frankly, it's exhausting. Yet, when entertainment becomes a substitute battleground for politics, it's also inevitable. We not only welcome, but expect our celebrities to actively advance our political agendas. But for the sake of American discourse, we must re-learn the value of separating entertainment from our politics.
The root of this conflation problem originates from a psychological phenomenon called "the halo effect." We seem to presume good characteristics from a person simply because we appreciate another characteristic about them. For example, person A is talented at X, so that person must also be talented at Y. With celebrities, we incorrectly assume they have expertise in whatever they do, which is why we care deeply about their political and cultural viewpoints. And their silence is perceived as complicity, as we saw with the bizarre campaign to get Taylor Swift to denounce President Trump.
With celebrities, we incorrectly assume they have expertise in whatever they do, which is why we care deeply about their political and cultural viewpoints.
Under this paradigm, it's only natural that we end up having female soccer star Meghan Rapinoe questioned not solely on her athletic success, but also her thoughts on the president and the state of the 2020 election. Some have even gone so far as to suggest that she become a politician one day.
But whenever celebrities espouse political views that run afoul of our expectations, it engenders a startling, gag-like reaction because we assume, often erroneously, that they were enlightened and adherent to our political vision. This leads certain conservative figures to behave rather hypocritically, such as when they demean Lebron James, telling him to "shut up and dribble" while extolling Kanye West because he supports the president.
But of course, expertise is not transferable. A great baseball player can have a tough time understanding Alexander Hamilton's writing. A renowned popstar can make for a lousy thinker. There is not one good reason why MSNBC, a purportedly serious network, needs to interview actor Robert De Niro about impeachment or director Rob Reiner about the findings of the Mueller Report. Neither of these figures have any especially unique insight or political experience.
Of course, Kurt Suzuki and Ryan Zimmerman have been venerated by Trump's base and targeted by the Resistance. Surely, many more figures will follow their lead and occupy the news cycle for all of the wrong reasons.
The only remedy for all of this, then, is to fortify the separation between entertainment and politics.
The only remedy for all of this, then, is to fortify the separation between entertainment and politics. That requires celebrities to push back against calls to disavow certain figures on the basis of politics. Things looked hopeful when Ellen DeGeneres recently stood up for her friendship with George W. Bush, despite profound political differences.
But more importantly, it requires the American people to detach themselves from the political hysteria that has infected every aspect of our daily lives. The reality is that some celebrities are smart—but many aren't. We shouldn't presume political prowess because they're talented in other arenas. And we shouldn't crave their opinions or denounce them when they disagree with ours. In other words, we need to recognize that they are regular people, and we should approach their viewpoints no differently than we would anyone else's.
Ethan Lamb (@realethanlamb) is a Young Voices contributor and a law student at Georgetown University.
Imagine a prairie, red in bloodshot light, swollen with corn.
You're in a rocking chair, on a porch, looking out at fields of grain, surrounded by friends and family. Now imagine an urban sprawl, a landscape of fog and metal and sidewalk and car horns. From the patio of your high-rise apartment, you look out at the city, as a dinner party churns.

One thing I hear repeatedly from people in rural areas is, "I cannot believe the amount of hatred Trump faces. It's unprecedented."
If you measure public opinion via mainstream media — excluding Fox News, which is definitely part of the so-called mainstream media — you'd understandably assume that most Americans hate Trump's guts.
Yet nearly 63 million people voted for him in 2016. Still fewer than Hillary Clinton, although Trump nabbed the electoral vote by a far larger margin.
When I talk to people in cities, they often have a gauzy idea about Trump supporters. To them, Trump supporters are faraway anomalies. The obverse is true in smaller towns, especially in the countryside — and not just the South or in Middle America, you'll find tons of Trump flags along the backroads of Oregon and California, same for the East coast.
Earlier this summer, I was at a gun range in Clear Lake, Texas and a half-dozen people were wearing MAGA hats, including one of the Ranger Officers. Drive an hour north on the Gulf Freeway, into the Montrose neighborhood of Houston, and you'll find a much different dynamic.
And Clear Lake is by no means a small town, not compared to all those towns throughout Texas with 200 people and a gas station.
Because the divide is multifold. And impressively, nearly all of the separate attributes at play are polarized.
Probably because liberals and conservatives literally don't even live in the same places. Rarely cross paths.
There are two America's, same as ever. The countryside and the city. I've lived in both. And as I travel around America for this series, I see the delicate kingdoms of each.
So as I travel around from state to state, through all the different towns and cities, I feel the presence of Walt Whitman's great poem "America."

Centre of equal daughters, equal sons,
All, all alike endear'd, grown, ungrown, young or old,
Strong, ample, fair, enduring, capable, rich,Perennial with the Earth, with Freedom, Law and Love,
A grand, sane, towering, seated Mother,
Chair'd in the adamant of Time
*
In 2016, a paltry 12 percent of Trump voters lived in urban areas, compared to Clinton's 32 percent. The numbers were basically flipped, with 35 percent of Trump voters in rural areas, compared to 19 percent of Clinton voters in rural areas.
This divide was even more dramatic along partisan lines.
As noted by Pew Research Center,
Virtually all validated voters with consistently liberal values voted for Clinton over Trump (95% to 2%), while nearly all those with consistently conservative values went for Trump (98% to less than 1% for Clinton).
So it makes sense that neither side would understand the other. Especially when you toss in a dose of American combativeness.
*

In the words of Aristotle, "It is the mark of an educated mind to be able to entertain a thought without accepting it."
Which is not to say that Americans aren't of an educated mind, although it is something we have historically been sensitive about, particularly in relation to art and literature.
Rather, my point is that there are gradations of ignorance.
A continuum.
Some forms of ignorance are more forgivable than others. And a certain type of ignorance is not forgivable at all.
*
Our hindrance, as Americans, is that we are — well, we are stubborn people. I've lived outside America, and traveled extensively. My father is Irish, and I have dual citizenship.
I will say that every country has problems. Unique problems.
As Americans, we tend to lean on convenience, even if we don't see it as a luxury. Which, let's be real, it totally is.
We take for granted that, when you're in public and you need to use a toilet, there's one nearby. And it's free. And clean.
Or showers. How often are we forced to take cold showers?
I know I'm doing a lot of generalizing here, but I've thought about it a lot, and it's all based on my desire to see Americans get along better. To rouse the humanity in all of us.
We Americans will always thrive with a pioneer spirit. A wildness. Rebels.
And Americans are undoubtedly some of the kindest, most generous people on earth.
*
But we also tend to focus exclusively on ourselves, our country, our city, our town, our yard, our skyline. Which happens everywhere, yes, but not like here. More often, we can't even imagine the other worlds within our own country.

*
Here's an exercise, if you're a born-and-bred American.
Name a dozen living world leaders. Now a dozen more.
Describe the Croatian flag, or the flag of any African country. Can you tell the difference between the Salvadorian flag and the flag of Argentina?

Sing a few national Anthems.
Revolutions or uprisings are currently taking place in the following countries or regions: Chile, Iran, Yemen, Egypt, Sudan, Hong Kong, Libya, Niger, Lebanon, Iraq, France, Puerto Rico, Haiti, you get the idea.
Because people in other countries know far more about America than we know about them. Which, at times, can be heart-breaking:
Protesters singing the American national anthem youtu.be
Don't get me wrong, I probably got the same score on that little quiz as you did.
Probably lower, actually, as the folks who contact me about my stories have the most astute and insightful observations.
*
Want to know the one thing we can all agree on as Americans? Cutting in line is unforgivable. Any sort of line. We learn this from a young age. Internalize it, collectively. If you ask us, we say that line-cutters deserve the great heat of an eternal hell!
*
Real talk here. We're spoiled, and occasionally we act like it. Although, most of the time — say, while traveling abroad — we're so kind that we come off as naïve, which is charming when you think of it.
And most of all, we are big, in mind and heart and spirit. In the words of the great American poet Walt Whitman, we contain multitudes.
You'd never know it, but Americans comprise a mere 4 percent of the world's population.
And, look, I'm not here to trash America. I love our country.
And I find much of the criticisms of our country to be rooted in cowardice, even when they are legitimate.
More than a few times, in Spain or Germany, I listened to locals excoriate the States. While drinking a Coca-Cola, and wearing Levi's Jeans, and nodding their head to Bruce Springsteen, as the Simpsons plays on the TV and a Cormac McCarthy novel rests on their bookshelf.
Most people I've met abroad like America. And they love Americans.
They admire our weird, endless spirit.
Poet Theodore Roethke wrote, "What's freedom for?"
In readings of the poem, he lets the question hang in the air for a moment, then answers it with a bellow.
"To know eternity."
*
Not only are we heartedly multicultural, our diversity is natural.
With regard to race and ethnicity, the U.S. usually occupies the middle of the chart.

But what's unique about the U.S. is that an American can be any race, ethnicity, sex, gender, age, color.
And this is our golden age.
You'd never know it, but Americans comprise a mere 4 percent of the world's population. Because, most of all, we are big, in mind and heart and spirit. To paraphrase Walt Whitman, we contain multitudes.
*
Ask liberals to describe conservatives, and vice versa, and you'll find that both sides tend to depict the other in a ghoulishly inaccurate and unflattering way. Conservatives often see liberals as elitist, intolerant, self-important, and out-of-touch.
Whereas liberals see conservatives as dumb, intolerant, backwards, and out-of-touch.
Either way, it's a pretty bad way to start a conversation.
*
We know the statistics by now. White voters accounted for 88 percent of the Trump vote. And far fewer Trump supporters were non-college whites.
More white women voted for Trump than for Clinton.
Of all the groups, Black women accounted for the fewest Trump votes, so few that its nearly statistically insignificant. In total, Trump got 6 percent of the Black vote.
A few things have changed since then. Specifically, Candace Owens and Kanye West.
I'll profile Owens in a later installment, for the last six months or so, I've been reporting on it. The vociferous, charming, and unbelievable 30-year-old woman at the helm of a strange new countercultural movement re-shaping America. She wears her MAGA hat when she travels, and she travels most days of the year.
She has led #Blexit, a movement geared at empowering the black community to vote Republican.
Kanye West, who was emboldened by Owen's unflinching style and bold words, regularly defends his support of Trump.

Those two events alone are bound to increase the number of Black Americans who vote for Trump in 2020.
I'll be at Kanye's performance in Houston on Sunday, at Joel Osteen's mega-church. And, about the time this story publishes, I'll be en route to Bossier City, Louisiana for my third Trump rally in as many weeks. And everywhere I travel for this series, I see the recurring qualities unique to our country.
Those two events alone are bound to increase the number of Black Americans who vote for Trump in 2020.
We Americans are generally honest people. We are straightforward yet empathetic. Just contrast general American English with general British English. We are cowboys and roughshod poets, they are royalty and cautious essayists.
In the introduction to this series, I described today's America, our America, as "a country that is — everywhere, secretly — hurting."

My aim, along the way, has been to scour for remedies. To posit whatever positivity I can. Like prayer in public, to tens of thousands of people every week.
As I see it, we will fix America by living out our most American ideals. By speaking from our spirit, no gimmickry or slogans or con men in the way.
We need truth. Its function is to guide us to redemption.
*
The most insidious criticism of America comes from inside. It is much different than protest. Because America is a free country. We can express our beliefs and opinions how we like. That includes kneeling athletes and flag-defiling musicians. Dissent is allowed and patriotism is by no means required.
What I'm talking about is subtler. It can arise from any point on the political spectrum. Left, right, center. Even be apolitical. It embodies the unforgivable ignorance I mentioned above. People who spit at the world around them, lacking self-awareness, unaware of the privilege that comes with living in America. They've never left, never even tried. Yet they remain certain, until their opinions mutate into hatred, and only want to destroy. They deny humanity, they choose nihilism.
It's easy to be cynical about something you don't understand. Humanity is the realization that all of this has meaning. That every moment of life is charged with an existential purpose. That death is a life with no meaning.
This video makes the rounds every once in a while. It's meant to denounce the spirit of our country, to drain it of meaning, but just comes off as snotty and high-minded, which, to be fair, are trademarks of a quality Aaron Sorkin monologue.
All my life, my father, an immigrant, has told me that America is the greatest country in the world. Just look at the Democratic Presidential candidates. Andrew Yang's parents emigrated from Taiwan, he flourished, now he's running for President. Bernie Sanders, son of a man who fled Poland as a teenage high school drop-out with a poor grasp of English, is now also running for President. Or Pete Buttigieg, whose father emigrated from Malta in 1979. Kamala Harris' mother emigrated from India, her father from Jamaica.
In other words, seven immigrants, all from different continents, traveled to America with hope and their eyes, and now their children have a realistic chance of being the President of the country. From the bottom to the top, in one generation.That would be like if your parents emigrated to America from another country, worked hard, then you went on to become a realistic candidate for the most important job in the entire world. Now do that three more times.
Because there is nothing to compare it to.
It becomes all the more impressive the farther you zoom out.
Imagine taking a time machine back to Ancient Egypt and trying to make your way up the ladder so that your son could become Pharaoh. You'd zap into the sand and straight into slavery. Immediately. And your kids? Assuming you even had time for love, on account of all the pyramid building, slaves, also.
And even if you were somehow able to maneuver to the top, you could still die at any moment of some horrific, now-curable disease.
Or be poisoned by Cleopatra.
Or be "suicided" by Romans, never to be found.
Or just vanish, despite your being the Pharaoh.
Or be decapitated by your own father.
Or drown in the Nile.
Or lose your firstborn in a Biblical plague.
All of which were fates that Pharaohs actually suffered. And even the lucky Pharaohs, they didn't have air conditioning or cars or pizza delivery.
New installments of this series come out every Monday and Thursday morning. Check out my Twitter or email me at kryan@mercurystudios.com