Glenn ended 2022 talking about the "loneliness epidemic" and its sobering correlation to skyrocketing suicide rates. New Chamber of Commerce data reveal Americans are lonelier than ever—and those living at our nation's capital are the loneliest.
According to the data, there are 36 million Americans living alone, equal to 10 percent of the entire country. When measuring the percentage of U.S. cities whose residents live alone, D.C. ranks the highest. Out of D.C.'s 316,565 residents, nearly HALF of the residents live alone. 48.3 percent of D.C. workers are still working remotely, further isolating its residents from meaningful interactions.
D.C.-commuter city Alexandria ranked third on the list of the U.S.'s top five loneliest cities, while Virginia's capital ranked fourth. St. Louis, Missouri came in second place, and Cincinnati, Ohio was number five. Meanwhile, Fontana, a town in California's San Bernadino Valley, is the least lonely city in America, with only 11 percent of its residents living alone.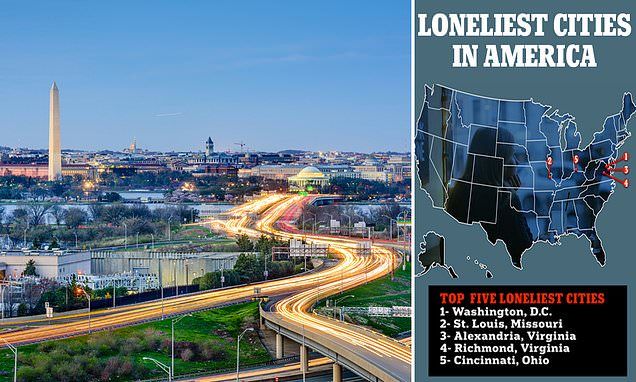 New data shows that Washington D.C. is the loneliest city in AmericaCourtesy of the Daily Mail UK and the Chamber of Commerce
This data resonates with Glenn's poignant 2022 message: "We have built a society that does NOT connect." We are in a dangerous situation where our physical isolation is coupled with our digital replacements to meaningful human interaction and relationships. Soberly recounting the 30 percent growth in suicides nationwide in 2022, Glenn said:

We have lost touch with each other, physically, with each other. We thought this would bring us closer, but social media is making us divide ourselves and get further apart from each other. We don't have friends, we have "Facebook friends," we have "likes." Humans need human interaction. Humans need to develop compassion. Humans need positive input.
Even if our current circumstances force us to live alone, it's more important than ever to pursue quality human interactions and cultivate new, meaningful ways to spend our time. Glenn said, "We all should be spending an hour learning something new every day." Glenn said he's going to be learning the piano with his hour. He also encouraged his audience to serve others, pointing to the direct correlation of service and a personal sense of fulfillment. While our digital world steals so much of our time, energy, and joy, we have to "get back to basics" by pursuing things that bring true fulfillment, like quality relationships, hard work, and service.