Can you remember the economic crisis of 2008 and how you felt when the news broke that Lehman Brothers had collapsed? I have found an economic threat that everyone needs to be aware of, so you can prepare yourself in case we see another 2008 type collapse. I am going to present the evidence to you and I urge you to verify everything and to form your own opinion.
What is that threat?
It is a bank called Deutsche Bank. They are by far the most dominant bank in Germany which is the world's fourth-largest economy. In 2018 they had €2.08 Trillion worth of assets and the second-placed bank (DZ Bank) had €506 Billion worth of assets. To show you how dominant this bank is, they have more assets than the 2nd, 3rd, 4th, 5th and 6th sized banks combined.
When we review a business there are three key parts to analysis:
Market sentiment
Business numbers
Technical Analysis
Market Sentiment
Deutsche Bank has a long history of potential scandals including going all the way back to World War 2 and dealing in Nazi gold. Below are five recent stories which have increased the negative sentiment around Deutsche Bank.
Business Numbers
Deutsche Bank is already struggling as they are losing staff, losing market share, and bonuses are expected to be down at least 10% and further rounds of cost-cutting to come. Now imagine the impact if business costs start going up.
The banking industry works in a very simple way. They raise funds through large bonds at low-interest rates and then sell those funds to business and individuals thru products like loans and credit cards at a higher interest rate which results in a potential profit.
Earlier this year, Deutsche Bank tried raising money through several bonds. They paid 180bp (basis points) on a two-year bond and 230bp on a seven-year bond. Let me put this in context for you. There is a small bank in Spain called Caixabank which paid 225bp on a five-year bond and one of the larger banks in Spain, BBVA paid 130bp on a five-year bond.
How and why is a small bank in Spain getting a better deal on bonds than a huge bank in Germany?
Why is a large bank in Spain getting a bond 100bp cheaper than a German bank?
What does the market know that we do not?
Stock Price
Deutsche is also missing revenue projections which further hurt the business ability to survive and prosper. As you can imagine all of this news has a deep and lasting impact on its stock price which is in deep trouble. Before I share the stock price, I need to put this into the context of the market and the industry compared to the big economic crash of 2008. Below you will see a chart of some banking stocks from around the world with their peak price prior to the 2008 crash, the low of the 2008 recession and the price today:

As you can see from the above chart the banks in America have recovered from the 2008 recession by anywhere up 375% and JP Morgan has not only recovered its price in full but is constantly setting new high's. Ireland went bankrupt and had to be bailed out by the EU/IMF following the 2008 crash and even our national bank has more than doubled its price since 2008. The worst performing bank I could find was Societe Generale which has issues but is still hovering around its 2008 low price levels.
Now let's put that into the context of Deutsche Bank. Not only has the stock not rebounded but it is over 65% below its 2008 low at $6.75.
Technical Analysis
When you are dealing with the stock market, you also have people who study pricing through technical analysis. Experts look at things like FIB sequences, trend lines, and support levels. Support levels are a key metric for a stock failing because are looking to find where it will find support and potentially bounce higher.
We are very close to a key support level ($6.40) and if the price goes below this level, there is no saying exactly how low the price could go. At least one company expects Deutsche to fall below this support level, as several weeks ago UBS downgraded the stock to a sell order. This news was compounded last Friday when rating agency Fitch, downgraded their credit rating to BBB or two levels above JUNK status.
Other Information
I know you are likely reading this and thinking "this bank must have smart people in charge and surely they have a plan, right?" I am sure there is a plan and while they have kept their cards close to their chest, they have spoken in the past about the areas they foresee having growth for the company – they include business in Saudi Arabia, UAE, and Egypt. Do they strike you as countries which are stable and will offer steady and reliable growth? Do you have to think really hard to imagine how this could go potentially very wrong?
Questions
I believe there is at least a solid case Deutsche is in a LOT of trouble. So what are possible scenarios for the future? I will lay out the key questions below but I must stress that it's impossible to say for sure what exactly will happen. One of the key numbers to remember here is they have roughly €50 billion worth of derivatives.
How likely is it that the bank can turn things around and survive?
How likely is it the bank continues to run into trouble, its stock price fails and eventually fails?
If you think it is likely it will fail, the question becomes what will the fallout be? Who will be affected?
Will they be bailed out?
If so, by whom? The German government, ECB, IMF, the Federal Reserve?
What will the German government think? Some members recently spoke out saying they would block public money for the proposed merger? Will they block funds if it failed?
Will other banks be exposed and affected? Will they have to take losses?
Will those losses be spread around or will one or more bank be mainly affect?
Will this affect the sentiment of the banking sector and cause a panic?
If there are issues and it starts affecting the stock prices, what will be the impact on other industries?
Last Question
The last question revolves solely around the banks and the regulators? How secure are the other banks? We all hear about how banks are now put through "stress tests" but how much trust do you put in those results? How much trust do you have in the regulators?
I know this may make me sound like a conspiracy theorist to some but it's an honest question. The Fed is on public record saying they want to keep this economy strong as long as possible. If a bank did not perform strongly in a stress test or even barely failed one, do you think they would report it?
Can you imagine the pressure that body would come under to stay silent? Can you imagine the rhetoric they would face with questions like, "Are you really going to fail one bank? Do you know how many people will lose their jobs if you do that?" Am I saying this is happening? No, but can you really rule it out 100% as a possibility?
I urge you to ponder on these questions, do your own research and find YOUR answers.
Update: The most freaquently asked question I have received from this column / show is how much time do we have to prepare. This is an impossible question to answer, as it could fail tomorrow, next week or might be next year. However I want to provide you a potential date for your diary – July 24th. That is when Deutsche will release their next earnings report and if it comes in below expectations, it could cause a further drop in price casting more doubt over the future viability of the bank.
Please support Jonathon's weekly podcast which is exclusive to the Blaze Media and available for FREE. He offers a unique perspective by promoting America's Founding Principles and brings every issue back to a set of core principles which are always based around the laws of nature. You can find links to his show by clicking here or by searching for Freedoms Disciple on your favorite audio platform.
Thought Catalog / Unsplash
Have you seen this survey on the most-believed conspiracy theories in America?

It's no surprise the survey has been getting so much attention. The results are actually a pretty disturbing.
I decided to put together a quick survey of my own, with slightly different wording.
Up-vote the ones you agree with and down-vote the ones you disagree with.

I believe Lee Harvey Oswald killed JFK alone. However, I would not be surprised to find out the government sealed evidence that others were involved.
If by "deep state" you mean long-time Washington power brokers who are used to calling the shots and now feel threatened by Donald Trump not listening to their advice or council — yes, I do believe that many people like that are working against him and his administration.
Whether alien bodies are in Area 51 or not, I do believe the government knows more about UFOs than they have told us.
I do not believe the U.S. government was involved in 9/11, but as we know, NSA advisor Sandy Berger was caught destroying documents from the national archives related to both Bush and Clinton. All U.S. administrations have been to close to the Saudis, and the Saudis were involved in 9/11 at some level.
I believe the climate is always changing — it's natural. I would be willing to accept that man MAY play a role in this. But I do not believe in the solutions currently being discussed, nor do I believe the intention of most political activists are pure.
Any talk of the Illuminati provides the true dangers to man's freedom — like very powerful NGOS and men like George Soros — a perfect cover.
The U.S. government has done some horrible experiments on people and land — I also suspect they will do more things in the future. But I do not believe in the systematic spraying of chemicals using chemtrails.
The moon landing was real, but I see a time coming when people will not be able to trust their eyes due to deep fakes.
What do you think?
Let me know in the comments section below.

This edition features a brand new number two, a big mover in the top five, and the biggest drop since we started the power rankings.

In case you're new here, read our explainer about how all of this works:
The 2020 Democratic primary power rankings are an attempt to make sense out of the chaos of the largest field of candidates in global history. Each candidate gets a unique score in at least thirty categories, measuring data like polling, prediction markets, fundraising, fundamentals, media coverage, and more. The result is a candidate score between 0-100. These numbers will change from week to week as the race changes.

The power rankings are less a prediction on who will win the nomination, and more a snapshot of the state of the race at any given time. However, early on, the model gives more weight to fundamentals and potentials, and later will begin to prioritize polling and realities on the ground.

If you're like me, when you read power rankings about sports, you've already skipped ahead to the list. So, here we go.
See previous editions here.
Today is the 75th anniversary of D-Day, the largest amphibious invasion in history.
The Allied invasion force included 5,000 ships and landing craft, 11,000 planes, and almost three million allied soldiers, airmen and sailors. Despite such numbers, the location and timing of the invasion was still an enormous gamble. The Nazis fully expected such an invasion, they just didn't know precisely when or where it would be.
Despite the enormous logistics involved, the gamble worked and by the end of June 6, 1944, 156,000 Allied troops were ashore in Normandy. The human cost was also enormous – over 4,900 American troops died on D-Day. That number doubled over the next month as they fought to establish a foothold in northern France.
There were five beach landing zones on the coast of northwestern France, divided among the Allies. They gave each landing zone a name. Canada was responsible for "Juno." Britain was responsible for "Gold" and "Sword." And the U.S. had "Utah" and "Omaha."
The Nazis were dug in with bunkers, machine guns, artillery, mines, barbed wire, and other obstacles to tangle any attempt to come ashore. Of the five beaches, Omaha was by far the most heavily defended. Over 2,500 U.S. soldiers were killed at Omaha – the beach so famously depicted in the opening battle sequence of the 1998 movie, Saving Private Ryan. The real-life assault on Omaha Beach included 34 men in that first wave of attack who came from the same small town of Bedford, Virginia. The first Americans to die on Omaha Beach were the men from Bedford.
amp only placement
America has a national D-Day Memorial, but many people don't know about it.
America has a national D-Day Memorial, but many people don't know about it. Maybe that's because it wasn't a government project and it's not in Washington DC. It was initiated and financed by veterans and private citizens. It's tucked away in the foothills of the Blue Ridge Mountains, in the small town of Bedford, Virginia. Why is the memorial for one of the most famous days in modern world history in such a tiny town? Because, as a proportion of its population of just 3,200 at the time, no community in the U.S. sacrificed more men on D-Day than Bedford.
There were 34 men in Company A from Bedford. Of those thirty-four, 23 died in the first wave of attacks. Six weeks after D-Day, the town's young telegraph operator was overwhelmed when news of many of the first deaths clattered across the Western Union line on the same day. Name after name of men and families that she knew well. There were so many at once that she had to enlist the help of customers in the pharmacy's soda shop to help deliver them all.
Among those killed in action were brothers Bedford and Raymond Hoback. Bedford was the rambunctious older brother with a fiancée back home that he couldn't wait to return to. Raymond was the quieter, more disciplined younger brother who could often be found reading his Bible. He fell in love with a British woman during his two years in England training for D-Day. Like in that opening sequence of Saving Private Ryan, Bedford and Raymond barely made it down the ramp of their Higgins Boat in the swarm of bullets and hot steel before they were cut down in the wet sand.
Bedford and Raymond Hoback's mother, Macie, learned of both their deaths from two separate telegrams, the first on a Sunday morning, the second the following day. Their younger sister, Lucille, remembered her mother's devastation, and her father walking out to the barn to cry.
The day after D-Day, the killing field of Omaha Beach was already transforming into the massive supply port that would help fuel the American drive all the way to Berlin over the next year. A soldier from West Virginia was walking along the beach when he saw something jutting out of the sand. He reached down and pulled it out. He was surprised to find it was a Bible. The inside cover was inscribed with: "Raymond S. Hoback, from mother, Christmas, 1938." The soldier wrote a letter and mailed it with the Bible to Raymond's mother. That Bible, which likely tumbled from Raymond's pack when he fell on D-Day, became Macie Hoback's most cherished possession – the only personal belonging of her son that was ever returned.
Of the 23 Bedford men who died on Omaha Beach, eleven were laid to rest in the American cemetery in Normandy.
These men, many of them barely out of their teens, didn't sign up to march to the slaughter of course. They had hopes and dreams just like you and I. Many of them signed up for adventure, or because of peer pressure, and yes, a sense of honor and duty. Many of the Bedford Boys first signed up for the National Guard just to make a few extra bucks per month, get to hang out with their buddies, and enjoy target practice. But someone had to be first at Omaha Beach and that responsibility fell to the men from Bedford.
Over the last several years, the D-Day anniversary gets increasingly sad. Because each year, there are fewer and fewer men alive who were actually in Normandy on June 6, 1944. The last of the surviving Bedford Boys died in 2009. Most of the remaining D-Day veterans who are still with us are too frail to make the pilgrimage to France for the anniversary ceremonies like they used to.
It's difficult to think about losing these World War II veterans, because once they're all gone, we'll lose that tether to a time when the nation figured out how to be a better version of itself.
Not that they were saints and did everything right. They were as human as we are, with all the fallibility that entails. But in some respects, they were better. Because they went, and they toughed it out, and they accomplished an incredibly daunting mission, with sickening hardship, heartbreak, and terror along the way.
So, what does the anniversary of D-Day mean in 2019?
In one sense, this anniversary is a reprimand that we've failed to tell our own story well enough.
In one sense, this anniversary is a reprimand that we've failed to tell our own story well enough. You can't learn about the logistics of the operation and above all, the human cost, and not be humbled. But as a society, we have not emphasized well enough the story of D-Day and all that it represents. How can I say that? Because of an example just last weekend, when common sense got booed by Democratic Socialists at the California Democrats' State Convention. When Democratic presidential candidate John Hickenlooper said during his speech that "socialism is not the answer," the crowd booed loudly. When did telling the truth about socialism become controversial?
Sure, socialists, and communists and other anti-American factions have always been around. America certainly had socialists in 1944. But the current socialists trying to take over the Democratic Party like a virus don't believe in the D-Day sacrifices to preserve America, because they don't believe America is worth preserving. They are agitating to reform America using the authoritarian playbook that has only ended in death and destruction everywhere it is followed.
Ask a Venezuelan citizen, or an Iraqi Christian, or a North Korean peasant why D-Day still matters in 2019.
The further we move away from caring about pivotal events like June 6, 1944, the less chance of survival we have as a nation.
At the same time, the D-Day anniversary is a reminder that we're not done yet. It's an opportunity for us to remember and let that inform how we live.
Near the end of Saving Private Ryan, the fictional Captain Miller lays dying, and he gives one last instruction to Private Ryan, the young man that he and his unit have sacrificed their lives to rescue in Normandy. He says, "Earn it."
In other words, don't waste the sacrifices that were made so that your life could be saved. Live it well. The message to "earn it" extends to the viewer and the nation as well – can we say we're earning the sacrifices that were made by Americans on D-Day? I cringe to think how our few remaining World War II veterans might answer that.
Honor. Duty. Sacrifice. Gratitude. Personal responsibility. These used to mean a lot more.
Honor. Duty. Sacrifice. Gratitude. Personal responsibility. These used to mean a lot more. I don't want to believe it's too late for us to rediscover those traits as a nation. I want to believe we can still earn it.
The challenge to "earn it" is a lot of pressure. Frankly, it's impossible. We can't fully earn the liberty that we inherited. But we can certainly try to earn it. Not trying is arrogant and immoral. And to tout socialism as the catch-all solution is naïve, and insulting to the men like those from Bedford who volunteered to go defend freedom. In truly striving to earn it, we help keep the flame of liberty aglow for future generations. It is necessary, honorable work if freedom is to survive.
The end of Lincoln's Gettysburg Address is remarkably relevant for every anniversary of June 6, 1944. This is what D-Day still means in 2019:
"It is rather for us to be here dedicated to the great task remaining before us – that from these honored dead we take increased devotion to that cause for which they gave the last full measure of devotion – that we here highly resolve that these dead shall not have died in vain – that this nation, under God, shall have a new birth of freedom – and that government of the people, by the people, for the people, shall not perish from the earth."
Letter from Corporal H.W. Crayton to Mr. and Mrs. Hoback – parents of Bedford and Raymond Hoback who were both killed in action on June 6, 1944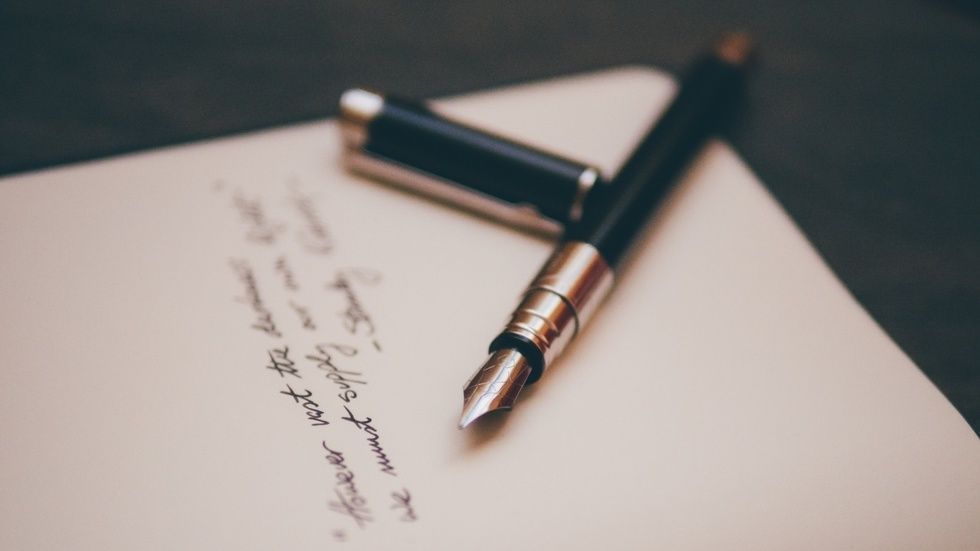 Álvaro Serrano/Unsplash
July 9, 1944 Somewhere in France
Dear Mr. & Mrs. Hoback:
I really don't know how to start this letter to you folks, but will attempt to do something in words of writing. I will try to explain in the letter what this is all about.
While walking along the Beach D-day Plus One, I came upon this Bible and as most any person would do I picked it up from the sand to keep it from being destroyed. I knew that most all Bibles have names & addresses within the cover so I made it my business to thumb through the pages until I came upon the name above. Knowing that you no doubt would want the Book returned I am sending it knowing that most Bibles are a book to be cherished. I would have sent it sooner but have been quite busy and thought it best if a short period of time elapsed before returning it.
You have by now received a letter from your son saying he is well. I sincerely hope so.
I imagine what has happened is that your son dropped the Book without any notice. Most everybody who landed on the Beach D-Day lost something. I for one as others did lost most of my personal belongings, so you see how easy it was to have dropped the book and not know about it.
Everything was in such a turmoil that we didn't have a chance until a day or so later to try and locate our belongings.
Since I have arrived here in France I have had occasion to see a little of the country and find it quite like parts of the U.S.A. It is a very beautiful country, more so in peace time. War does change everything as it has this country. One would hardly think there was a war going on today. Everything is peaceful & quiet. The birds have begun their daily practice, all the flowers and trees are in bloom, especially the poppies & tulips which are very beautiful at this time of the year.
Time goes by so quickly as it has today. I must close hoping to hear that you receive the Bible in good shape.
Yours very truly,
Cpl. H.W. Crayton