World leaders are openly mocking America in response to a photo of Biden's deputy assistant Nuclear Energy Secretary Sam Brinton and Assistant Health Secretary Rachel Levine at French ambassador Philippe Etienne's home that went viral last week.
"Week 4 On The Job: Champagne and Celebration with the French Ambassador in his residence for Bastille Day. (But also the amazing opportunity to connect with one of the only other transgender government officials, Admiral Levine – not gonna lie, it felt great to commiserate with a fellow trans person facing the hate.)" Brinton captioned the now made-private post on Instagram.
Russia's United Nations diplomat Dmitry Polyanskiy posted a screenshot of Brinton's post with the caption: "Keep going that way, our dear American ex-partners! I don't think we even need any long-term strategies to counter your malicious role in the world - you are doing the right thing yourselves! And let the whole world see WhoYouAre!"
Maria Zakharova, a Russian foreign affairs communications official, also posted the image with a caption that translates to: "US transgender Admiral Rachel Levine and Deputy Assistant Secretary of Nuclear Energy Sam Brinton at the French Embassy at a Bastille Day reception. Answer the question honestly for yourself: are these the values that you are ready to instill in your children? Or do we still fight for our own?"
"Мария Захарова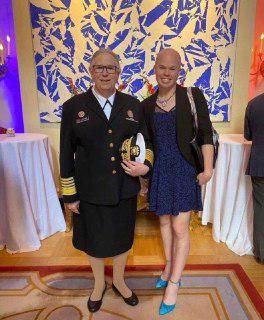 Мария Захароваt.me
Трансгендерный адмирал США Рейчел Левин и зампомощника министра ядерной энергетики Сэм Бринтон в посольстве Франции на приёме в честь Дня взятия Бастилии. Ответьте себе честно на вопрос: это те ценности, которые вы готовы привить своим детям? Или всё-таки за свои посражаемся?"
On the radio program, Glenn Beck and Pat Gray asked why, at a time when Europe is having record inflation, food shortages, and is on the eve of possible war over oil, we would send these two to represent the United States?

"What are we doing? How ridiculous do we look?" Glenn said. "[French President Emmanuel] Macron has come out and said to the people, 'Do not drink any of the poison that is coming from America.' They're making fun of us because we're too crazy ... we're too crazy for the French!"
"We're just gorging on ourselves on nonsense and whatever makes us feel good. America should be ashamed of itself, and I think many of us are," he added.

Watch the video clip from "The Glenn Beck Program" below. Can't watch? Download the podcast here.
Want more from Glenn Beck?
To enjoy more of Glenn's masterful storytelling, thought-provoking analysis, and uncanny ability to make sense of the chaos, subscribe to BlazeTV — the largest multi-platform network of voices who love America, defend the Constitution, and live the American dream