As we move along this endless primary season, we implement our first major adjustments to our power rankings model. Because of all the changes on the model itself, we'll keep the write ups short this week so that we can get an update posted before we hit the second round of debates.
There are now 40 separate measures of candidate performance which are summarized by the 0-100 score that helps us makes sense out of this chaos.We also have a new style of graphs, where the section highlighted in blue will show the progress (or lack thereof) made by each candidate over the life of their campaign.
In this update, we have our first campaign obituary, a couple of brand new candidates (when will it ever stop) and plenty of movement up top.
Let's get to it.
In case you're new here, read our explainer about how all of this works:
The 2020 Democratic primary power rankings are an attempt to make sense out of the chaos of the largest field of candidates in global history. Each candidate gets a unique score in at least thirty categories, measuring data like polling, prediction markets, fundraising, fundamentals, media coverage, and more. The result is a candidate score between 0-100. These numbers will change from week to week as the race changes. The power rankings are less a prediction on who will win the nomination, and more a snapshot of the state of the race at any given time. However, early on, the model gives more weight to fundamentals and potentials, and later will begin to prioritize polling and realities on the ground. If you're like me, when you read power rankings about sports, you've already skipped ahead to the list. So, here we go.
See previous editions here.
Campaign Obituary #1
The Eric Swalwell Campaign
California State Congressman

April 8, 2019 - July 8, 2019
Lifetime high: 20.2
Lifetime low: 19.5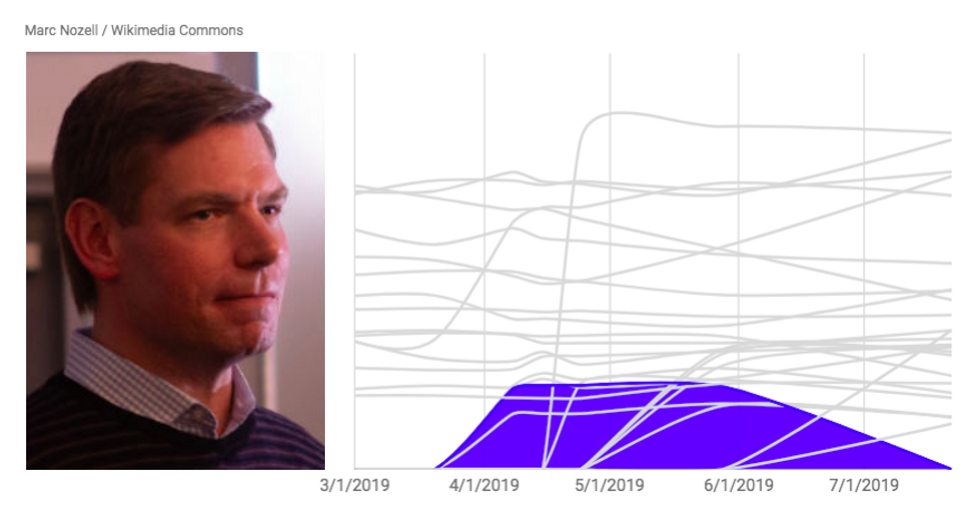 I ended my initial profile on Eric Swalwell with this:
"There's a certain brand of presidential candidate that isn't really running for president. That's Eric Swalwell."
It's now more true than ever that Swalwell isn't running for president, because he has officially dropped out of the race.
To any sane observer, Swalwell never had a chance to win the nomination. This was always about raising his profile with little downside to deter him from taking money and building a list of future donors.
In one of many depressing moments in his FiveThirtyEight exit interview, he noted that one of his supporters told him he definitely thought he'd eventually be president, but it wasn't going to happen this time. (This supporter was not identified, but we can logically assume they also have the last name Swalwell.)
Swalwell did outline a series of reasons he thought his ridiculous campaign might have a chance.
He was born in Iowa. After all, people from Iowa will surely vote for someone born in Iowa, even if they escaped as soon as possible.
He had what he believed was a signature issue: pretending there was no such amendment as the second amendment.)
He's not old.
It was on point number three where Swalwell made his last stand. In an uncomfortably obvious attempt to capture a viral moment that would launch his fundraising and polling status, Swalwell went after Joe Biden directly.
"I was 6 years old when a presidential candidate came to the California Democratic Convention and said it's time to pass the torch to a new generation of Americans. That candidate was then-Senator Joe Biden." This pre-meditated and under-medicated attack, along with Swalwell's entire campaign future, was disassembled by a facial gesture.
Biden's response wasn't an intimidation, anger, or a laugh. It was a giant smile that somehow successfully communicated a grandfathery dismissal of "isn't that just adorable."
Of course, headlines like this didn't help either:
Eric Swalwell is going to keep comparing the Democratic field to 'The Avengers' until someone claps
The campaign of Eric Swalwell was pronounced dead at the age of 91 days.
Other headlines:
Eric Swalwell ends White House bid, citing low polling, fundraising
Republicans troll Swalwell for ending presidential campaign
Eric Swalwell Latest 'Cringe' Video Brags About Omar Holding his 'White' Baby
Eric Swalwell's message to actor Danny Glover is 'the cringiest thing I've ever seen in a hearing'