Glenn was CENSORED by Facebook's independent fact-checkers yesterday. Here's the scoop.
This week on the Glenn Beck Program, Glenn and Stu discussed Tucker Carlson's commentary on the newly released Jan 6 Capitol footage, specifically, the curious case of Ray Epps—the man who admitted to inciting the Capitol breach in a text message to his nephew and was let off Scott-free. There is speculation that he could be an F.B.I. plant in the crowd. Regardless of whether or not Ray Epps is an F.B.I. plant, isn't it the right of the American people to ask questions, especially about issues as consequential to our country as Jan 6?
Facebook apparently doesn't think so...
After this clip was published on Glenn's Facebook page, Facebook slapped it with a "partly false" fact-checking label.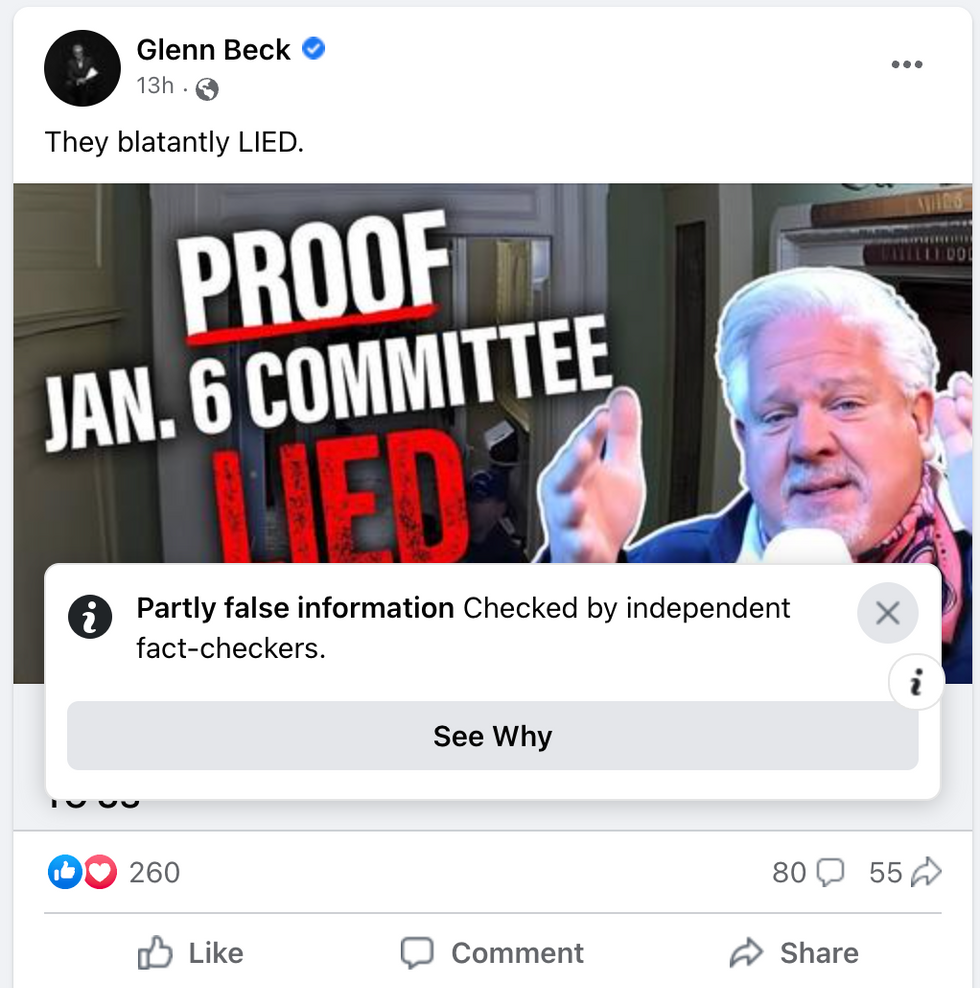 As it turns out, the "independent" fact-checkers told Glenn that unless he corrected his narrative about Ray Epps, they would limit his visibility and distribution on Facebook. This would not only affect Glenn. It would affect the entire Blaze crew of talent and personalities. Glenn had one thing to say in response: Go screw yourself, Facebook.
Glenn had one thing to say in response: Go screw yourself, Facebook.
Glenn went on to emphasize that he will NOT be issuing a correction, even if it means his Facebook page's distribution may suffer as a result. He's not backing down on asking the tough questions and getting to the truth, no matter the cost.
Now is more important than ever to join Glenn and Blaze Media—news and entertainment for people who love America. Big Tech has a "very impressive" track record of censorship—Twitter Files, anyone? To guarantee you have access to the content you want, click THIS link to subscribe to BlazeTV. And don't forget to sign up for Glenn's free email newsletter by entering your email below. Join the fight back against Big Tech censorship.